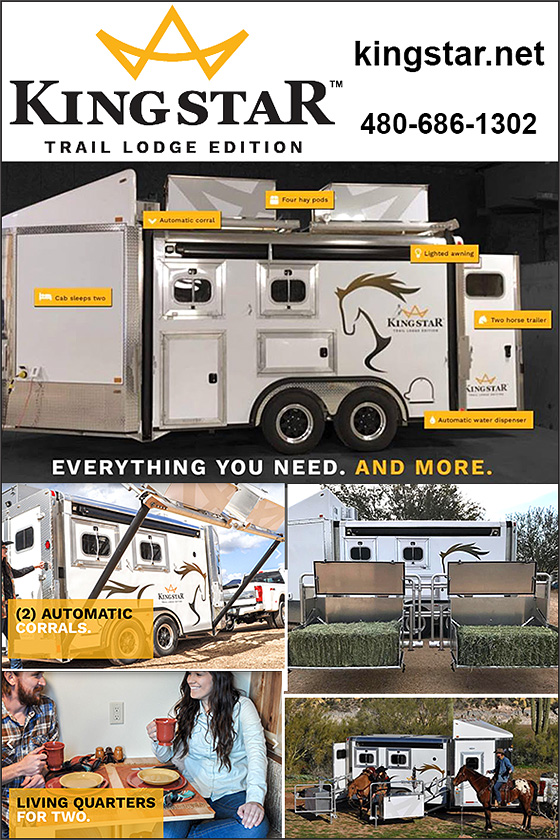 Kingstar™ "Inspires Spontaneity & Confidence!"

Kingstar™ Horse Trailer

"Inspires Spontaneity & Confidence!"





The KINGSTAR STORY!
In July of 2016 Marcus Niemela, president of The KINGSTAR Company, escaping the summer heat in the Phoenix valley trailered his horse "Jackie Diamond" aka, "JD" 150 miles north to a place called Happy Jack, Arizona. It was here in the high country wilderness that he and "JD" planned to relax a few days and enjoy the cool temps and beautiful jack pine forest. The idea of camping off-grid with his horse in this pristine area was compelling but the hassle of transporting corral panels together with the hard work of set-up and break-down was less than desirable.

Water was also a problem. How to carry enough water for "JD" and dispense it efficiently was the question. Ever hear the saying "you can lead a horse to water, but you can't make em drink?" How often have you thought your horse needed a drink and they just look at you as you're holding the bucket in front of them? Not to mention packing and stowing hay on the trailer roof, and tarping it down from the wind and rain. To keep things simple and avoid all the sweat and toil, he opted to forego the loose corral panels and chose rather to high line her and deal with the hay and water issues as best he could.

It was there one evening under the clear Arizona night sky while sitting beside the crackling campfire that the KINGSTAR inspiration was realized. With pencil in hand and on a scrap of paper Marcus developed several rough sketches. Soon after, he contacted Cal, his brother and past business partner and together they set out to design the HUT (Horse Utility Trailer) , KINGSTAR Trail Lodge Edition. A team of professional engineers, designers and fabricators was assembled and three years later the first KINGSTAR Trail Lodge debuted. On February 19, 2019 the United States Patent and Trademark office issued the Niemela Brothers, Patent Number 10,206,369 for a "Transport Trailer with Deployable Corral" and the KINGSTAR was born!



KINGSTAR Makes Traveling With Your Horse- More Secure— and Comfortable— Than Ever!
Who hasn't dreaded and worried about traveling with their horse and, when you are on the road, how can you give your horse a break, help him or her to stretch their legs, relax and roll a bit? Portable corrals are nice, but some are less than durable, and they are all awkward to haul, carry and set up. Tying your horse outside the trailer isn't always safe… and who hasn't been concerned about hauling the best hay for your horse's needs and then had to worry about getting 'up' and 'down' from the trailer top, over and over again!

KINGSTAR Has The WORLD's FIRST HYDRAULIC CORRALS! (one on each side!!)
For safety, and comfort, and peace of mind, never offered by a horse trailer company in this way before, the Kingstar trailer has the WORLD'S FIRST hydraulic corrals that fold down off the roof at the push of a button, revealing hay pods with easy tilt‐open access. The trailer eliminates the need to make dangerous trips up a ladder to stow and retrieve overhead hay. Developers, Marcus and Cal conceptualized folding corral sections and hay pods that would raise and lower automatically from a stowed travel position to a fully deployed corral system with the touch of a switch. Now, providing a beautiful, durable, worry-free corral — with LIGHTED "rain or shade" cover— and accessing your horse's hay, is as easy as pushing a simple button! Bye-Bye horse hauling "woes"!



How About More Detail on the CORRAL & HAY POD Construction?
KINGSTAR trailers are constructed primarily of aluminum with the exception of the main corral lift arms which consist of machine grade steel pipe. All other components found in the patented corrals and hay pods are manufactured using structural aluminum which offers the same strength and light-weight benefits found in our main frame construction.

Is The HAY POD CAPACITY Really 1 and 1/2 Bales of Hay— EACH?
Yes! Each pod is sized to carry 1 1/2 large bales of hay. The weight capacity for each pod is 300 lbs. That is plenty to care for two horses, for a few days until you reach a town with a feed store to your liking.

What About The CORRAL CAPACITY? That's RIGHT, Corral and Hay Pods For EACH Side!
The KINGSTAR two horse bumper pull trailer has a matching pair of integrated corral/hay pods that deploy on EACH SIDE of the trailer forming a 12' x 11'-6" semi-circle round pen on EACH side of the TRAILER. Each corral is designed to hold one average sized horse. You will have no trouble housing the 2 horses you are hauling, providing they have enough training to understand and respect a corral.

Our LIGHTED CORRAL AWNINGS- Your Protection From Sun and Rain!
Another feature found on KINGSTAR trailers are the LIGHTED corral awnings. A compact 9 foot wide awning is recessed into each upper trailer sidewall offering a clean smooth look when retracted. When deployed, the awning extends outward 8 feet to provide a cool shaded space for your horses during extreme sun condition. This unique awning has advanced features that eliminate the need for support arms or legs, offering wide-open freedom for your horses. The awning operates on 12 volts; extending and retracting with the touch of a switch. In addition, built-in motion detectors automatically retract the awnings should windy conditions develop. Lastly, each awning has an LED lighting strip along the outward extended edge that provides a subtle and attractive ground lighting affect at night.

But What About ON-BOARD Water?
All KINGSTAR trailers come standard with a 50 gallon aluminum water tank integrated into the trailer sidewall. The watering system supplies four automatic water cups. Two are located in the stall area inside each manger. Two are built-in to the exterior sidewall and when unlocked, tilt out into the corral area where they provide convenient access for on-demand hydration.
Note: KINGSTAR living quarter models also utilize the same system, supplying water to the kitchen sink as well as the rear toilet and shower!

Is It True That These Amazing LIVING QUARTERS Are Suitable For 2 Adults?
Yes! The KINGSTAR Trail Lodge Edition offers a PREMIUM Living Space that easily accommodates two adults. A cozy dinette transforms into a comfortable bed, while a fold-down bunk attached to the slant wall lowers to form a second spacious sleeping surface. Custom upholstered cushions provide a warm attractive feel to the interior and coordinate with the "top of the line" hickory cabinets.

KINGSTAR owners will find ample storage throughout the compact living quarters. Lower and upper cabinets can be used to store both food as well as clothing items. A large closet and recessed clothes hamper helps to keep your gear organized and accessible. A broom closet and slide out trash receptacle add to the functionality of the living space. Deluxe solid surface countertops and stainless steel sink offer a convenient work area for food preparation. A flush mounted two-burner propane cooktop together with a convection microwave oven makes scrambling an egg, heating up left-overs or boiling a pot of coffee a real snap. You will love the gorgeous attention to detail!

Is It True That There Is Even A Bathroom and Shower?
Everyone knows after a great ride, few things are more satisfying than tucking in your horse for the night and heading in for a soothing shower. The KINGSTAR Trail Lodge Edition trailer, life is anything but "rough!" Not only do you enjoy the comfy digs of your front-end living quarters, you also have a hot shower waiting for you at the end of the day. Located in the left rear corner of trailer is the bathroom/shower area. With an RV style cassette toilet conveniently mounted in the back corner and a generous forward shower area, riders can end the day clean and refreshed.

What About The Power System?
All electrical devices are RV grade and designed to function on 12 or 120 volt service. Your KINGSTAR Trail Lodge trailer has two (2) house batteries with charger for back-up or off-grid use. However, the system can also be powered using the standard Trail Lodge Edition 2200 watt Honda generator. When available simply connect a conventional RV power cord to your KINGSTAR receptacle then plug in and enjoy utility power. In addition interior and exterior 110 outlets, USB ports are conveniently provided in the living quarters area to charge your cell phone or other electronic devices.

KINGSTAR Owners Will Enjoy Both Interior and Exterior Lighting!
Thoughtful consideration has been given to both interior and exterior lighting. Beginning with the exterior, each KINGSTAR trailer is fully equipped with DOT approved LED lighting. In addition, attractive LED lights are positioned above the living quarters' door as well as above the rear loading doors. Two bright LED flood lights are also mounted on each side of either awning to provide full lighting across the corral area when needed. Flush mounted LED ceiling fixtures light up the stall areas inside the trailer. A similar LED fixture is used to illuminate the shower/toilet stall.

What About Lighting For the LivingQuarters?
You will be able to enjoy ample lighting within the comfort of your beautiful living quarters! Moving to the living quarters area, one LED ceiling fixture lights up the main cabin area, while additional under cabinet LED strip lighting adds a warm cozy glow. Inside the clothes closet another LED strip light is tucked away out of sight but provides ample lighting whenever that special shirt or pair of pants is being retrieved. Last of all, when it's time to kick back, stretch out and read a book or pencil a few lines in your daily journal, all other cabin lights can be turned down and your corner bunk reading light switched on to illuminate up your personal space. From there, it's "lights out" for a good nights sleep.

The KINGSTAR Is an INVESTMENT That is Made To Last For Generations!
Do you like to see things of true worth passed down to your children? So do the developers of KINGSTAR. Marcus and Cal come from a strong manufacturing background. Raised in a family business that manufactured snow and ice removal equipment, bossplow.com and blizzardplows.com together with several other industrial cleaning products cudausa.com the brothers not only understand the need for SUPERIOR quality, but have demonstrated the ability to consistently manufacture exceptionally high-quality mobile equipment. Together they have over 50 years of combined experience. That said, KINGSTAR customers can expect absolute premium quality and years of lasting durability.

Don't YOU and YOUR Horses Deserve To Travel In a KINGSTAR?
We think you do and once you try one, you'll think you do too! The KINGSTAR is the FIRST Horse Trailer that brings makes it possible for both you — and your horses— to get a great night's sleep, eat on the road.

---
Contact: Marcus Niemela
4755 Main Street or P.O. Box 125
Houghton, Michigan 49931
Phone: 480-686-1302
Email:
Website: Click Here To Connect

---