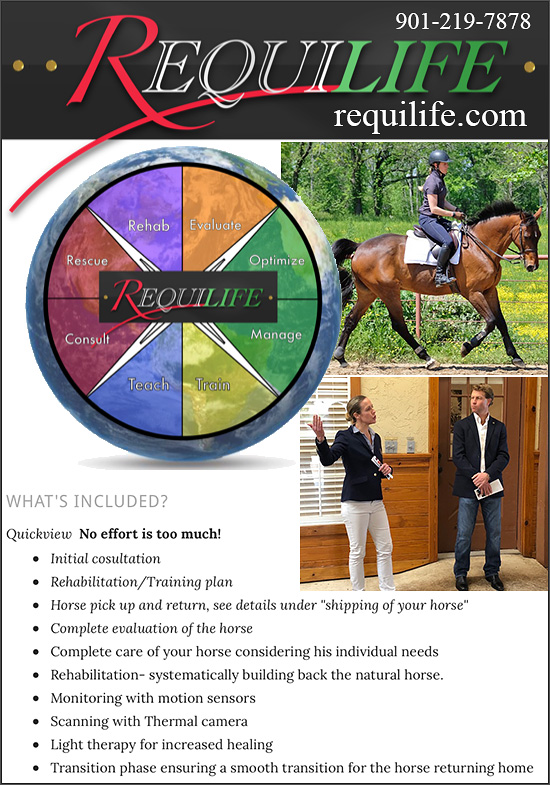 REQUILIFE "Setting NEW Standards For Health & Performance!"
Our Seminars are FREE and wonderfully Educational!



About McKrell and Christian Baier, Owners of REQUILIFE…
It is rare to find 2 people like McKrell & Christian Baier, both perfectly suited for each other, & also completely "one in purpose." Their passion for horses and the people who love them, radiates like sunshine that is not only seen, but FELT, by all who associate with them. Their knowledge is vast and their mission is to help all horsemen-
owners, trainers, riders, facility managers & other equine professionals. Helping equestrian centered businesses to find a healthier, less stressful, way to manage, train, develop, nourish & heal their horses. You will love the caring way they support you and your clients and will want to associate with them over and over on your
lifetime journey as a horseman yourself.

CHRISTIAN BAIER: Born in Sweden, Christian's career, after University, began in a Verden, Germany stable specializing in training problem horses and continued in South Germany at a large stud farm for jumping horses. Over the course of his career, Christian has worked as a rider, trainer, teacher, stud and riding school manager from Europe to Bermuda, and since 2009 is based in the United States. He attended the University of Agriculture in Flyinge and Stromsholm, SWE, and there earned a diploma in equine studies in 1996 under the tutelage of such masters as:
• Kyra Kyrklund, Bo Jena, EvaCarin Oscarsson (dressage)
• Peter Eriksson, Jens Fredricson, Sylve Soderstrand (jumping)
• William McDonald (showing horses in hand)

MCKRELL BAIER: McKrell is a native of Memphis, TN and received a BS in Biology & Anthropology Summa cum Laude from the University of Miami in 1999. As a professional horseman, McKrell has shown winning hunters, grand prix horses, and coached successful students around the country since January of 2000.

McKrell has received instruction and mentoring from some of the great horsemen of our time including, Melanie Smith Taylor, Joe Fargis, and Albert Voorn among many others. Learning from these many and varied professionals, along with her continuing education in equestrian arts and sciences, has helped shape her current theory and practices.

McKrell has assisted FEI course designers at such prestigious events as the 2008 Olympic show jumping trials in Wellington, FL, Spruce Meadows, CAN and Masstricht, NED. She was also the course designer for the Emerging Athletes Program in its inaugural years, appointed to the position by Gold Medalist, Melanie Smith Taylor.

What Is The Mission Of REQUILIFE ?
At REQUILIFE we solve problems with passion- and we are here to help YOU. From emergency rescues to top sport optimization, health evaluations to long term management, rehabilitation to classical training, international consults to worldwide retreats, we are the best not just because of our training and passion to improve the life of the horse, but because we have a network of leading horse industry professionals that join with us in our mission to improve your life with horses & the lives of the horses themselves.

What Does The Term "REQUILIFE" Mean?
We define "Requilife" as the reevaluation, revitalization & reformation of our lives with horses. It has often been said that in life, anything worth doing isn't going to be easy. Following the lengthy path to top sport with horses WHILE maintaining their health is certainly not easy. It's no wonder that short-cuts can be tempting. We
have also been sidetracked by following short cuts & we know this- NONE of them are worth following. We work hard to illustrate to others where well-intentioned errors can occur.

WHY? Because we are afraid that a basic lack of understanding of the horse's biology is threatening the welfare of the animals that we all love. No one damages his horse on purpose, but the only way to do your best by him is to learn HIS nature & give him what HE needs. Humans are the ones who took the horse from nature & we are the only ones who can bring his nature back to him. Requilife exists with this as our purpose.

How Do I Know If My Horse and I Can Benefit From The REQUILIFE Seminars?
Do you do everything recommended by your vet, your trainer, horse magazines, blogs & websites to help your horse thrive? Does your horse still suffer from lameness, allergies, digestive distress or any of a host of annoying disturbances to his health & performance? Requilife can help. Join us for FREE Educational Seminars worldwide or contact us to organize an event in your area!

What Can I Expect From The REQUILIFE FREE Seminars?
Requilife seminars cover a wide range of topics from equine evolution to environmental stressors to earth science & ecology, even side by side comparative studies of horse vs. human health. Seminars are 1.5-2 hours in length. Horsemen of all disciplines & experience levels are welcome! In addition to the presentations, audiences are encouraged to participate by interjecting questions throughout & you may very well be asked to help us with an interactive exercise so leave your inhibitions at the door! No subject is taboo, no question is silly. We are here for you, so make the most of it by coming prepared to ask for help with any problem you struggle with. If you don't ask, we can't help!

Is It True That The Seminars Are Free?
It is indeed. This year we have dedicated to spreading our REQUILIFE message worldwide & it is working! The support for our work grows exponentially with every event we host. We are firm believers that you only reap what you sow & we NEED other horsemen to hear our insights if we are going to shift the current paradigm of horse care to a sustainable format that benefits, rather than harms the horses that give us so much. Come, see, listen, ask & think. That is all we ask!

What If I Want To Host A Seminar? What Is Required?
What's that old recruiting line?
WE WANT YOU!
Tell us why you want us to come to you & how we can best serve the needs of your area. Training? Feeding? Horse Keeping Solutions? Novel Competition Formats? Once we know what your area needs, we can help you locate a suitable facility for an seminar. We aim to have 35-50 participants as a minimum, but if you need help to locate more interest in your area we can help you network to find it- you'll make new friends & make a better friend of your horse!
Send an email today at info@requilife.com

What If I Want A Private Training or Nutritional Consultation For My Own Horses or Barn?
Contact us today at info@requilife.com! We start every consult with a personal phone call to determine your needs, completely free of charge. We then send you a detailed intake form to gather extensive information about your horse/s- history, current situation & future goals. The more we know the more efficiently we can work! Every horse requires a unique plan & careful, systematic monitoring to achieve success. Even after completion of your particular Requilife program, we are ALWAYS there for you & your horses. To help you to continue your success story, we include an initial 3 months of 7 day/week consultation & emergency response with every completed Requilife program.

If I am A Trainer Or Instructor, Can REQUILIFE Help Me To Improve?
You bet! At the heart of success is knowledge of the subject- an understanding of equestrian history & the techniques required for harmony with horses. We offer clinics in dressage, jumping, pole work & horse handling worldwide- taught in English, German & Swedish. Because we frequently receive horses as a last chance effort to develop them into a useful riding or sport horse, we have extensive experience & can help professionals at any level to help horses recover from poor training and even man-made physical issues. Our system is not just our own, it is the combined knowledge of masters both ancient & modern. Regardless of discipline, much can be gained from REQUILIFE continuing education for professionals- most importantly, how to help you & your students gain new understanding & a new relationship with horses.

What Consultational Services Are Provided by PHONE?
Remote consultation is possible for feeding solutions, training programs & even farm/stable design. If you can't come to us or we can't come to you, we develop creative solutions to help answer your questions, providing your horse the best life possible & you the best relationship with your horse.

What Consultational Services Are Provided In PERSON?
Customized rehabilitation programs for horses with physical injuries or mental anguish are best provided with on site evaluation, therapies & training- either at one of our facilities or with scheduled visits to your stable. Services provided in person begin with phone consult, intake paperwork, photos & video. When available, free pick up & shipping to a Requilife facility is provided for horses enrolling in a 3 month minimum program & with a 6 month program, return shipping is also offered free of charge!

Is It True That McKrell and Christian Are Working on A NEW "Feed" To Support Complete Balance and Health Within The Horse?
We are! Our Requilife feed recipe is complete & we are seeking a manufacturing partner capable of production & distribution worldwide. This is no easy feat as the market is flooded with nutritional products for horses, but we are absolutely certain no one is producing what we have developed. If they were, we would be buying it already!

Our "line" will consist of only 2 products:
*one feed which can safely nourish all horses, irrespective of age, breed or job description
* one top dressing for animals requiring additional support for pregnancy, lactation, travel, starvation or illness

What Will Set These Feeds Apart From Competitors?
Everything! Our feed is completely non-inflammatory. We have created our recipe by utilizing what horses evolved to be fueled with & nothing more.

How Do I Get Started To Develop My Relationship With REQUILIFE ?
Call or email us today! We love hearing from our future new friends! Being a client of REQUILIFE can be compared to marrying into a big, friendly family of fellow animal lovers, passionate sportsmen & paradigm shifters. Not only can we help you with your horses, but in becoming a part of REQUILIFE , you help us help horses around the globe. Be a part of the solution for improving the world for horses! You'll love our work if you love horses- GUARANTEED!
We look forward to your phone call today— tell us about YOUR horses and goals!

---
Contact: McKrell and Christian Baier
1707 Quinn Road
Collierville, Tennessee 38017
Phone: 901-219-7878
Email:
Website: Click Here To Connect

---