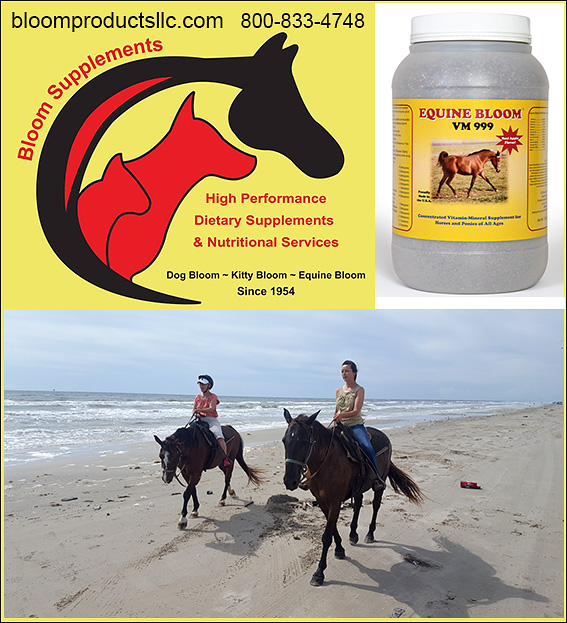 Equine Bloom by Bloom Products, LLC
Equine Bloom offers some of the most COMPREHENSIVE, COMPLETE, Human Grade vitamins for your horse-- it is almost impossible to find better-- and at a better price!!




How Did BLOOM Products Come To Be?
In 1954 John (Jack) Ronicker, a graduate of Ohio State University in Animal Husbandry and Nutrition, started his career formulating dietary supplements for the horse and livestock industry and contributed many important research developments. With the knowledge and success he gained from working with horses and livestock, he began research in canine nutrition for performance and breeding dogs in 1965. The formulations were so successful that he began to market his HORSE and DOG formulations with his new "BLOOM PRODUCTS" in 1970. It became his lifelong mission to continue to research and improve his formulations for horses and dogs. Generations of horse and dog breeders have enjoyed the remarkable BLOOM difference and you can too!

What Do I Look For When Selecting A Superior Supplement For My Horses?
While there are many supplements available on the market today, it is a sad reality that many just aren't worth the container they are packaged in, despite large advertising budgets that would make you think otherwise.

There are 4 simple rules for selecting a quality supplement:

* What does it contain in the Guaranteed Analysis of proven essential micronutrients

* Daily Cost of Usage (not cost of the package!)

* Is it in the purest most "Bio-Available" form (power is best as liquids can be unstable, wafers and tablets can be 75% 'binders')

* Credibility and integrity of the manufacturer.

What Can Equine BLOOM Do For MY Horse?
Equine BLOOM is a very High Potency Vitamin-Mineral Supplement For Horses and Ponies of any age or breed
It's concentrated formula is safe and effective with any feeding program.

BLOOM is The Finest Product Available For:
* Beautiful coats and skin condition
* Strong Hoofs
* Improve muscle tone
* Boost performance and recovery for working horses
* Increase feed efficiency
* Weight gain through better digestion
* Maximize immune system
* Improve stud performance.

Excellent Nutritional Support During
* Pregnancy & Nursing
* Growth Period
* Sick or Convalescing

So What Are The Ingredients That Make BLOOM Such an Effective Supplement?
Very clean ingredient list Dried grain solubles for carrier of the vitamins and minerals and Apple flavor for palatability.

Analysis per pound of EQUINE BLOOM VM 999


| | |
| --- | --- |
| Vitamin A | 1,000,000 IU |
| Vitamin D | 175.000 IU |
| Vitamin E | 5,000 IU |
| Vitamin K | 450 mg. |
| Vitamin C | 4,500 mg. |
| Vitamin B12 | 7,000 mcg. |
| Riboflavin | 1,000 mg. |
| Pantothenic Acid | 2,000 mg. |
| Niacin | 5,000 mg. |
| Choline Chloride | 20,000 mg. |
| Thiamine (B1) | 1,000 mg. |
| Pyridoxine (B6) | 240 mg. |
| Biotin | 5 mg. |
| Folic Acid | 200 mg. |
| Inositol | 200 mg. |
| PABA | 200 mg. |
| Magnesium | .0418% |
| Manganese | .15% |
| Iron | .075% |
| Copper | .015% |
| Zinc | .15% |
| Iodine | .0045% |
| Cobalt | .0015% |
| Potassium | .20% |
| Sodium | 550 ppm |
| Calcium | Min 1.0% Max 1.5% |
| Phosphorus | Min 1.0% |
Is It True That A 2 Pound Container of EQUINE BLOOM Is A 2 Month's Supply?
YES!! It is only
$22.95
to bring this outstanding supplement to your horse— for a full

2 months!

When you see the comprehensive ingredient list above, all with fresh, human grade quality and all in amounts that can actually have a very positive effect on the health and well being of your horse— and then consider the reasonable price— you will see why horse owners on EQUINE BLOOM never go back to anything else!!
Note:

Larger sizes are available!!
What Do Horse Owners SAY About EQUINE BLOOM?

I got both the Equine Bloom and The Dog Bloom. The first thing I noticed, is that my German Shephard, ELSA-- who RUNS from all supplements, was actually trying to eat it out of the jar! She now refuses her food if she doesn't have BLOOM sprinkled on top! It smells amazing the ingredients are just so comprehensive, and after just one week, her coat looked amazing! My Morgan mare "SUGAR" absolutely loves it too. No more "supplements at the bottom of the feeder" left for the flies... she gobbles it up and 2 weeks later she actually had DAPPLES-- something she has never had. I highly recommend this amazing, comprehensive and so affordable supplement for both your horses and dogs!
- Ann Pruitt- Director InfoHorse.com

I love the coat condition is gives all my horses!
Chet D- winning 4th place Gelding at Championships


Ha! I would not go a day with out my EQUINE BLOOM for the health of all my horses for over 40 years!
Diana E

Using Equine Bloom on all my track horses has made some $$ for me!
Carolyn M.
Doesn't Your Horse Deserve To BLOOM With EQUINE BLOOM?
We believe they do. The quality, comprehensiveness, freshness, and wonderful price makes EQUINE BLOOM UNBEATABLE supplement for the mares, foals, pregnant mares, stallions and geldings on your farm. Whether you are training, breeding, performing or just pleasure riding, your horse will greatly benefit from EQUINE BLOOM
Order today and let your horses BLOOM into top condition!
---
Contact: Diane
P.O. Box 40
West Mitton, Ohio 45383
Phone: 800-833-4748 or 937-698-5449
Email:
Website: Click Here To Connect

---