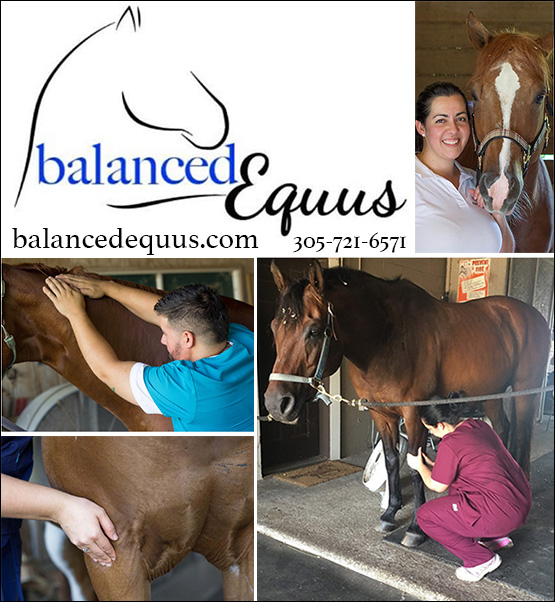 Equine Physiotherapy by Balanced Equus with Roxana Soler
Physiotherapy's main focus is myofascial release-- which is the thin membrane that connects the soft tissue of your horse. It can be a huge help in releaving discomfort and stress.

About Roxana and Balanced Equus
Roxana Soler, owner of Balanced Equus, has been passionate about horses for as long as she can remember. Growing up in a family that owned horses and being a rider herself, Roxana learned about the strong bond between human and horse. Understanding this has been an invaluable asset in our physiotherapy practice.
Because horses cannot verbally communicate with us, they use their body language to relay messages of pain or discomfort. Unfortunately, we do not always listen and mistake it for poor ground manners or lack of training. This was Roxana's experience when at an early age she suffered an accident on a horse. While the accident could have been much worse, it left her with pain, limited range of motion and to this day occasional flare-ups on one of her ankles. Even though she was young, she always wondered if the horse had the same pain and difficulties as she did after the accident. Looking back the horse was trying to communicate that he was in pain but, our lack of knowledge prompted us to classify him as difficult.
This experience among other circumstances was the catalyst to Roxana's pursuit for a career where she could do what she loved— working with horses to help increase their comfort and mobility— and, thus, make a difference— both to the horses— and to the owners who love them.
What Is The GOAL of Balanced Equus?
PERFORMANCE! If your horse is hurting, he or she can't or won't perform their best. By working to restore their comfort and well being so that your horse can give you their optimal performance, attitude and ability. We help your horse by involving you as the owner— and even caretakers in the rehabilitation process. No matter the discipline, Balanced Equus will work with your veterinarian, farrier, and trainer to create a well balanced and solid management team for your horse.
How Is The "Equine Physiotherapy" Offered by Balanced Equus DIFFERENT Than "Equine Massage" ?
While they might look the same massage and physiotherapy are very different. The techniques, amount of pressure applied, and the structures worked are different. Physiotherapy focuses on myofascial release which means that we work mostly with the fascia which is the thin membrane that encases all the structures in the body from the organs to the bones and muscles.
While massage does somewhat work the fascia, the techniques used are directed towards muscle relaxation. That is why massage is strongly encouraged before and after a show. With myofascial release each session is different by focusing on different areas, structures and techniques. Not only are we peeling back layers until we find the root of the issue but by doing so we are restoring the horses biomechanical balance which allows the horse to carry his weight correctly, in order to work properly and prevent injury.
Some benefits of physiotherapy are:
* Increase in performance
* Reduces or eliminates pain
* Increases range of motion
* Behavioral issues caused by pain may disappear
* Willingness and attitude improvement
What Conditions Can Equine Physiotherapy Improve or Help?
Equine physiotherapy helps with eliminating or reducing pain and discomfort and helps to increase range of motion. Behavioral issues caused by pain, increase of circulation and oxygen helping build stronger muscles. It also assists with the release of toxins and waste in the body, which results in increased suppleness and performance improvement.


Why Is The Facia of My Horse Important and How Can Balanced Equus Help?
The fascia's purpose is to connect, stabilize and protect. Horses are supposed to carry 60 – 65% of their weight in their front quarters, 35-40% on their hind quarters and 50% on each side. When a horse starts going through any sort of pain or discomfort, they start shifting their weight in order to cope. The fascia automatically starts tightening in the affected area in order to protect the structures, but it also tightens where the horse has shifted his weight in order to stabilize. This is when we start seeing limited range of motion in the horse which means there is a decrease in performance. Many times, these shifts in the body are reflected in the horse's behavior and can be misinterpreted as a horse being naughty when in fact the horse is in pain.
How Do I Know If MY Horse Can Benefit from Working With Roxana?
If your horse has pain or soreness, if he is not moving properly, if he cannot do exercises that he could do before or if there has been a change in behavior then he will most likely benefit from the series. But even if your horse does not display these issues he can still benefit as physiotherapy can be in these circumstances' preventative. The stronger and healthier the soft tissue is the less likely your horse is to injure himself. We also must keep in mind that horses are good at hiding issues, this is their survival instinct.

Can I Get A Full Assessment FIRST?
YES! Many times, we think our horse is fine when there might be one or several issues that the horse does not allow us to see yet. We must understand that we ask horses to do things that do not come natural to them, such as using a bit, a saddle and carrying a rider or pulling a cart. All of this takes a toll on their body. That is why there is always an assessment done before the first session. We have the owner/trainer fill out the intake form, so we have an idea of the horse's history, nutrition, hoof care, training, etc. We watch the horse move and we do a range of motion and pain test. Depending on the results is how we determine a rehabilitation plan.
How Often Should My Horse See Roxana?
The series is composed of 6 sessions. Depending on the horse's condition and how the soft tissue responds to the bodywork the horse might need less or more than 6 sessions. There are several ways to go through the series. The classical series takes about 5 to 6 months to go through. The first three sessions being up to 2 weeks apart each. There are also two types of expedited series for those horses that have a limited time frame do to traveling, showing, etc. Once the series is done it would be suggested to keep the horse in a maintenance program. This would depend on many factors. I have horses that I work on once a month and I have horses that I see every 3-4 months and even horses that I see every 6 months.
Balanced Equus Is Priced So That EVERY Horse - and Owner— Can Benefit!
What good is having talents and abilities that people can't afford? Roxana is driven by a love of horses- and yes, while she has spent thousands of dollars acquiring the skills and knowledge that she has, she brings them to your horses at very affordable prices! And because Balanced Equus' priority is your horse Roxana continues to further her education in order to be able to provide other services coming soon!

Assessments— 30 minutes— FREE OF CHARGE. All assessments take place before the physiotherapy series starts. We evaluate, movement, range of motion and test for discomfort. During this time we spend which allows us to target the problem areas for your horse— you aren't charged one single dime!
Equine Physiotherapy— 90 minutes (1.5 hours!) just $100. Yes— this is where we get to work that "magic" (favorite term from clients) that we are famous for.
Assessment and Rehabilitation Package— $120. This is for the hands-on owner that cannot partake in the series but would like an assessment and rehabilitation recommendation. This option includes an initial visit and a follow up visit 4 weeks later. No Equine Physiotherapy will take place at this time. Certainly an extremely reasonable charge to find out what is wrong— and how to fix it!
​
What Do People Say After Their Horses Receive A Physiotherapy Session With Balanced Equus?
Says Roxana: I love hearing back from my clients and many times I'm left in awe when I get their feedback. I remember once I received a phone call from one of my clients. I had done maybe 3 sessions on her two horses and I will never forget that phone call. She almost made me cry. She told me that she had owned her two horses for 10 years and I was the first person to truly make a difference. One of her horses had poll and neck issues. And he suffered from a severe lameness and had an entire year off and it was through physiotherapy that he was able to work without issues again.
"Balanced Equus has been working on my own as well as my client's horses at my farm for almost two years and they are amazing. The horses love them, and we see so much improvement in their performance and attitudes with the treatments. They are extremely gifted at what they do!"
– Jane Mendelsohn (Sunset Valley Farm)
"I have worked with Roxana for over a year. She has made such a difference in my lower level dressage horse. Despite joint supplements and regular chiropractic care, my guy was resistant to softness and bend. I noticed a difference in him after our first session, and after a few follow ups, he was a different horse. Roxana has a very comforting approach that horses' sense and respond to. I recommend Balanced Equus as an integral part of horse health-no matter what the discipline." – Sandy Goldman
"I highly recommend Roxana!! My horse, Tia, has been having regular bodywork sessions for the last 6 months and I have seen huge improvements in her overall ability to move and stretch. Tia loves Roxana, her kind and gentle demeanor puts horses at ease, I will definitely be continuing Tia's sessions!!!" – Pam Scott
"I can't thank you enough for all you've done for Alfie since first working on him. Your skills. Compassion, and ability to pick upon subtle changes in his muscles and body have really been a blessing" – Theresa Vanden Heuvel
"As a trainer and riding instructor I want to keep my horses comfortable and moving their best. Sometimes proper nutrition and vet care isn't enough. Roxana completes my horses' wellness regimen and help me bring out the very best in each horse whether it's a 20 year old lesson pony or a competitive show horse, I highly recommend Balanced Equus to anyone wanting to provide their horse with the best care and reach your horse's true potential" – Ruth Hughes (Pine Meadow Farm)
Will Roxana Travel Anywhere In The USA?
Balanced Equus is located in Naples, FL and works throughout the state of Florida. However, Roxana is willing to travel to other states if requested, reasonable travel charges will apply— call us, so often we are truly able to help in amazing ways that makes every penny worthwhile!
Note: Balanced Equus is based in Naples, FL. We work closely with Equi-Trust Equine Physiotherapy and Rehabilitation owned by certified equine physiotherapist, Esteban Suarez located in Miami, FL. Both Balanced Equus and Equi-Trust travel throughout the entire state of Florida.— contact us for our reasonable travel charges to your area.
Don't Your Horses Deserve The Comfort and Restoration That Physiotherapy Can Bring Through Balanced Equus?
We think they do and your horse would agree with us! Balanced Equus has helped so many horses and we can help your horse too. We have the skill, the dedication and the knowledge to locate the 'root' of the problem and to come up with a way to restore— or manage it. Roxana loves horses,and is so easy to work with— you'll be thrilled she came by and so will your horse— pick up the phone and call Roxana today!
---
Contact: Roxana Soler

Naples, Florida 34104
Phone: 305-721-6571
Email:
Website: Click Here To Connect

---