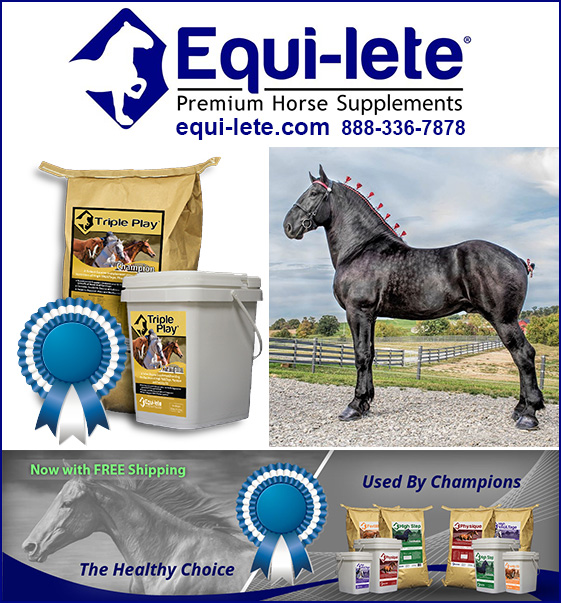 Triple Play® by Equi-lete®
Triple Play® by Equi-lete® is the COMPLETE, PREMIUM Solution to Equine Nutrition! Completely nourishes Joint, Gut, Hoof and more!




About Equi-lete®
The Equi-lete® products are designed by people with a passion for horses and dedication to the owners that love them. Equi-lete® offers a superior line-up of supplements designed to support the ultimate health and well being of your horses. Built with the highest quality ingredients and based on the latest research and technology available, our goal is to provide these elite products — at a reasonable price — making them more than worth the investment. Every horse deserves to have the best in supplement support to offset the rigors of training, travel, stabling or even over-use of pastures.
Equi-lete® is affordable insurance that your horse will have the best in supplemental support available in the market today!

What Sets Equi-lete® Apart From Other Horse Vitamin and Mineral Supplements?
There are several forms of trace minerals and vitamins available in the marketplace. They are very different when it comes to how much is actually absorbed and used by the animal. This is what we refer to as "bio-availability" and can be greatly influenced by many factors. The technology used in Equi-lete® products is the IntelliBond® brand of Hydroxychloride trace minerals. The oxide form of trace minerals, often used by our competitors is inorganic, not very soluble in water, and inexpensive. These are only about 25% as bio-available as the hydroxychloride form of trace minerals. The Sulfate form of trace minerals is only about 40% as bioavailable as hydroxychlorides and can be antagonistic to vitamins A and E as well as other nutrients. Chelates and Proteinates are only about 75% as bioavailable as hyroxychlorides and are fairly expensive. We use a careful selection process, backed by research, to select the line-up of ingredients in any one of our Equi-lete®products to ensure optimal health and well being for your horse!

So Equi-lete® Has Longer Shelf-Life Without Compromising the Effectiveness of Vitamins and Minerals?
YES, and this is a HUGE difference! It is important to understand that by using hydroxychlorides, (IntelliBond® Brand) we are able to extend the shelf-life and the viability of our vitamins and minerals, so that you can be assured that the full guaranteed analysis is available to your horse long after the product has been made and delivered to you!

Is TRIPLE PLAY® Complete GUT, HOOF, JOINT — and more—Nutritional Support?
YES! TRIPLE PLAY® is the COMPLETE, PREMIUM Solution to Equine Health! TRIPLE PLAY® supports, GUT, JOINT, HOOF and more! TRIPLE PLAY® includes high quality trace minerals, vitamins including biotin, Selenium, as well as Probiotics and a powerful level of Active Dried Yeast (Saccharomyces cerevisiae) and Yeast Culture which is shown to reduce lactic acid levels in the cecum from excess starch reaching the hind gut, improve efficiency of energy production, enhance protein and mineral digestibility, improve feed efficiency, and help with digestive balance. Triple Play® includes a cold ocean derived, highly bio-available source of calcium. It contains a pure source of bio-available minerals deposited within its structure by the sea, particularly calcium and magnesium.

Special Note: Triple Play® offers a highly available source of calcium, maintains efficient bone re-modeling and muscle recovery after the stress of performance and foaling. This Calcium also helps maintain a healthy gastro-intestinal tract with slow-release buffering and is a great source for gastric comfort. Triple Play® also contains Essential Amino Acids which aid in muscle and organ growth as well as Stabilized Flax to provide a quality plant derived source of Omega 3 fatty acids.

Is Triple Play® Effective for Performance, Trail Riding— and Even Rescue Horses?
YES! Triple Play® is an excellent choice for ALL horses, whether in performance — training, lightly ridden — or even horses recovering in a rescue. The high levels of vitamins and trace minerals are essential to help your horse reach their maximum health, to increase performance as well as rebuild and recover after a competition, event or training. This ALL AROUND supplement takes the place of at least 6 supplements (Gut, Joint, Hoof, Immune, Bone, Vitamin/Mineral) and will ensure your horse has all around health support and protection!

What Is The Guaranteed Analysis For TRIPLE PLAY®?
Only the best, very comprehensive and designed for a long shelf life! Starting at less than $105 for a 25 pound pail. See our pricing for multiple size availability.


Crude Protein (min) 15.50%
Crude Fat (min) 12.00%
Crude Fiber (max) 10.00%
Methionine (min) 0.44%
Lysine (min) 0.52%
Calcium (min) 7.20%
Calcium (max) 8.60%
Phosphorus (min) 1.25%
Magnesium (min) 2.00%
Potassium (min) 0.80%
Copper (min) 540 ppm
Selenium (min) 25.00ppm
Zinc (min) 2250 ppm
Vitamin A (min) 49,000 (IU/lb)
Vitamin D3 (min) 10,800 (IU/lb)
Vitamin E (min) 1,200 (IU/lb)
Manganese (min) 1950 ppm
Cobalt (min) 2.00 ppm
Sulfur (min) 0.75%
Iodine (min) 25 ppm
Iron (min) 1700 ppm
Thiamin (min) 70 (mg/lb)
Riboflavin (min) 50 (mg/lb)
Niacin (min) 51 (mg/lb)
Choline (min) 452 (mg/lb)
Biotin (min) 42 (mg/lb)
Ascorbic Acid (min) 72 (mg/lb)
Total Microbial Count (min) 4.2 (billion CFU/lb)
Saccharomyces cerevisiae (min) 50 (billion CFU/lb)

What Do Horse Owners SAY About Triple Play® by Equi-lete®?
One of the greatest rewards for us is hearing testimonies from our customers of how the Equi-lete® products have made a real difference in the health and performance of their horses. We measure success by results! This is evident by the champion horses using our products. We believe when you use superior products you can experience awesome results.

I love the products! Our OTTB Thoroughbred looks great on the mineral products - this horse was underweight, no muscle, no top line when we got him, and his feet were horrible! Check our website with our other horses on the products.
S&S Stables

"I first started using Equi-Lete® in 2014, feeding High Step™. I was very happy with the results I was getting. That year I campaigned Kealey's Tequila in the states. She was Supreme Percheron at Ohio State Fair, champion mare at Indiana State Fair and finished that season winning world champion three year old mare and res senior champ mare at the World Percheron Congress. In 2015 and 2016 I switched to the High VAULTage™, and the results were outstanding! Tequila went on to be undefeated both years in Canada, winning supreme champion at every show. One of the things I kept hearing people tell me was they were so impressed with her fit and shine of her hair and how black she was. In 2016 Tequila had a late foal and she had gotten sucked down by the time the foal was old enough to be weaned. In just 6 weeks after having weaned her foal, I couldn't believe how much weight she had gained and had filled out very nicely. I am very pleased with the results I've been getting and will keep using the Equi-Lete® products. This spring I have started using Triple Play® and am very excited to see the results. Thank you for making these great products and at a great price too!"
Dean Kealey, Kealey's Percherons

"Triple Play® has made a tremendous difference in the growth and development of our horses. I can see the benefits at the different stages of maturity. We put all our horses on Triple Play® at 6 months."
Jake Riehl, RRA's Percherons

"This horse is 21 years old. Last year I found out he is insulin resistant. He ended up with laminitis and lost a lot of weight. We put him on Triple Play®, and he gained weight back and is getting paychecks again!"
Nikki Zinn

"YES!!! The summer has started amazing!! We travel 2-3 nights a week to barrel races and Skip is holding weight and running hard! Very happy!!! Thank you! Carrie Schubert

"I have a team of horses, 15 and 17 years old. The one did not conceive the last two years, and the other one did not conceive last year. They were behaving like an old team of horses, low energy and lacking endurance. I started them on Triple Play®, and in two months, I was amazed at their transformation. They now have energy and are acting like a pair of three-year-olds. Someone else was using my team and asked where I got the new horses? I said, "They are not new, these are my same horses!"
Anonymous Wisconsin Horseman

Don't YOUR Horses Deserve The COMPLETE Health Insurance Offered By TRIPLE PLAY®?
We think they do! Every horse, from performance horses, to trail riding, to pleasure horses, can benefit from the "hoof to tail" supplemental protection offered by TRIPLE PLAY®. You'll love what TRIPLE PLAY® by Equi-lete® does for your horses! Call and order today!


---
Contact: Our Friendly Staff
494 West Broad Street
New Holland, Pennsylvania 17557
Phone: 888-336-7878
Email:
Website: Click Here To Connect

---