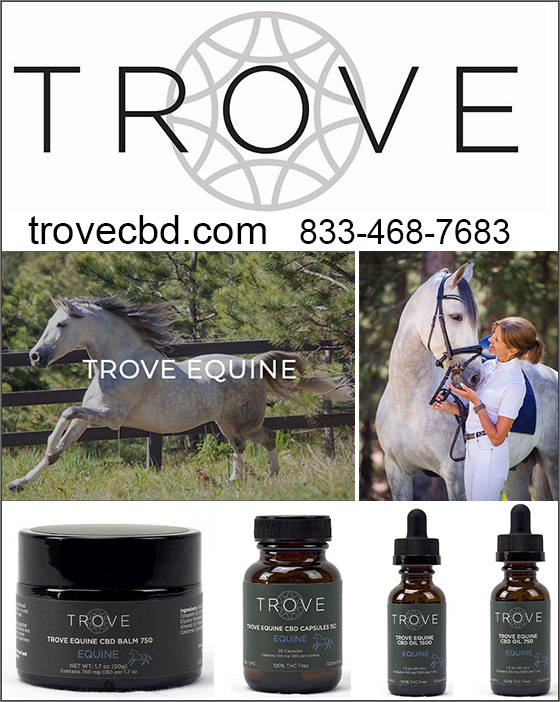 Trove, LLC
Trove CBD was started to find a cure for their beloved Palomino STAR who had a terrible neurogical disorder. Thanks to their ORGANICALLY GROWN Hemp, Star is performing again!



Is It True That TROVE Was Started For The Love of a Horse?
Yes! Trove CBD came about, all because of the love of a horse— a beautiful palomino named STAR. STAR was a breathtaking 3-year-old palomino filly destined for a performance career or a life where she simply could realize her inner "Barbie Dream Horse" self — either way, a promising future. But on the way to her destiny, Star started exhibiting a baffling neuromuscular condition, presenting with involuntary and uncontrollable superficial muscle fasciculations, the increasing frequency and severity of which caused this once affectionate filly to become a danger to herself and to her caregivers.

In an attempt to help her horse, Trove LLC co-founder Deborah Carter exhausted all veterinary diagnostic and traditional treatment options, spending untold hours and thousands of dollars with no resolution. With the veterinarians out of ideas, Deborah feared that, absent a miracle, she would have to euthanize her young horse.
After much investigation revealing positive anecdotes but sorely few hard facts, and with the blessings and hopeful expectancy of Star's treating veterinarians, Deborah decided to institute her own trial of oral CBD as an alternative and final effort to save Star. The results were nearly immediate, and Star made a dramatic turn for the better. She continues today to show almost no signs of her previous neuromuscular condition.




About Deborah and Samuel Carter — Co-Founders of TROVE, LLC
Inspired by Star's story, Trove LLC co-founders, Deborah Carter and Samuel Carter set about to investigate, assess, and document results of CBD trials in people, horses, dogs, and cats. The results were overwhelmingly positive and supportive of widespread reports of the benefits of appropriate CBD delivery in promoting calm and addressing soreness, as well as supporting nervous/immune/GI/musculoskeletal systems. Additional benefits of CBD continue to be revealed as momentum builds, awareness grows, and formal clinical trials are sanctioned.

Does Trove Collaborate With Veterinarians and Health Practitioners to Help Fund Health Studies?
YES! Trove LLC is collaborating with health practitioners, veterinarians, and other individuals and organizations to help broaden the understanding and realize the promise of CBD as a desirable alternative for improved comfort and well-being. A portion of the proceeds of every sale of Trove products is earmarked to help fund health studies to explore, determine and define the most effective uses, dosages, and administration options of CBD. We invite you to explore Trove's website, shop Trove products, and experience the benefits of Trove CBD.

What Sets TROVE Equine CBD Apart From Other CBD Products?
Trove Equine CBD products contain organically grown USA hemp and are crafted with the same premium ingredients and with the same quality standards as our people products. With a range of options and CBD strengths specifically formulated for horses, Trove can help owners and their veterinary professionals tailor a regimen that works. Trove also offers a full product line specifically designed for people and for dogs and cats, too. THC free, gluten free, non-GMO and vegan. All products taste great, smell heavenly -- and they work!

How Do I Know If My Horse Can Benefit From CBD?
Burgeoning research and experiential evidence suggests that CBD may benefit horses in the following ways:

* promoting calm
* addressing soreness
* surviving stall rest/rehab
* supporting the neurological, digestive, immune, and musculoskeletal systems

What Is The Difference Between the 750 oil and the 1500 oil, Which is for What?
Trove Equine CBD Oil 750 contains 25 mg CBD per 1 mL, and Trove Equine CBD Oil 1500 is a stronger formulation, containing 50 mg CBD per 1 mL. Much like people or dogs, individual horses will respond differently to varying doses of CBD. Therefore, suggested dosages will depend on a variety of factors, including severity of symptoms, whether treating for an acute or chronic condition, and effectiveness of other supportive therapies. Most often, you will be able to assess your horse's response in a very short amount of time, and can choose which Trove Equine CBD product is most advantageous for your horse. We are happy to talk to you about your specific needs.

What Benefits Do The Capsules Offer My Horse?
Trove Equine CBD Capsules 150 offer the highest dose of CBD (150 mg CBD per capsule) in a convenient capsule form, and therefore may prove to be helpful especially in acute situations, intermittent/occasional use such as trips to the vet or away from the comfort of your home barn, or where you prefer to start with a high impact approach and then reduce to maintenance on a lower dose of Trove Equine CBD Oil 750 or 1500. Capsules can be added directly to feed, or quickly dissolved in a mash.

How Long Should My Horse Be On Trove CBD?
As long as necessary to achieve and MAINTAIN desired results based upon your assessment (along with your vet) that your horse is benefitting from Trove. Every horse and every situation is unique. Some will continue to benefit from a therapeutic daily dosage or occasional targeted use, while others will return to normal work without continued Trove CBD maintenance.

How Do I Apply CBD Balm To My Horse?
Trove Equine CBD Balm 750 contains a unique formulation of coconut oil, arnica butter, Vitamin E, shea butter, and organic tea tree essential oil to help address soreness and nurture your horse's skin. Apply topically to targeted areas of concern, gently massaging into skin in order to penetrate beyond the surface hair coat. Your horse will likely enjoy the touch, and the time spent massaging will discourage rubbing, allowing the CBD to start to absorb into affected areas of inflammation. If desired, Trove Equine CBD Balm 750 may be applied under a standing wrap. Avoid eyes, and do not apply directly on open wounds or incisions. Apply 2-4 times daily.

Can TROVE Help ME as a RIDER?
Absolutely! Trove CBD has an entire line up of products for HUMANS as well as horses. From our ingestible Trove CBD Oil 750 and Trove CBD Capsules 25 to our topical Trove CBD Body Balm 750 and Trove CBD Massage Oil 300, we have absolutely the BEST in CBD health and wellness support for people who want to be able to feel and focus better doing the things that they love.

What Does Olympic Dressage Rider, Steffen Peters, Say About Trove?

After over 35 years of international competition, including five Olympic Games, two Olympic medals, two World Cup medals, four Pan American Games medals, and countless national and world championships, dressage rider Steffen Peters started experiencing troubling anxiety in advance of the 2020 Olympic Games.
"The pressure of making teams and constantly delivering caused severe anxiety. I didn't understand the anxiety symptoms, and thought I had all kinds of life threatening diseases. I saw many doctors and coaches, and they assured me that I was healthy.

Despite a clean bill of physical health, Steffen's quest to attend to his mental health and deal with his crippling anxiety led him to explore all options and ultimately find cannabidiol or CBD. But not just any CBD. Steffen's status as an Olympic athlete places him under the strict regulations of the World Anti-Doping Agency (WADA) that allow CBD — but explicitly ban THC and other cannabinoids. In a space where CBD products are proliferating, someone like Steffen needs to know what's really in the bottle. Enter the Trove line of premium CBD products.

Since starting with Trove, I've been able to relax under pressure, and as a result have had wonderfully focused rides on Mopsie. [AKA Four Winds Farm's "Suppenkasper", Steffen's equine partner contending for the 2020 Tokyo Olympics]. And the massage oils and the balms seem to work wonders in addressing pain and relieving tension. All are wonderful products! If I'm open about how anxiety affected me, my hope is that others can benefit, too.
— Steffen Peters



Enjoy The Health and Wellness Benefits That Trove CBD Can Offer!
You and your horses deserve the best… the best in health, well being and ability to perform! See why top professionals to everyday horse men and women depend upon Trove to help improve the life and well being of their horses — and themselves. We are always available to consult with you to help you choose the right products and the correct therapeutic dosages. The entire Trove team welcomes your calls, questions and orders today!

---
Contact: Samuel or Deborah Carter
1153 Bergen Parkway Suite I-317
Evergreen, Colorado 80439
Phone: 833-468-7683 or 303-931-1210
Email:
Website: Click Here To Connect

---