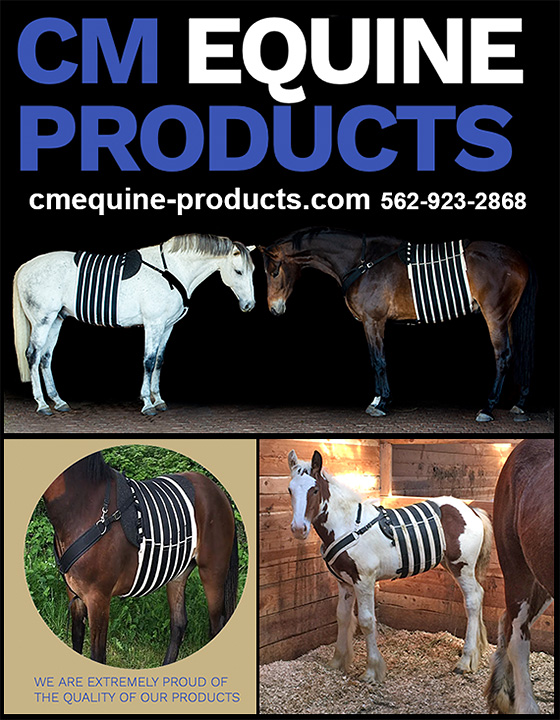 "Post Surgical Pressure Belt" by CM™ Equine Products
"Post Surgical" or "Hernia" Belt is designed to give your horse the support he needs to elicit a more rapid and complete recovery. Such a comfort to a horse with either a colic surgery or a hernia!

About the CM™ "Heal Hernia Belt"
The CM ™ "Heal Hernia Belt" was developed for non-invasive repair of umbilical hernias and use as a post surgical pressure bandage and for reduction of post-surgical hernias. Having a horse undergo Colic Surgery is stressful for both horse and owner. Helping the horse to regain its stomach wall strength is imperative to a complete and successful recovery. The CM ™ Heal Hernia Belt, "Post Surgical" or "Hernia Belt" designed by CM ™ Equine Products has been producing astounding results. Approved and recommended by Veterinarians, with a patent pending, the "Post Surgical" belt is easy to put on, comfortable for your horse, machine washable and dryable, very durable and highly effective.

What Is the CM™ Hernia Belt Made From?
The belt/bandage is rectangular in shape and contains multiple pressure adjustments. The pressure adjustments run along the abdomen starting behind the front legs and extending to the flank area in front of the rear legs. There is a large pocket on the underside of the bandage which contains a stiff manipulating element (hard insert) used to push the intestine up in the abdominal cavity. This relieves the pressure and allows reduction and closure of the hernia. The pockets position and pressure adjustment of the belt is critical to the closing of the hernia.
Note: A breast collar and pad must be utilized with all styles. All belts come with a neck strap. If the bandage is being used as a pressure bandage post-surgery, be sure to remove the hard insert.

What About UMBILICAL HERNIAS In Foals?
For treating umbilical hernias, there is an extended style pocket. A breast collar and pad must be used for all styles. All sizes come with a neck strap. The Foal 1-3 sizes include the breast collar and pad. The larger sizes are available at most tack stores. For fastest results with the closure of the hernia, it is recommended to begin treatment as early as 30 days. Before use, be sure the umbilical cord has dropped off and that there are no sores to the area. For foals one to three months old, put the belt on in the morning and remove in the evening. For foals older than four months, the belt can be worn in overnight.
Note: In order to prevent sores and/or a skin infection, be sure the foal is clean (free from all dirt) and that the belt is clean as well. Older horses with umbilical hernias should adhere to the same exercise treatment of the post-surgical hernia.

What About "POST SURGICAL ABDOMINAL PRESSURE" Use Of This Bandage?
Your horse will love the support and comfort the CM™ Post Surgical or Hernia Belt offers to horses recovering from abdominal surgery! If the bandage is to be used as a post-surgical wrap, the stiff manipulating element on the inside pocket is to be removed. The inside the pocket also contains foam pieces which are to be left inside for additional support to the incision site.

So, How Does This Belt Work To Help My Horse?
The purpose of this pressure bandage is to expedite the healing process by relieving swelling and allowing for better drainage which promotes a healthier blood flow and provides additional support to the equine. If used properly for 8 to 12 weeks, the pressure bandage can aid in the prevention of hernias that could form subsequent to abdominal surgery in addition to expediting the overall healing process.

Note: A breast collar, pad and neck strap should be used. Be sure the horse is clean (free from all dirt) and that the belt is clean as well. If the CM Heal Belt is soiled be sure to have it laundered. In order to protect the belt from any drainage, a Telfa pad, baby diaper (remove elastic) or something absorbent with a plastic lining should be used.

What About For USE FOR A POST SURGICAL HERNIA Belt?
Horses recovering from hernia surgery will greatly appreciate the support and comfort of this belt. The stiff manipulating element is to be inserted between the two foam pieces inside the pocket. This will assist in relieving the pressure and allow for a reduction and closure of the hernia. The positioning of the pocket and pressure adjustment is critical for closure of the hernia.
Note: A breast collar and pad must be utilized with all styles in order to prevent top line pinching and pressure sores. In order to keep the breast collar off the shoulders of the horse, a neck strap is provided.
For this method of treatment, an exercise program is recommended. For inactive equines, it is recommended to start with walking 5 to 10 minutes a few days a week. Gradually move to a 5-minute slow trot daily and increase the duration every few days until it has reached a consistent trot of 30 minutes per day. Subsequent to each session, remove the belt for a cool-down period of 1 to 2 hours prior to putting the belt back on
Additional Note: In order to prevent sores, be sure the horse and belt are both clean (free from all dirt).

What Do Horse Ownes Say About Their Post Surgical Belt?
I wanted to email you to say thank you for making such a great product. I have just started using your belt on my 7 year old horse that has a incision hernia after colic surgery and it's already helping. I am now hopeful he won't need a second surgery for repair. I posted a photo of him and my friends said he looked like a model for the belt so of course I wanted to send you the photo. Thank you again!
Shelley Sanderson

My yearling filly had colic surgery, got a post op incision infection resulting in three large hernias. She also came home from the hospital with a pressure ulcer on her withers that went down to the bone.

After almost losing her a couple times during the four month recovery period, I had become very attached to this sweet thoroughbred. I took her for a surgical consult for the hernia and was told that she had an opening in her belly wall the size of a soup can, was not a surgical candidate and would eventually have to be put down.

My wonderful vet worked with New Bolton Center and they recommended your product. We watched the video and , with tranquilizers at the ready, just in case we needed them, we put the belt on this unbroken yearling. She never moved a muscle. We had to teach her to lounge so we could complete the program-- because of the pressure ulcer problem, we had to make adjustments to your back pad to keep pressure off of this area. We made substantial progress in the first six weeks. As you can see from the photos the improvement was amazing. Because the opening in her abdominal wall wasn't closed we had to continue the program for a few more weeks. That Fall, she showed in Hunter Breeding Yearling Conformation and won top Pennsylvania yearling thoroughbred and Reserve Best Young Horse.

She is now a three year old going under saddle. She has had not further
complications and has kept her wonderful sweet personality. I am so grateful that we tried this belt-- it seemed like a real Hail Mary pass, but it worked for our filly, Wissie's Promise! Thank you so much!
Elizabeth Clark Flower Hill Farm
Hear What Veterinarian Michael D. Williams of Norco, California Has to Say
This unique, Patent Pending, device includes a pocket configured for receiving a relatively stiff manipulator element and maintaining such element directly over the herniated area. The manipulator element causes a pressure point to be focused on the intestine that is distended below the abdominal cavity, pushing it back into the opening, relieving pressure on the abdominal cavity and when the equine walks or moves it is manipulating or stimulating the hernia ring, causing cell activity to close the hernia.
I have referred clients to this product with foals suffering from umbilical hernias that would eventually need clamping or surgery. These referrals have been successful and no surgery required. THIS METHOD WORKS and I will continue to support this product and to use this non-invasive method of treatment.

I am aware that this same device is being used on adult equine that have hernias from Colic Surgery. The device and treatment method is working to close large hernias that would have required surgery, prior to this treatment. I will be using this device on my future abdominal surgery cases
–Michael D. Williams DMV

Call and Get Your Post Surgical Belt And Make a Difference To YOUR Horse!
If your horse has undergone surgery for colic, the "Post Surgical Pressure Belt" by CM ™ Equine Products could be just what your horse needs to ensure a complete and successful recovery. CM It will make a world of difference in both your horses recovery-- and comfort! Call and order today!

---
Contact: CEO and OWNER Bobbi Miesen
CM Equine Products
Downey, California 90241
Phone: 562-923-2868
Email:
Website: Click Here To Connect

---