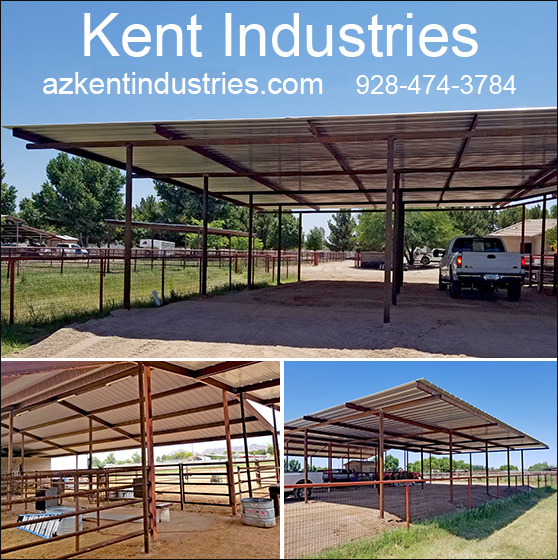 Pipe Barns by Kent Industries
Our patented "Easy Weld" Pipe, our Mare Motels, Outdoor Barns, Corrals, Arenas and fencing will last your family for generations to come-- providing an outstanding secure enclosure for your horses



About Kent Humm…. Owner and Originator of the EZ Weld Pipe BARN System:
First, you need to know that Kent Humm is one of the nicest men you'll ever have the pleasure to work with. He is friendly, concerned for each project and will help you in every way possible to put together his amazing EZ Weld Pipe BARN System… by the end of the project, you will have a friend for life!

Interesting Fact: Kent Humm is the seventh generation cousin related to Buffalo Bill (Cody) and is the only one in his family that looks exactly like Buffalo Bill. In addition, Kent is the only person in the family who has actually be able to sit, comfortably, in Buffalo Bill's Chair.

About Kent Industries
Established in Arizona in 2003 Kent Industries Inc. continues to grow and expand it's business across the United States of America. This expansion brings our company in competition against various fence companies. Corresponding strategic objectives enable our business to streamline our operations.

* Currently we are a "one stop shop" for all Pipe Fencing needs.
* We are known for our amazing, enduring PIPE BARNS (mare motels, covered pipe corrals)
* We are inventors of the PANEL BUDDY (to help horse owners easily move pipe panels from one area to another)
* Our fencing also is amazing for: Pipe Barns, Estate Perimeter Fencing, Equestrian Arenas, Rodeo Arenas, Riding Arenas, Livestock Feedlots, Roping Arenas

Special Note: We are horse people. There are NO SHARP EDGES on our Steel Pipe Fencing or BARNS !

What Is Their Mission?
Our mission is to establish Kent Industries Inc. as the premier purveyor of the finest Pipe Fence in the world while maintaining our uncompromising principals while we grow. At Kent Industries Inc. we are dedicated to the well-being of our clients, future clients, animals and families. We strive to uphold our high standards by using good judgment and common sense in everything we do and by staying true to our core values of service , Loyalty, Honesty and Integrity. Our Mission and commitment is to cheerfully, and knowledgeably provide excellent service to all customers and potential customers.

Is It True That EZ Weld by Kent Industries is a LIFETIME BARN?
YES. This BARN system is built for life! Our Company is dedicated to building custom fences, buildings, barns, with our patented pipe fence connectors and they are the strongest, safest on the market. Proudly made in the United States of America. Kent Industries Inc. Pipe-fencing is less expensive than other competitors due to the strength and professional installation system. This will be the last BARN you will have to build or have built.

More About Our LIFETIME Barns and Styles
Our engineered do it yourself mare motels made with used oil field pipe , C-perlins and receiver channel topped with R-panel steel roofing, In-conjunction with our patented pipe fencing system with per-fabricated connectors and parts make it easy for anyone to build gates, stalls, runs, corals, round pens, alley ways and fencing. It will look like a professional craftsman built you own private horse facility.


1. Solid sloped roof mare motel
2. Breezeway style mare motel
3. Loafing sheds

What Is The EZ Weld Pipe BARN STRONG and SAFE?
Incredibly STRONG and SAFE!! You want your BARN to be made of material that will securely contain your horses and live stock without concern of their safety. Our Patented strong steel pipe fence and connectors, can withstand up to 1000 lbs each rail and center rail and posts can withstand 1000's of lbs. Snow load and 115 mile per hour wind sheer! All sections are welded and are not going to crack, break or corrode
* Live stock friendly
* Multi-patented
* Welded pipe barn system with prefabricated connectors and accessories.
* Multi-purpose fittings make corners and hill side construction easy
* High end -- yet affordable!
* Permanent
* Heavy duty
* Also good for corals, fences, arenas, gates, stalls, alleys and perimeter fencing.
* USA made products,USA Patents, USA workers, USA manufacturing
* 100% USA owned company and built on USA ground.

Is EZ Weld DURABLE?
Our American patented fencing connectors and steel pipe fencing is extremely durable and versatile fence system that provides years of trouble free service. We have custom steel pipe fence solutions for all . Our solutions are designed to give you the highest quality fence so you have a peace of mind you have a Safe, Permanent , Steel Pipe Fence.

Can Kent Industries Help Me Select The Best Pipe BARN For My Needs?
YES! With over 25 years installing steel pipe fence, barns, livestock corals, and agricultural fencing system in the west. We can help you choose the perfect steel pipe fence, gates, barns, livestock corals and agricultural fencing. We have designed hundreds of steel pipe fences for many satisfied customers over the years.


Is It True That My Property Value Can Increase?
Steel Pipe Fencing not only looks great but should increase your property value— as permanent fencing has a positive effect on value, durability, safety and sale-ability for your future!

If You Are Needing a PERMANENT "Once and Done" BARN or Mare Motel -Call Today!
The most expensive BARN is the one you are constantly mending, repairing, replacing and worrying about. The EZ Weld Pipe Fence is worry free — once and done— Barn. You will love the peace of mind that comes with it. Call and talk to Kent today— he'll answer all your questions. Diamonds are forever just like our BARNS!


---
Contact: Kent Humm
113 West Aero Drive
Payson, Arizona 85541
Phone: 928-474-3784
Email:
Website: Click Here To Connect

---