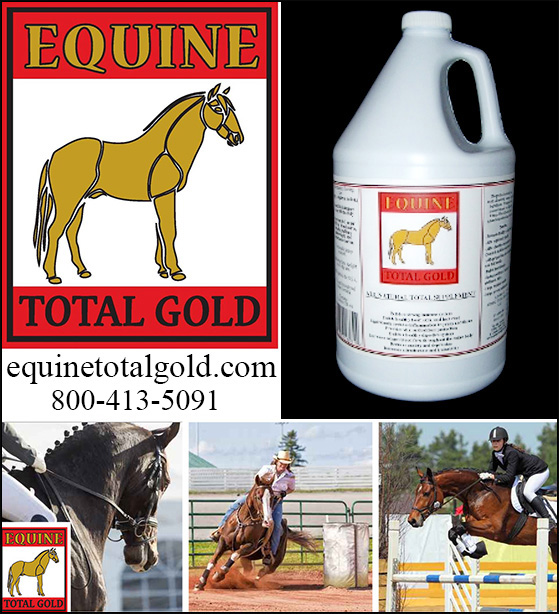 Equine Total Gold
Whether you are using our regular Equine Total Gold or our Anhidrosis Formula- the results are amazing and speak for themselves!
What Is Equine Total Gold?
EQUINE TOTAL GOLD
is a patented, all natural supplement made from expeller pressed NON-GMO soybean oil, human-grade high Omega 3 fish oil, and potent natural anti-oxidants. EQUINE TOTAL GOLD is, truly, a

total health supplement.
What Makes Equine Total Gold So EFFECTIVE?
The only way to have an effective "total" supplement is to

begin on the cellular level

to improve the animal's health. By starting on the cellular level and balancing the animal's essential fatty acids, "EQUINE TOTAL GOLD" does not simply battle health symptoms, as other supplements do, WE ELIMINATE THEM! It is rare and difficult to patent a supplement as a "total" supplement, but ETG is patented!
This supplement will pay for itself in three different ways:
1. ETG eliminates the need for other supplements! You may wean-off other supplements, immediately, after starting "EQUINE TOTAL GOLD".
2. You can reduce the amount of feed needed for your horses! ETG helps the horse digest the feed more efficiently and adds healthy essential fatty acids to your horse's diet. For example, a recent field trial for barrel horses yielded a reduction of feed from between 25 to 50%!
3. Your horse's immune system and immune response will maximize and reduce the need for vet visits
What Benefits Can I Expect From Equine Total Gold?
*
Healthy Hooves, Skin and Coat
*
Reduced Inflammation and Joint Discomfort
*
Healthy Digestive System
*
Reduction in Anxiety and Stress
*
Aids Respiratory Health
*
Aids in Foal Health and Development
*
Helpful to Reduce Allergies
*
Help Block Lactic Acid Buildup
*
Helps Prevent Anhydrosis
*
Greatly Improves the Effects of COPD
*
Anti Oxidant Protection
*
Only $59.95
for a gallon one month's supply!
But My Horses Have Access To Pasture… Can They Still Benefit From Equine Total Gold?
YES! Yes, grass contains only 2-3% fat. Most of this fat is ALA, the parent chain of Omega 3 and some Omega 6. All grain feeds are high in Omega 6 and very low in ALA, Omega 3. Your horse's overall diet becomes over balanced in Omega 6 and can cause numerous health problems. Equine Total Gold can correct this imbalance.
Could I Use Equine Total Gold On My Performance Horse? Will It Test?
Equine Total Gold

is a completely natural organic formula. It will be amazing for your performance horse! It is recommended that the dosage be doubled a few days prior to competition to enhance respiration, attitude, and recovery. All clubs and associations accept Equine Total Gold.
Just apply 1 pump on your horse's feed per 300 pounds of your horse's weight. That's 4 pumps daily for the average horse. If you feed twice daily, then give 2 pumps at both feedings. You will see a difference with this gallon, but you will see more positive things in the second month!
My Horse Has Anhidrosis
—
Can Equine Total Gold Help?
YES! Equine Total Gold Anhidrosis Formula
is one of the most effective sweat supplements on the market. Most non-sweat horses will begin to sweat in 24 to 48 hours, when given a double daily serving. In extreme cases, it may take up to a week or more. This is one of the most effective sweat supplements on the market. Our supplement is over 85% effective in getting your horse to sweat! Our Anhidrosis (sweat) formula is the best on the market. Other popular sweat formulas can be less than 50% effective.
"Equine Total Gold's Anhidrosis formula" is proven to be 85% effective and starts working in as little as a few days!
Our Anhidrosis formula is a "beefed up" version of Equine Total Gold so you can substitute it until your horse begins to sweat. Then, continue with Equine Total Gold to keep your horse sweating!
At only $89 for a gallon
, it is the most affordable and healthy solution available on the market today!
Note:
A gallon is a 1 month supply for an average (1200) pound horse. Just apply 1 pump on your horse's feed per 300 pounds of your horse's weight. That's 4 pumps daily for the average horse.
If you feed twice daily, then give 2 pumps at both feedings.
What Do Horse Owners SAY About Equine Total Gold?
"Since I started using EQUINE TOTAL GOLD, I have seen a major difference! Before starting it, I was injecting my horses about 4 times a year. Now I inject them no more than 1 time a year! That savings alone pays for the supplement! Also, my horses have more stamina, are more calm and focused, andrecover quicker! They look and feel great! EQUINE TOTAL GOLD is the real thing!"
Shawn Calhoun
"My horse, Three Brass Bargins (Barney), had wheezing in his breathing and was diagnosed with COPD over a year ago. After having him on EQUINE TOTAL GOLD a week, I heard no more wheezing when trotting and loping. I legged him back up really good and ran him after three weeks on it. He ran so hard that he over ran all three barrels because he could breathe again! Now he has settled down and started running right. He recovers breathing in just a few breaths after his run like he use too! I had tried oxygen products, running him on dex, used Ventipulmin and Albuteral, and nothing helped him at all! I could still hear wheezing! I could hear it even trotting and loping circles. It would take him 30 minutes to an hour to recover after a run! I am so glad I used ETG for his COPD!!"
Hallie Nosser
"I would like to tell you what ETG has done for my horse Jim! Those that know me, know how much I love this horse! Will Chun uses this product and I asked him about it. I asked him if they paid him for his comments on the product; he said no and he told me it really works! Jim has really bad allergies, to the point of rubbing his nose on anything that he could find – the ground, trees, me. He would sneeze and toss his head up and down. He was hard to ride and has made me so scared when I was riding him that I had tears and to the point I didn't want to ride him anymore! I am on my 4th bottle of ETG and Jim is amazing – no more allergies and he looks beautiful! He can breathe, focus, and run faster! He is soft as silk and shines! One of my friends came over and saw him. She just stood there, looking at him! She asked me what I have done to Jim because he looks soooo beautiful!! Thank you, Equine Total is truly Gold.!!!"
Alice Couch
"Dozer had West Nile in Sept. of last year. He would not gain weight and stayed with a very unhealthy looking coat. We started him on EQUINE TOTAL GOLD. In only 2 months, he looked good again! We could see his body changing over that period!"
Melissa Mouton
"I have no doubt that EQUINE TOTAL GOLD helped Caitlyn's 20+ year-old horse Hollywood win the AAY PONY CHAMPIONSHIP! Her horses are running faster and more consistently. They are calmer and easier to handle in the holding pen and alleyway before a run! I am a customer for life!"
Jason Crotwell
At the recent 'Biggest East of MS Team Roping Championship' in Muscle Shoals, AL, my horse, 'Apache' continues to perform amazingly on EQUINE TOTAL GOLD. We placed 1st and 7th!! 'Apache' has been on EQUINE TOTAL GOLD for a few months. He looks and feels great, hauls better, has great focus, and greatly improved his hoof health! I no longer have to inject him! EQUINE TOTAL GOLD is the only supplement I use. Water, hay, feed, ETG – that's all a horse needs!"
Jake Pollar
d
Don't Take a Chance With Your Horse's Wellbeing and Performance- Feed Equine Total Gold!
All you have to do is to try it for 60 days. It takes a few weeks for cellular changes to start to become noticeable, but once you are on ETG or ETG Anhidrosis, you will see WHY clients who TRY Equine Total Gold— STAY on
Equine Total Gold
. The results are just that amazing!
Bruce Wilford is the owner, and loves to talk horses… call him today and let HIM tell you about Equine Total Gold and how it can make a difference to YOUR horses!
---
Contact: Bruce Wofford
210 N. Monroe Street
Houston, Mississippi 38851
Phone: 800-413-5091
Email:
Website: Click Here To Connect

---