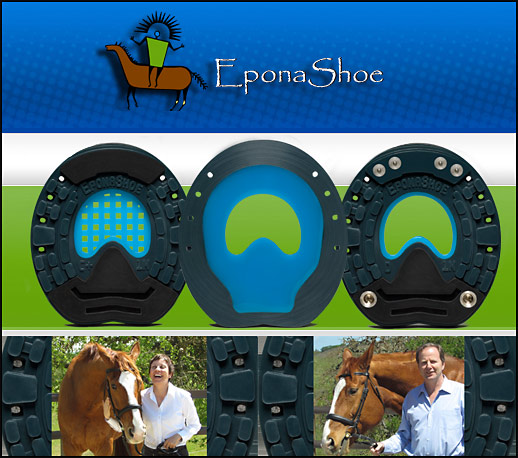 The EponaShoe
Engineers John and Monique Craig shown with their beloved Smirnoff--the inspiration for the one-of-a-kind EponaShoe!

How Did The EponaShoe Come To Be?
"Necessity is the mother of invention"-(Plato)
John & Monique Craig are horse owners who also happen to be skilled engineers. When their beloved horse, Smirnoff, which they acquired back in 1989, developed an "off-and-on" lameness that did not seem to be helped by conventional methods, the Craigs went on a learning quest concerning the hoof, which both tested and expanded their skills as engineers. The Craigs also used most of the other flexible shoes on the market, but grew tired of working around the practical problems that have plagued other plastic shoes, and so set about designing the EponaShoe. It paid off: Smirnoff has been sound every day for the past 3 years! EponaTech in 2000. After years of research and testing, and putting their individual skills together, the EponaShoe was created in 2003 and remains the premiere flexible shoe on the market today!
Monique is a computer science engineer, farrier, rider, and hoof researcher. John has a PhD in Engineering from Stanford and is also the author of the leading college textbook on robotics -- a background he now applies to researching the biomechanics of the horse. It was during this research that they founded
How Is The EponaShoe Different From The Competition?
At the risk of over-simplifying, we can say that most plastic shoes are either too hard or too soft. Plastic shoes that are too hard can cause pressure points under the sole and make some horses sore. This problem is more apparent with plastic shoes than with metal because plastic shoes always have a "wider web" than metal shoes - hence, they reach in under the sole further. On the other hand, plastic shoes that are too soft will not hold nails and will not keep their shape. The EponaShoe is the first shoe to solve this problem by using two materials on the "sole side" of the shoe. The EponaShoe is hard and stiff where the nails go, but soft and supportive under the frog and sole.
Should The EponaShoe Be Nailed Or Glued?
Either way is fine! You may be interested to know that the EponaShoe materials have been designed to accept adhesives - either acrylic or polyurethane based - to glue the shoe to the horse's hoof. Conventional nailing is fine for many uses and situations and it's something that all farriers are familiar with. To glue the shoe requires a bit more time and expense, but we find glueing is great for therapeutic cases – the glue spreads the load evenly around the hoof and horses love it. We recommend EquiBond Glue if you are considering gluing your shoe, but other glues will work too. The EponaShoe is the first and only flexible shoe designed to be equally effective as a glue-on or as a nail-on shoe!

Should Packing Be Used With The EponaShoe?
That is up to you! The EponaShoe can be worn with or without packing. However, more and more people are discovering the benefits of supporting the frog and sole in some way. Since horses in nature often have their feet packed with dirt or mud, it is likely that the hoof and internal structures may be meant to be supported in this way . Our recommended method of applying the EponaShoe employs a small amount of 2-part silicon support material placed by hand around the frog, and then the EponaShoe is applied over this packing. See our "EponaShoe Packing" This yields a quick, easy, and cost-effective means of achieving frog and sole support!
What Conditions Can Benefit From The EponaShoe?
We believe that flexible shoes can help most lameness issues to some extent. Of course, a good farrier is more important than the best shoe, and success is going to depend on doing what's right for the horse -- be it the EponaShoe or not. We also feel that a flexible shoe is the best way to keep a sound horse staying sound for the long term. Please see our FAQ to answer further questions, or…. we welcome your call!

What Do Horse Owners & Farriers Say About The EponaShoe?
I am writing to let you know how grateful I am to have found your EponaShoe. My horse was immediately more comfortable once in the EponaShoe. With the first shoeing the difference was easily apparent. We have used the EponaShoe now for seven months, and I have a much happier horse. I cannot thank you enough for providing a much needed product.
Kim Phelps

All three of my dressage horses wear EponaShoes because I think it is the best available solution for the well-being of the horses. They don't have soundness issues, and I want to keep it that way.
Hilo Nick
I put them on my own horse who has a slightly dropped coffin bone, thin soles and hoof wall. He has been very comfortable in the shoe and so I will start using it in my farrier business.
Rusty Harrington (Farrier)
I am very enthused at my horse's ability to move more naturally and freely. He is also healing from the check ligament injury that occured last year. Thank you for a wonderful product!
Linda Walden
I have had great results using the EponaShoe. I have put them on all kinds of horses: arabian champions, competing reigning horses, dressage horses, and others. It's a great shoe for 'therapeutic cases' but it's also a good shoe to keep sound horses sound.
Brian Giangrande (Farrier)
How Do I Order EponaShoe?
Customers are welcome to call or e-mail us to assist them with questions and ordering, or you may see our website to order. We welcome all calls and emails and hope to have your horse's feet feeling great soon!
---
Contact: John or Monique Craig
P.O. Box 361
Creston, California 93432
Phone: 1-866-376-6283 or 805-239-3505
Email:
Website: Click Here To Connect

---