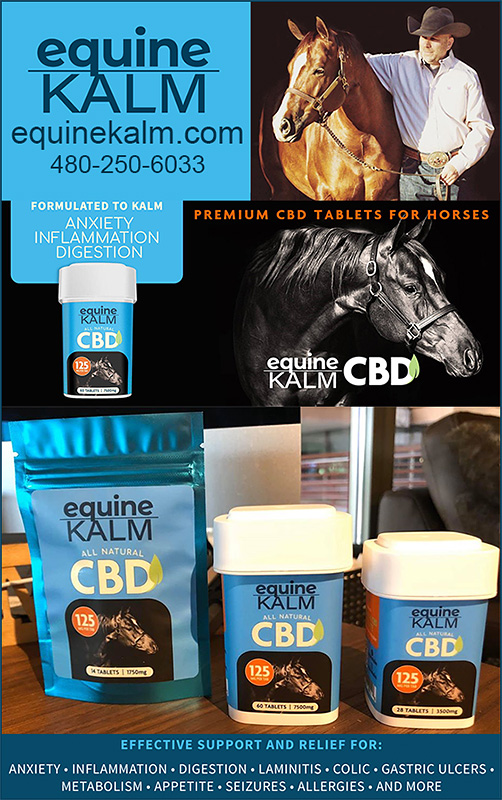 Equine Kalm
Equine Kalm offers the PUREST, LAB-TESTED CBD, in the amounts necessary for a large animal like a Horse!

How Did EquineKalm Come To Be?
Says, owner of EquineKalm and lifelong horseman, Kevin Rosenbaum: I discovered my love for horses when I was only 4 years old. My parents recognized my passion and made sure I had opportunities to have my own horses, get the best training and compete throughout the Midwest. I would get off the school bus and head straight to the barn to ride my horses. My work with horses would never have been possible without their support. In my dreams, I had a grand plan to be an Olympic show jumper.

I personally struggle with anxiety; the more I talk about it, the more I realize that a lot of others do too. At times, it's been bad and required me to be on medications to control it. About 18 months ago, I was considering trying CBD. Eventually, I did try it, and I was pleased to find that it works great for me and makes me feel better about what I am putting into my body.
I began to think about the stresses some of my horses have during their training, showing and traveling, and it led me on a path of discovery. CBD works with people, and dogs and cats; why wouldn't it work with horses?

So What Makes EquineKalm A More Effective CBD Supplement Than Competitors?
EquineKalm was the LONG result of finding and creating the purest product, in the most effective dosage for a large animal— like a horse. So many offering CBD for horses, put it in such a small amount that there isn't a chance for it to be effective with a 1000+ animal! The thing I liked most is that the horses didn't change in a negative way. EquineKalm's CBD doesn't cause a high – it contains ZERO THC. The effect of CBD is subtle, and I didn't see a difference in my horses' disposition. EquineKalm's CBD will calm their anxiety, but won't make them sleepy or have any effect on their normal personalities.

What Kind of Conditions Can EquineKalm Help My Horses With?
Horses are smart animals and they know when they are off to a show, or a barrel race or being asked to learn something-- and they worry and can become stressed. In addition, any discomfort or illness can cause anxiety and additional stress. Many people don't realize that the outstanding quality of the CBD in EquineKalm can help with:

* ANXIETY
*
INFLAMMATION
*
DIGESTION
*
LAMINITIS
*
COLIC
*
GASTRIC ULCERS
*
METABOLISM
*
APPETITE
*
SEIZURES
*
ALLERGIES
*
AND MORE


What Kind Of Quality Can I Expect From EquineKalm?
The BEST and purest quality available anywhere!! We are in control of all aspects of this product from SEED TO SALE. This ensures that every step of the way we can manage purity and all ingredients to ensure that our CBD is 100% Natural and Safe.

Is EquineKalm Independent Lab Tested For Quality and Purity?
Yes and this is an IMPORTANT step that many competitors have never taken the time or money to do! The lab tests ensure that the product is free of THC, pesticides, biological contaminants, heavy metals and any residual solvents. Every package has a QR code that will link you to our current testing documents. Because we advertise that NO competitor can out perform EquineKalm, we test our products using an independent third-party lab to ensure potency and quality so that our clients can rest absolutely assured that their horses are receiving the purest, safest, highest quality CBD on the market today!

Can I Use EquineKalm's CBD During Competition?
Every competition is different. CBD is becoming more popular as people are discovering the natural, healthy, and performance benefits that CBD has to offer. We advise that you check the rules of the competition associations drug testing policies to determine if CBD is listed as a banned drug. If it is currently listed as a restricted drug then allow for up to 3 days for the CBD to clear the horses system.

Will Equine Kalm's CBD Make My Horse High?
Absolutely not! CBD is a non-intoxicating cannabinoid that offers an extensive number of potential therapeutic benefit. Some of the key benefits include anti-inflammatory, anti-anxiety, analgesic and seizure suppressant properties.

Is It True That EquineKalm Has Health Benefits To Help Heal Your Horse's Body?
Yes… and this is something that other "calming" products can not compete with! In addition to the cannabinoids produced by the body, cannabinoids from plants (like CBD) can also act on the endocannabinoid system (ECS). When a horse (or human) consumes CBD, it interacts with the ECS receptors throughout the body. Specifically, CBD interacts with the CB1 and CB2 receptors, activates the body's ability to self-regulate and assists the body's natural ability to heal itself.

Is It True That EquineKalm Actually Has Enough CBD To Be Safely EFFECTIVE For My Horse?
Yes! This is one very important feature that really sets us apart from the competition! You will see that our dosage is much higher
than competitors.

(and remember, we independently lab test to ensure everything is right). Horses are large animals, but CBD is very expensive- so many companies give a lower dose and hope you won't notice… but a lower dosage than what is necessary for a 1000 pound horse, will not only lessen the calming effective but the HEALTH benefits to that horse also. EquineKalm has the RIGHT dosage— yes we cost more— but we are WORTH more!

So, What IS The Correct Dosage and How Do I Give It?
Finding the right dosage for your horse is important. Optimal dosage can vary based on several factors, such as: weight, diet, metabolism, genetics, other medications and medical condition.The recommended daily dosage for a horse weighing 1,000 - 1,200 lbs is 250mg (2 tablets per day).

Note: It is always advised to start with a lower dose and work until you find the optimal dose. A veterinary consultation should be part of any decision to administer CBD- many veterinarians are familiar with the benefits of CBD. Also, check with your vet to make sure that CBD is compatible (as it often is!) with any medications your horse is getting. We do not advise using CBD to replace any conventional medications.

What Is The Best Way To Feed EquineKalm To Horses?
Mix the desired number of tablets into your horse's feed, preferably in the grain. EquineKalm is made with a natural apple flavor, so it will mix right in. CBD can take between 30 minutes to an hour to help your horse feel more focused, less stressed and start helping their body to operate at a more optimal level.

What Products Are Available At EquineKalm?
EquineKalm has a convenient 7 Day Supply with 1750 mg, 14 day Supply with 3500 mg or 30 day Supply with 7500 mg. Remember, our formulas are carefully overseen from "Seed to Packaging" and EVERY package has a QR code that will link you to our current testing documents from our independent laboratory!

Looking To Calm Your Horse's Body, Mind, Emotions or Improve Health Issues? Order Today!
We know there are cheap pastes and powders available to chemically quiet your horses, but the CBD in EquineKalm works with your horse's body — naturally, to help overcome inflammation, medical issues, quiet and calm the digestive system, emotions and mind. Once you try EquineKalm, you will see why top trainers, performance riders, depend on EquineKalm to soothe both body and mind, to help your horse to be all they can be— every day. Call today and let us help your horse to be a calm, focus- minded horse!


---
Contact: Kevin Rosenbaum
4400 North Scottsdale Road Suite 9-341
Scottsdale, Arizona 85251
Phone: 480-250-6033
Email:
Website: Click Here To Connect

---