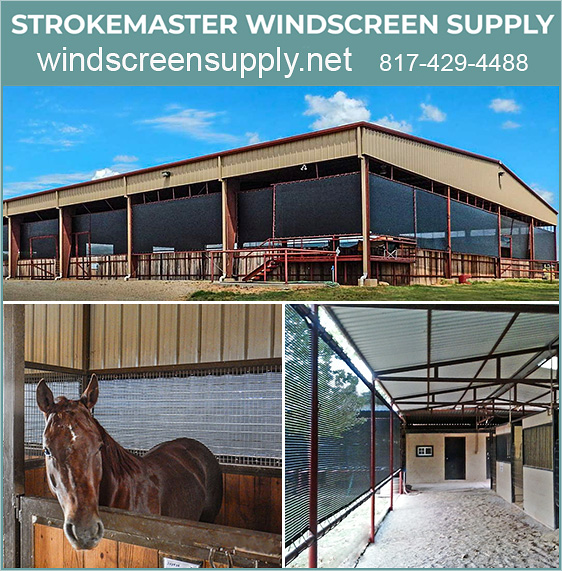 Windscreen Supply
Do you wish you could add screens to your barns, shelters, horse trailers, outdoor buildings? Windscreen Supply is your answer. They are HORSEPEOPLE offering the BEST in Screens!
About John Verde Owner and Horseman - Creator of WindScreen Supply
As with so many great creations in the horse world, WindScreen Supply, was created by the need to care for a very loved horse. Early in his business career of teaching and selling tennis court equipment, John Verde, a Master USPTA Tennis Professional in Dallas, Texas, sought for a way to help shelter his newly acquired horse. Having only a pasture and no barn, John had the idea that tennis court windscreens could work to construct a shelter, and he successfully created a screened leanto that provided protection against the elements . . . and with that and his innovative ideas, Strokemaster Windscreen Supply was born.
Several years later, Jim Willoughby, a NRHA Hall of Fame member, wondered if the screens around tennis courts could help block the wind and rain on his open-sided hay barn while still offering needed ventilation.
Jim found John's windscreen business in Ft. Worth, they met and worked on solving just how screens could be held in place without fence support, and then custom windscreens improved. Credit Jim with the idea that attaching metal rods around edges of the opening would allow screens to be pulled tight.
Over the years, as polypropylene fabric became an ideal choice to use as weather protection for livestock, John used his vision and passion to expand on the idea of using screens for a variety of applications. Working with customers and their requests, Strokemaster Windscreen Supply has successfully custom developed screen usage to solve a wide range of problems and issues, to customer satisfaction.


About Our Amazing WindScreens!
John Verde has been working with horses and horse owners for decades! He understands the rigors of horses and how sensitive horses are to elements like heat, wind, sun, rain and bugs. Our WindScreens are custom sewn in America with American made fabrics using HD webbing and large grommets. Screens must be sewn to fit the requirements.
Note: Pre-packaged screens that are not sewn to size and made with small grommets on the edges - DO NOT LAST - you will appreciate that everything sold at WindScreen Supply is CUSTOM built to your needs and we make sure that LARGE grommets are included so that your screen will be an attractive, long lasting screen to enjoy for years to come.
What sets Strokemaster Windscreen Supply Apart From Other Screen Companies
We are horsemen! Our Knowledge, expertise and a complete understanding of our customer's needs. Every job is custom solved. There is no "one size fits all" answer to screen needs. We design, manufacture and install every job to the exact specifications needed to achieve the finest and most accurate solutions.
What Benefits Do WindScreens Have To Offer?
Every situation is a little different, but our clients will agree that our screens offer multiple benefits as follows:
* Increased Shade and coolness to the barn, shelter, or arena
* Helps to deflect much of the rain and snow
* Protection from Bugs and Flying Insects
* Savings on shavings (by protecting from rain and snow)
* Added value to your barn, stalls or shelters!
What About Cold? Can WindScreens Help Keep Horses Warm?
YES! All warm-blooded animals must maintain their body temperatures within a relative narrow range or comfort zone. When air temperature falls below this range the animal must expend energy to keep warm. As winter approaches, many animals develop winter coats as insulation against the cold. In the case of beef cattle, a heavy winter coat will provide protection against temperatures as low as 18 degrees. At temperatures below 18 degrees the animal is stressed and begins to require additional feed in order to maintain body temperature. Exposure to Winter winds will increase the need for additional feed. If the temperature reaches zero degrees and wind speed is 25 mph, the windchill is 44 degrees below zero. Make sure you have wind breaks (such a windscreens!) to help your horse's maintain good health, comfort and weight during the rigors of winter!
How Are The Windscreen Installed?
How windscreens are installed and how measurements are taken are the key factors to insure positive results. We instruct each client on measuring and installation for their particular situation. Every call is answered and instructions are clear and easy to follow. With the support provided by John and his staff, some applications are totally doable as a DIY project. The fit, quality construction and top of the line fabrics make your success possible.
Is It True That Pricing Is Affordable? Are WindScreens Long Lasting?
YES! The price of windscreens are very economical, especially when you couple it with the MANY benefits of ventilated weather screens far outweigh the price. We can't give exact pricing because EACH and EVERY job is different— remember, ALL screens are custom fit to YOUR particular needs. Properly sized screens that are correctly installed can last up to 20 Years and that offers tremendous benefits to horses and owners alike!
What Warranty Is Offered?
Our screens are warranted 10 years… which in the Screen industry, is AMAZING and a real testament to the QUALITY and DURABILITY of these amazing screens!
What Do Horseownes SAY About Their Experience With Windscreen Supply?
Shannon S. from Fort Lonesome, Florida
I recently built a new barn and in Florida, it is so critical to think about temperature management as well as weather elements like rain. The barn was designed to have lots of air flow, and I wanted to make sure the horses were protected against the rains that come during hurricane season. John was amazing and created a great solution for me! He worked with my welder and handyman to do the install. It looks great and it immediately felt cooler in the barn. It was a huge success, and I highly recommend working with John
We were set to move our horses to a new stable, but I was worried that, with their stalls facing the outside of the barn, that they would endure greater exposure to wind, sun, and even possible flooding in the heavy rains that hit Florida. John made measuring easy and had the most gorgeous screens out to us within slightly over a week. Super easy to install and what a difference. These screens are BEAUTIFULLY made and now those stalls are protected from wind, rain, and the heat of the sun. VERY affordable— John answered every call, was friendly and helpful every step of the way. I recommend these screens to everyone!


Call WindScreen Supply Today!
After almost 50 years, John and the staff at Strokemaster Windscreen Supply remain committed to the needs of their customers. People nationwide have contacted us over the years with ideas and needs on many diverse structures for vision barriers, weather protection and privacy . . . benefiting people, animals and equipment. You'll love working with John and you'll be amazed at the affordability, comfort and even added value to your barns that WindScreenssupply.net can offer. Call John today!
---
Contact: John Verde
P.O. Box 1328
Arlington, Texas 76094
Phone: 817-429-4488 or 817-657-3535
Email:
Website: Click Here To Connect

---