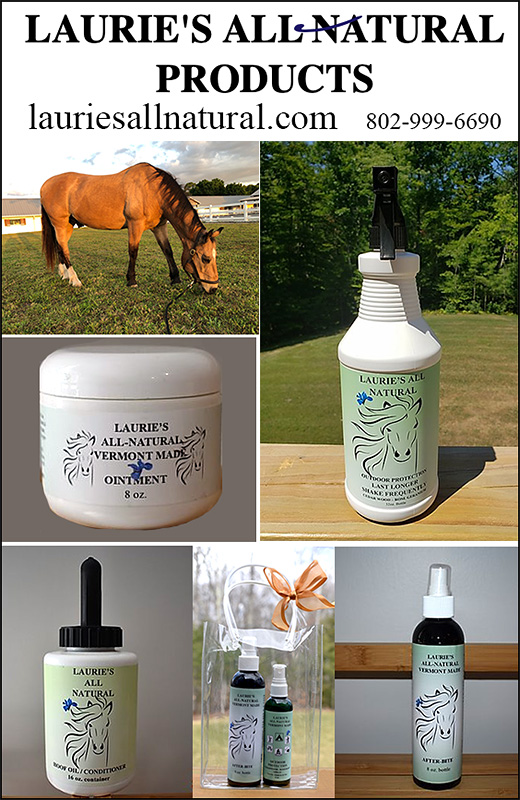 Laurie's All Natural
Laurie's All Natural Products offer full effectiveness without harsh chemicals to harm your horse-- or you! Enjoy her HORSE SPRAY, AFTER BITE, HOOF OIL and OINTMENT and see the "All Natural" difference!




About Laurie's All Natural...
Says Laurie Pearsons, owner, of Laurie's All Natural: For the past 18 years, our team has been studying essential oils, butters, carrier oils, the best preservatives, and their benefits. Living in Vermont we have ticks, mosquitoes, black flies, deer flies, horse flies, house flies, bees, wasps, hornets, fleas, and gnats… among others. Hating Deet, our first product was an all-natural tick & insect repellent safe for adults, children & pets. Through trial and error, we created our #1 seller - Laurie's All-Natural Outdoor Protection. Knowing that everything we put on our bodies goes into our bodies, we decided to also begin making bath, beauty, and spa products. Healing dried, cracked skin was our first project in this line. Amazed by the results, we continued to build our product line developing high-end natural products at prices everyone can afford. Also, children and pets are extremely important to us, so we only create products that are safe to use around them.

So How Did Laurie's All Natural Get Involved With Horses?
Our clients who have horses absolutely demanded it— so, by popular demand, we are excited to bring the same quality to the horse world! Last year we introduced an outdoor-protection HORSE SPRAY that was so instantly loved that we couldn't keep it on the shelves! Being dedicated to creating only the highest of quality products, we do extensive research for each ingredient selected and who we are helping with those products (horses, people, children, pets).

Does It Really Matter If I Use Chemicals On My Horse?
YES! Horses aren't any different than we are when it comes to chemicals. You don't always know if a reaction may occur when using chemicals or what the long-term effects could be from them. There will be times when modern medicine is the best way to go, but essential oils are very powerful and have amazing benefits, with no long-term harm. This decision really needs to be yours, but all-natural works amazingly well.

Is It True That Laurie's All Natural ALWAYS Includes FREE SHIPPING ?
YES! Few things are more frustrating than trying to figure out additional charges for shipping, so Laurie includes shipping on ALL items to make it more convenient and cost- effective to enjoy her ALL NATURAL products!

How Effective Is Laurie's All Natural HORSE SPRAY?
Our HORSE SPRAY is highly effective and protects your horses from ticks, mosquitoes, bees, wasps, hornets, fleas, and a vast range of flies, and is made with only quality essential oils, organic olive oil, water, and vitamin E. This product has a non-greasy finish, is made with 100% natural ingredients, is safe around children and pets, all while protecting your horse for hours! All for only $24.99

Is It True That Laurie's All Natural Only Uses The FINEST Natural Ingredients?
Oh yes! Using only the finest ingredients, Laurie's All-Natural Products uses organic carrier oils, high-end essential oils, and vitamin E as a preservative. The quality of the ingredients that goes into our products is essential for quality and keeping the products clear of any pesticides, which is very important to us.

InfoHorse Offers Important Testimonial : Ann at InfoHorse.com was sent a bottle of Horse Spray— tried it on her horse— on a day when her horse was covered in flies, and it was hot and humid. What was the result? While MOST flies stayed completely away, the FEW that did land— hopped off IMMEDIATELY! She came back hours later at the end of the hot day— and her lovely horse was STILL FREE from flies! Absolute success on a really tough "fly day"!

Can I Apply Horse Spray As Needed? Am I Limited?
The answer is yes! Because HORSE SPRAY is completely natural and not harmful to you or your horse in any way-- You can apply our horse spray anytime, then reapply as needed. In the barn, out to pasture, trail-riding, shows, anywhere that your horse may be exposed to tick and insects.

What If I Want To Use This Spray On Myself For A Trail Ride?
Yes! Our horse spray is safe to spray on yourself and your pets, as well as safe for children 5 years and up. We also have a cedarwood/rosemary version of outdoor protection for adults, children and pets at: www.lauriesallnatural.com

Laurie's All Natural Ointment Offers Amazing, Anti-Bacterial Results— Naturally!
Our Ointment is made with 100% organic lanolin, Vermont beeswax, and 5 essential oils. Lanolin helps to keep the area it is used on cleaner and the essential oils are known for their anti-septic, anti-inflammatory, and anti-bacterial properties. "A Little Is A Lot" — You can also use our ointment on yourself and your children. 8 oz is less than $40 and will last a long time!

What If My Horse Has Insect Bites?
Horses can be just as sensitive to insect bites as we are. Our AFTER-BITE will stop the irritation and help protect it from infection. It also helps a little with swelling. It is also great for poison ivy, poison oak, and sunburns. As with all of our products, our after-bite is safe for adults, children, and pets. Only $18.99 for a full 8 oz. A little goes a LONG way!

Don't Forget Our GIFT BAGS 3 GifT BAG OPTIONS For You and Your FRIENDS!
Looking for the perfect Gift to send the horse lover in your family or circle of friends? Want a gift that will be an immediate "hit" and actually be USED (not just set in the closet and forgotten)! You will love the beautifully wrapped GIFT BAGS from Laurie's All Natural and so will the person receiving this amazing, beautifully wrapped gift! Everyone loves gifts for their horses and we promise these will enjoy immediate "USE" and appreciation.

Gift Bag No. 1 Contains:
* After Bite * Linimint Spray * 4 oz. Horse Spray only $42.99
Gift Bag No. 2 Contains:
* Linimint Spray * 4 oz. Horse Spray * 4 oz. Cedarwood Outdoor Protection only $52.99

Gift Bag No. 3 Contains:
* Linimint Spray * 4 oz. Horse Spray * 2 oz. Ointment only $43.99
Note: REMEMBER— A LITTLE IS A LOT! It is important to allow these products to work— each are very effective. Use your judgement as to when you should add more. All products are alcohol free for a more moisturizing result.

Looking To Improve Your Horse's Hooves— Naturally? HOOF OIL Is The Answer!
Our HOOF OIL is a great conditioner for dry cracked hoofs. Simply apply a small amount over whole hoof and allow the product to work, reapply as needed. It is a great conditioner for thrush after it has been treated. Safe to apply on frog as well. With the essential oils that are in our hoof oil, it will also keep the insects away! Great for dry weather! Only $24.99 for 16 oz!

Use Laurie's All Natural— You Won't Go Back To Chemicals! ORDER TODAY!
Join our family of extremely happy clients who are getting results that are Natural, Healthy and long lasting. You will find there are many products and new ones on the horizon, here at LauriesAllNatural.com Call and talk to Laurie and get your order today!!

---
Contact: Laurie Pearson
26 Indigo Lane
Essex Junction, Vermont 05452
Phone: 1-802-999-6690
Email:
Website: Click Here To Connect

---