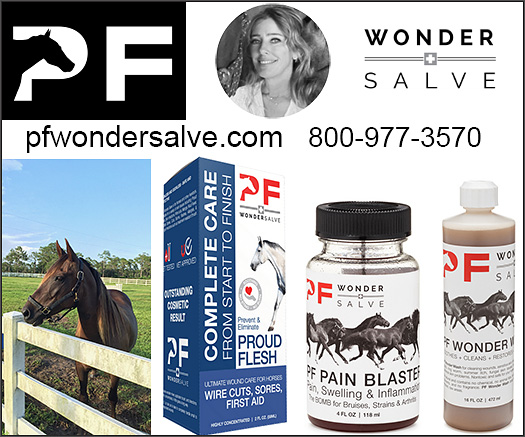 P.F. WonderSalve
P.F. WonderSalve is a miracle for Proud Flesh prevention or removal, wounds, sarcoid removal or healing cuts!

About Melanie Wilfong, Owner, Creator of P.F. Wonder Salve
Says Melanie: When I founded P.F. Wonder Salve, I wanted to create a product that would offer an effective, unique wound solution to horse owners and trainers that would enhance healing and not damage healthy tissue. My family and I are passionate horse lovers and owners. Our horses aren't just an investment, they're part of the family. We've personally used P.F. Wonder Salve on our horses, and I can guarantee that you'll be thrilled with the results or your money back. Our business has grown to include the best professional trainers in the horse world and even the race horsing world. The truth is— there is no competitor that can offer the consistent, reliable, results offered by P.F. Wonder Salve and you only have to try it once to become a believer.
Note:
P.F. Wonder Salve was included in the 2017 Kentucky Derby Trainer Welcome Bags. It was an honor to be including and we were thrilled to be included again in 2018 and look forward to future years serving this honor!


About P.F. Wonder Salve
P.F. Wonder Salve wound and skin care eliminates and prevents proud flesh without damaging healthy tissue. PF Wonder Salve is intended for cuts, sores, lacerations, wire cuts, mud fever, saddle sores, burns, rashes and fungal infections. Made with natural ingredients that contain anti-fungal, anti-bacterial, and anti-viral agents. Non-caustic, painless and odorless; it is also safe and effective. Relieves pain and inflammation on contact. Works bandaged or un-bandaged. Horses feel immediate relief and tolerate application well. Horses love it and so will you. Veterinarian tested; veterinarian approved. PF Wonder Salve is safe for equine, bovine, other livestock, poultry and pets. 2 oz is $29 and a 6 oz tub is $59
P.F. Wonder Salve benefits:
Use from start to finish. You don't have to wait for the area to "fill in"

Dissolves equine excessive tissue granulation a.k.a. proud flesh

Protects against bacterial, viral and fungal conditions

Use on cuts and sores with or without proud flesh

Heals infected and superficial wounds in horses

Promotes hair regrowth without white hairs

Prevents the formation of proud flesh

Forms a protective barrier

Provides soothing relief

Discourages Flies
How Does P.F. Wonder Salve Work?
PF Wonder Salve smooths away proud flesh, also known as excessive tissue granulation, while creating a healthy tissue bed. P.F. Wonder Salve rapidly aids in contraction of cuts & sores. The naturally balanced solution is powerful, yet gentle, and will not harm healthy tissue. P.F. wonder Salve forms a protective, water-resistant coating over the area, and repels flies. PF Wonder Salve encourages hair re-growth with no white hairs.


Can P.F. WonderSalve Help My Horse With Sarcoids?
YES! We have absolutely amazing results for horses with sarcoids!
Equine sarcoids are the most common tumors seen and account for approximately nine out of every ten skin tumors seen in horses. They are non-malignant (i.e., they do not spread throughout the body), but do grow larger and often spread and multiply locally.You will love having your horse's skin look normal again with those ugly sarcoids just melting away! Call and talk to Melanie about your sarcoid situation and she can help you get on the path to clean, clear, coats again for your horses. See our PHOTOS for Sarcoids results.

What It Doesn't Do— and This Really Sets Us Apart!
P.F. Wonder Salve does not sting, burn, blister, scar or cause discomfort. It does not inflame the area.
Follow enclosed, detailed instructions. Clean area and blot dry. Apply P.F. Wonder Salve with enclosed brush. Allow solution to dry a few minutes- and then wrap. P.F. Wonder Salve works on areas that are wrapped or unwrapped. Repeat process in 1-3 days depending on severity.

Got Soft Tissue Pain? "P.F. Pain Blaster" is The Solution!
PF Pain Blaster is a breakthrough Pain Relief topical that is ideal for soft tissue pain and swelling. It doesn't just mask the pain and swelling, it eliminates it. PF Pain Blaster is highly effective, and made with 99.995% pure certified pharmaceutical grade DMSO, MSM, Arnica, Yucca, Vitamin C, Minerals & other top quality ingredients including high-grade essential oils. See the complete list of ingredients below. It may be used it aid a variety of soft tissue and/or arthritis issues.

Does "P.F. Pain Blaster" SMELL Good?
Unlike many competitors P.F. Pain Blaster smells fantastic! There is no DMSO odor or taste, and no medicinal, menthol odor. We use the purest grade of DMSO available. Our unique blend includes raw honey which perfectly balances the action of DMSO. Honey possesses its own miraculous properties and when combined with DMSO, the blend is most effective. Each ingredient compliments each other in an amazing way. PF Pain Blaster is highly concentrated; a little goes a long way. 4 FL. oz. flip-top squeeze bottler is only $21.00 DMSO is intended for animal use only.
PF Pain Blaster Relieves:
Bruises

Sprains

Stiffness

Swelling

Pulled Muscles

Ligaments

Arthritis

Inflammation

Bog Spavin

Splints

Bucked Shin

Bowed Tendon

Bumps
Directions:
Apply to clean, dry area. Do not use with any other products. Do not use on open wounds. For acute injuries, use twice a day. Repeat as needed. Apply with clean gauze and gloved hand.
What About Rainrot? Scratches?— PF Wonder Wash Anti-Fungal Cleanser Is The Solution!
P.F. Wonder Wash is effective in cleaning areas before the application of PF Wonder Salve, as it is deep cleansing, but not damaging. The neutral pH level of P.F. Wonder Wash is ideal and makes the wash the perfect accompaniment to PF Wonder Salve. We highly recommend P.F. Wonder Wash for areas where P.F .Wonder Salve is being used. 16 fl. oz.
is only
$15.95
Important Note!
You may like this product so much you will steal it from your horse, and use it yourself. Gentle enough for a baby. Non-irritating. Great for acne and psoriasis.
What Do People SAY About P.F. Wonder Products?
Leanne: "I bought this along with PF Wonder Salve and Wonder Wash for another injury, but just used it on my colt who showed up dead lame when he came in for breakfast. His ankle was huge. I thought he was ruined and was 3-legged. I dabbed Pain Blaster all over the ankle. He was so much better then next day and most of the swelling was gone. In 3 days he was completely sound. I think it was a bad bruise from a pipe fence. Highly Recommend!"

Nicole: "I am so excited to leave this review!!!! I have used other PF products and been very impressed. My friend was in a car accident many years ago and uses a wheelchair since he is paralyzed from the waist down. He has a lot of pain in his shoulders and is always looking for something new to relieve his pain. After this product was introduced I have been wanting him to try it because I knew it would help him. Guess what it did!!!! He uses it daily now and said that it gives him hours of relief. This is great news to hear! I'm just happy that he has finally found something that really works:)"

Sarah: "This amazing stuff is a life saver!"
Remi: I've used this product on many injuries and it is hands down THE best product I've found! I've tried other things that folks have told me will work better but they never even compare to PF!!
How Can I Become A Dealer?
We would love to have you join our very successful and
HAPPY Dealers
! If you like working with horse owners and helping horses, you will LOVE the PF Wonder Salve line of products— because they work, they get RAVE reviews and all your clients will be thrilled! Just call and talk to Melanie today!!
Get Your P.F. WonderSalve, Pain Blaster and Other P.F Products Today!

Your horse represents a big investment in time, love and money. Don't waste time trying products that may or may not be helpful. With the P.F. Wonder line of products we GUARANTEE results or your MONEY BACK! You will never find a wound care or coat care products that can out-perform the
P.F. Wonder Salve
products line. The results are amazing! Top Trainers in both performance, race horse and halter industry depend on the amazing healing performance of these products and you can enjoy the professional results yourself for your horses—
just pick up the phone and call us today!

---
Contact: Melanie Wilfong
757 HCR 2120
Aquilla, Texas 76622
Phone: 254-205-3331
Email:
Website: Click Here To Connect

---