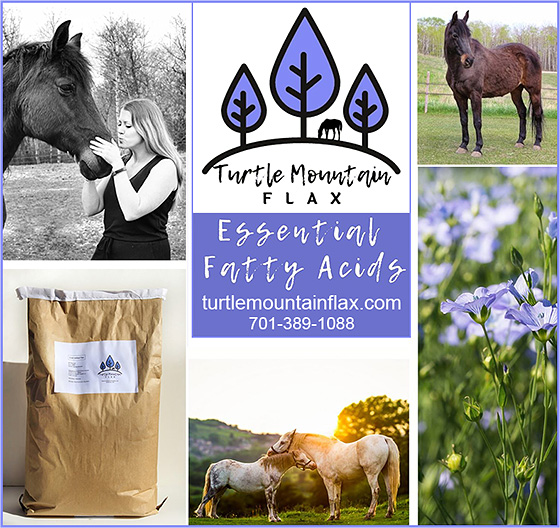 Turtle Mountain Flax- Cold Milled Flax
Turtle Mountain Flax is a horse loving family that sends freshly cold-pressed flax and bags each order personally! Every batch is inspected and guaranteed to be 99% PURE!



About Turtle Mountain Flax
Milled Fresh to order, by Horse Owners!
Welcome to Turtle Mountain Flax! Any time you deal with us, you're working with a small, family owned & operated business. Born in raised in North Dakota, I have been around horses my whole life, and love that I get to talk to people about their horses every day. My better half does the heavy lifting, and our son entertains us while we work. I left ND for a short time for college, to earn my Biology/Chemistry degree with a focus in Animal Behavior, and have been here ever since! We love the beauty of the Turtle Mountains, even when it is -40 in the winter. My Morgan gelding, Alex, has Cushing's and nutrition is very important for him, which led me to this path. My horses (and dogs) get this flax daily, and we stand behind this product fully. We hope you give it a try- and join the Turtle Mountain Family of Happy, Healthy Animals!

About Marissa and Her Morgan Horse "Alex"- Owners of Turtle Mountain Flax
Roycan Sir Alex, or just " Alex", my Morgan gelding, has been by my side since he was a 3 year old and I was in kindergarten. He just turned 26 years old last month but still acts like a teenager. Alex was diagnosed with Cushing's disease a few years ago and we knew nutrition would become an even bigger part of horse ownership. In addition to prescription medication, we added flax to his daily diet. It didn't take long to see a difference! His hallmark long coat shed out to a sleek, shiny coat, and he wasn't walking as tenderly on his feet! We haven't missed a day feeding flax ever since! And so began Turtle Mountain Flax with Alex by my side. Alex now encourages other horses to put their hooves on the 'path to health' and well being by making Turtle Mountain freshly milled Flax a part of their diets too!

Why Should I Choose Turtle Mountain Flax over OTHER Flax Millers?
Fresh, Friendly, Family! Anytime you work with us at Turtle Mountain Flax, you're working with a small family business, not a big corporation. We are on a first name basis with our flax growers! We package up each and every box personally and send right to you. When you call us, you'll get either myself (Marissa) or my better half, not someone who doesn't understand the product. He does the heavy lifting, our son entertains us while we work, and I get to talk to people about their horses all day! Our biggest goal (besides the health and wellness of animals) is to put the customer first. We know what it's like to order something and not get what you expected, or not get it at all, and we stick to very high standards! When you purchase your flax from us, you're getting a local ND product and will receive top notch customer service and a freshly milled, every batch TESTED, flax straight to your door. We are happy to answer any questions or chat about our product and how it can help!

Why is Cold Milling Important?
Cold milled flaxseed is never exposed to heat. The whole flaxseed enters the mill at room temperature, stays at room temp while it is milled, is packaged and stored at room temp away from any heat or light sources. This also prevents oxidation and reduction of nutrients. This milling process keeps all the nutrients and Omega-3 intact. This process does not heat, hammer, grind, or separate the flax oil from the seed. Our cold milling process provides a way to make Omega-3 feed more digestible and palatable with the absolute best quality of Omega-3 cold milled flax. Basically, the seed is the same product, just in a different form.

What Are The Lovely Purple "Flowers" on the HOME Page?
If you've ever driven through the North Dakota countryside in summer, perhaps you've seen these gorgeous fields of bluish-purple flowers. They almost look like a body of water from a distance! These fields with gorgeous, purple flowers are FLAX! It only grows well in these cooler, northern climates. The flax plant itself is about 2.5 feet tall, with slender leaves – but the prettiest parts are the five-petaled flowers. One single flower lasts only a day, but each plant makes dozens of flowers, resulting in a beautiful bloom lasting 3 to 4 weeks. After blooming, the seeds ripen, the plant begins to die, and then they're ready for harvest so we can use those nutritious seeds! Flax fibers can also be used for linen, but most often the flax you find here in ND is grown specifically for those tiny seeds to be either milled or pressed into oil!

How Fresh is my Order and What is the Shelf Life?
Unlike flax from other brands that can sit on shelves for months at a time before sale, Turtle Mountain Flax is milled and bagged fresh for your order-- and sent immediately to you! It doesn't sit in a warehouse for months waiting to be purchased and shipped. This ensures it is the best quality and has the longest shelf life— 2 years is the average good shelf life with good storage!

Is it True That Turtle Mountain Flax is 99% PURE and EVERY Batch is Purity Tested?
Yes and this sets us apart from the rest! Turtle Mountain Flax is 99.9% pure and every batch is tested for impurities! We stand by our 2 year shelf life if you do your part and store it properly. Flax will spoil quickly if it is left in a really damp place, or let get too hot.

How Should I Store my Turtle Mountain Flax?
Indoors is best with moderate temperatures. Many of our customers use Rubbermaid totes or something similar that seals tightly, and then store it in a cool place out of the sun! It does not need to be refrigerated but it shouldn't be left in a hot barn either.

Feeding Tip!
You also want to make sure when feeding your animals flax that you add it fresh on top of their feed at meal time – please do not let it sit overnight in a bucket with moisture. I add flax as the very last thing when mixing up their grain!

What are my Pricing and Options at Turtle Mountain?
Turtle Mountain Flax offers a freshly milled 25 pound bag at $68 or a 50 pound bag at just $99. For the QUALITY and the FRESHNESS of our TESTED flax, these prices are amazing and keep our customers coming back. Great for horses, dogs and humans too! Order today and we'll bag it fresh for you!

Join "Alex" and Hundreds of Happy Horses Enjoying Turtle Mountain Cold Milled Flax Today!
Our clients won't go anywhere else for their flax. The quality, palatability and batch tested freshness of every bag, ensures that your horses will enjoy the most Omega-rich, nutrient- dense Flax available today. Once you see the difference that consistently adding our flax to your horse's diet can make-- you'll see why our clients refuse to go to any other source. Our Flax is the FRESHEST and most pure and potent flax available in America today! Call Marissa and tell her about your horses and order your bag of Turtle Mountain Flax today!

---
Contact: Marissa Pewe
10511 County Road 49
Bottineau, North Dakota 58318
Phone: 701-389-1088
Email:
Website: Click Here To Connect

---