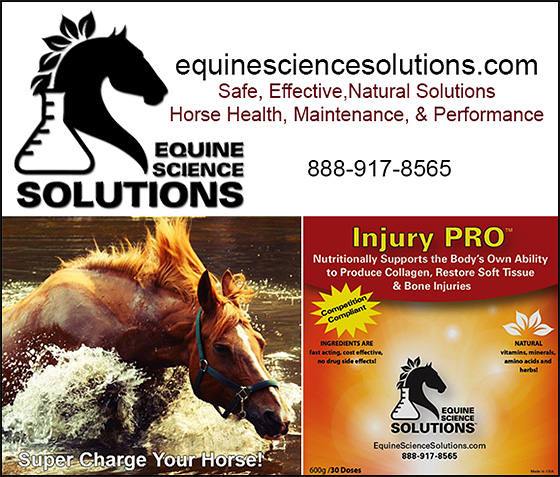 Injury PRO™ by Equine Science Solutions
Injury PRO™ allows you to turbo-blast your horse's healing power!





Mother Nature's Answer to Bone Fractures, Soft Tissue Injuries & Recovery!


What Benefits Can I Expect from Injury PRO™?
Injury PRO™ provides beneficial results for soft tissue wounds, ligament tears, bone fractures, habronema and more! Injury PRO™ can be used with any mammal for all skin injuries or disorders; great for wounds that cannot be bandaged. Proven nutraceutical support to activate the body's ability to heal soft tissue, connective tissue and bone injuries FAST!

Though you may not have heard of Nitric Oxide, scientific research from around the world has demonstrated that it is one of the most significant molecules in the body crucial to creating total health and well-being. Through this Nobel Prize winning technology our products were created to trigger increased Nitric Oxide production in the body to provide it with extraordinary health.

What Are The Benefits of INJURY PRO™ ?

Increases blood flow to the injured area
Delivers nutrients and oxygen to the damaged tissues
Produces collagen to speed tissue repair
Triggers fast healing of infected, deep and superficial wounds
Prevents the creation of proud flesh right from the start
Guards against bacterial and fungal conditions typical in a stable environment.
Note: The Nitric Oxide production triggered by Injury PRO™ works so well and so fast, you usually don't need additional Anti-Inflammatory herbs or drugs. Injury PRO™ contains proven anti-inflammatory herbs to reduce and regulate inflammation and collagen synthesis; knitting together strong connective tissue.

Are You Prepared For The Unexpected?
You never know when your horse will be hurt. If you are like us, you hate that helpless feeling of... "What Can I Do RIGHT NOW to Help my Horse"? Injury PRO™ is designed to support the body's own healing process.


Helping Your Horse Recover From:

• Deep and Superficial Wounds
• Connective and Soft Tissue Damage

• Abscesses, Habronema and Fungal Challenges

• Inflammation, Post Surgery and Bone Fractures


How Does Injury PRO™ Work?
Injury PRO™ allows you to turbo blast your horses healing power by triggering the production of Nitric Oxide and Collagen resulting in much faster healing. Our state-of-the-art precursor and nutrient delivery system triggering the body to increase blood flow to the injured area as well as production of collagen to speed tissue repair. Injury PRO™ helps trigger substantial healing quickly.

What Is the Dosage and How Many Doses in a Bag?
Every bag has 30 doses and has a 2-year shelf life. It is a MUST HAVE for your equine emergency supplies! See our testimonials below and you will hear how effective and helpful INJURY PRO™ is when your horse is injured! Don't let your horse suffer, keep Injury PRO™ in the barn to help provide quick relief and healing!



It's not about our Products, it's about our Results! 



What Do Horse Owners Say About Injury PRO™?
"My three-year-old filly pulled her suspensory. The vet told me 6 months. I put her on Injury PRO and noticed improvement the first week. I tried it for 4 weeks and noticed my filly was moving as if nothing happened. I thought to myself this cannot be. I turned her out in a small paddock for 20 minutes and she went crazy. Thinking to myself, she is going back to stall rest. Amazingly she was completely sound the next day. I am now training again after 7 weeks. I told my Vet and he honestly could not believe it! I believe 100% in your product."
 Lisa

"My gelding has visually improved from his "mystery lameness" after being on Injury PRO for a month. I hope he continues to improve so he can run again. I LOVE this product!"
 Kristin

"I will remind you that before my last order when we switched to Injury PRO, my mare had been fighting abscesses for three months. We just could not get rid of them. More recently, the last time my farrier came there he told me he could not believe her feet. No sign of abscess and he could not believe how good they looked! He said he never would have thought he would ever see her feet look this good!"
 Sandra

"I also used the Injury PRO on my puppy that had a broken hip and have to have a rod put in. Her recovery was awesome, and the vet was amazed that we were able to take the rod out earlier than expected."
 S.W.

"My filly is doing SUPER. Her tendon, which was completely severed, is almost completely healed as of today 8/10 (she was injured on 4/21). She's been in turnout for the past month (she was originally supposed to have stall rest for one year so this is quite a turnaround). My vet and I think she will be able to fully compete and have no problems as she gets older. I'm not going to push it this year - she's only 2 1/2 so no need to rush so I'll plan to start her next spring. I do believe the combination of us being careful with wrapping and hand walking and controlling some of her exercise plus the Injury Pro made all the difference in the world. I think everything is turning out so much better than expected.

In fact, I just ordered the next batch for another horse. Long story short, my trainer had a leased FEI level schoolmaster who kept turning up lame in one front hoof. Their vet recommended four to six months rest (they feel, after thousands in x-rays and joint injections) that it's a soft tissue injury and, being that he's 18 and used pretty regularly as a school horse, he probably just needs some serious rest to allow it to recuperate. My trainer couldn't afford to keep him 'on the payroll' for that time and the owner was unhappy as she wasn't making money off the horse anymore. So, the owner wanted to either put him down or give him away. I have taken him and am putting him on the Injury Pro plus providing the pasture rest he needs. Although it's a bit of a risk, I am very optimistic that I will wind up with a FEI level schoolmaster for the price of a bag of Injury Pro.

So, I am a total convert to your products. In fact, when I start riding my TB gelding next month, I will try your joint product. I usually get his joints injected once a year (the usual oral formulas don't always seem to make much difference) but I'm going to try your supplement when we get rolling. I've told others about your product too and I know my trainer has been using the Focus biscuits as well." 
Dee

"Yesterday afternoon we gelded our palomino yearling. I double dosed him with Injury PRO last night and dosed him again this morning. This colt is totally, completely UNPHASED!!! NO swelling whatsoever!! NO soreness whatsoever!! He's running, bucking and playing like nobody's business and unless you knew for a fact he was just gelded yesterday, you would not believe it. I am absolutely stunned!

No Kidding! I thought I had about seen it all, this is the first time I had used it in this capacity, and I am amazed! He should have swelling, and he should be eating a pretty big dose of sore humble pie, moving stiff and gingerly, not wanting to move much but NOPE!! He's just trucking all over the pasture running laps from one end to the other like he was last week." 
K.H.

"One of my two-year-old fillies capped her hocks a few weeks ago. I tried everything the vet recommended. Sweating her hocks, poultices, Dex, MSM. You name it, I tried it. Her hocks were the size of two large tennis balls. I was so worried that they were going to stay like that. I don't know why I hadn't thought of it earlier, but I decided to dose her with Injury PRO. Within two days of dosing her, her hocks were 100% back to normal! This product is incredible! They have given me EXCELLENT results with every horse I have used them!" Monica

"Isn't it something how Injury PRO continues to amaze us?!? You would think after we have seen so many amazing results, it wouldn't amaze us anymore, but it just continues to do so. In my mind there is just nothing that Injury PRO cannot help the body heal."

How Is Equine Science Solutions DIFFERENT from Other Competitors?

We Are NOT Chasing Symptoms— We Get to The CORE of The Problem!
Worry that your poor horse just can't take another FAILED supplement? Tired of products that don't do what they promised or take too long to work? Our products WORK… they get RESULTS fast… we have HAPPY CLIENTS and HAPPY Horses! If you are looking to spend money on cheap alternatives, we are here to wait patiently in the sidelines until you decide that your horse needs help and needs it now! Equine Science SOLUTIONS— offers— SOLUTIONS— we help to SOLVE and RESOLVE your horse's health challenges.
Note: Our formulas are concentrated, pure, natural — and LONG LASTING! The bottom line is simple; Nitric Oxide helps the body to heal in all mammals. There are other products that produce Nitric Oxide, but they only produce it for an average of 15 minutes, not enough time for the body to heal. Our PRO formulas produce Nitric Oxide for 4-6 hrs. Yes, it costs a little more— but it is FAR more effective than weaker formulations. Our goal is the health and well-being of your horse. Our clients know that when their horses are on our supplements, results happen fast, and that makes it all worthwhile.

So, What Is Nitric Oxide?
Nitric Oxide is gas that is produced the blood vessels of all mammals. It is one of the most important molecules for blood vessel health. It's a vasodilator, meaning it relaxes the inner muscles of the blood vessels, causing the vessels to widen. In this way, nitric oxide increases blood flow and lowers blood pressure.

How Can Nitric Oxide Help My Horse? 

When the body is stressed, injured or sick it needs Nitric Oxide in large amounts to heal. As an added benefit, Nitric Oxide, with its highly effective anti-infection and antibacterial properties is used by the white blood cells to kill viruses, fungi, bacteria, and other pathogens. Insufficient production of Nitric Oxide can actually slow the body's own healing process. Unknowingly we often actually use drugs and herbs (i.e. Anti-inflammatories) that prevent or weaken the amount of Nitric Oxide that the body produces.



Nitric Oxide is beneficial to all areas of the body, it:

• Alleviates and discourages various forms of pain, arthritis and ailments

• Improves blood circulation and cardiovascular health
• Increases endurance levels and performance
• Improves immune system and combats toxins

• Encourages bones and wounds to repair

• Aids the body in healing ulcers fast

• Decreases post-surgery healing time 

Nitric Oxide deficiency can contribute to nearly every major disease of our times.

Though you may not have heard of Nitric Oxide, scientific research from around the world has demonstrated that it is one of the most significant molecules in the body crucial to creating total health and well-being. Through this Nobel Prize winning technology our products were created to trigger increased Nitric Oxide production in the body to provide it with extraordinary health.

Got Injury? 
Get Injury PRO™ and Put Your Horse on The Path to A Full Recovery Today!
There is just nothing like it! Read the testimonials (above)— they say it all! If your horse has an injury, the pain can not only affect their health, but their temperament and ability to perform. You'll love the empowering feeling of really helping your horse towards the fastest, most complete recovery with Injury PRO™. Discover Breakthrough Solutions for Extraordinary Health and Performance, backed by Nobel Prize Winning Technology. Call to order Injury PRO™ today!



Check out our other "PRO" FORMULAS! 


Useful for Colic, Laminitis, Ulcers & Joint/Arthritis.



---
Contact: Dree Ward
1000 N.Green Valley PKWY Suite 440-291
Henderson, Nevada 89074
Phone: 888-917-8565
Email:
Website: Click Here To Connect

---