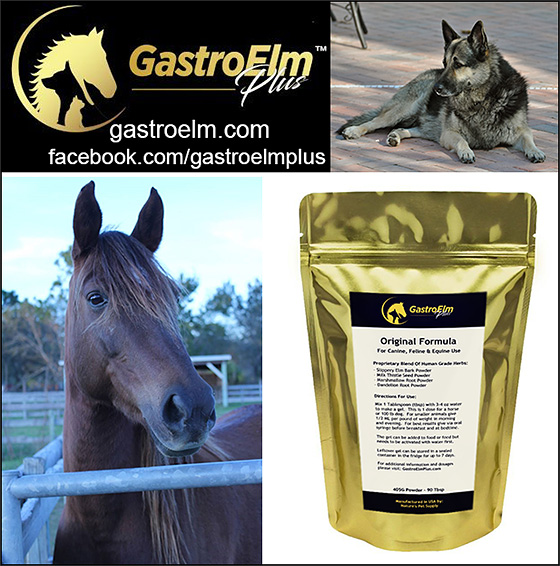 GastroElm™ Plus
GastroElm™ Plus helps clean your horses organs, supports a healthy gut and helps to improve your horse's disposition, because your horse will be feeling so much better.




Does Your Horse Bite At Their Sides, Get Upset at Cinching, Or Seem "Off" and "Cranky"?
We've all seen it. Horses swinging their heads, biting at their sides when no flies are there— and wondered what was going on. Perhaps you horse wants to lie down after eating their hay or grain… or they turn their head to bite you when you are cinching up their saddle. What happened to that friendly, cheerful disposition that you used to love? It is a sad and worrisome sight, and, even many veterinarians don't always know what the problem can be. GastroElm™ Plus is here to tell you that over 90% of the time, horses displaying this kind of behavior, are experiencing gut pain associated with ulcers and they need your help now!



What Kind Of Horses Are Prone To Ulcers?
All horses— particularly horses that are under any kind of stress from performance, travel, or training. It's been estimated that up to 60% of show horses and 90% of racehorses may develop moderate to severe ulcers. Ulcers and digestive issues are also a leading health issue for older horses who may no longer process feed or hay as effectively. Many of the best performance horses are high strung, which is a characteristic that can lead to more ulcers and digestive issues because a worried mind leads to more acids in the stomach.

If You Could Spend Less Than $40 For A Product, Lasting 3 Months, That Will Help— Would You Buy It?
Of course you would! But you might find it hard to believe that there is a HIGHLY EFFECTIVE, soothing, stomach-healing product that has such a reasonable price! GastroElm Plus has been helping horse owners overcome and manage ulcers for over 6 years— and, yes, it is less than $40 for a 3 month's supply.

GastroElm™ Plus Has Helped THOUSANDS of Horses, Dog and even Cats, with Severe Digestive Disorders Since 2013!
Even veterinarians have called GastroElm Plus a MIRACLE for horses, dogs and cats. Its all natural ingredients are soothing and restorative to the body and help to both heal and discourage ulcers and digestive upsets….

What About My Dog That Suffers With Pancreatitis— Can GastroElm Plus Help?
YES! Our ingredients help to sooth and cleanse organs! If your animal has a sensitive stomach or is a finicky eater, GastroElm Plus is the perfect solution to avoid future vet bills. It's also great for dogs who tend to get into things that they shouldn't be eating. Simply give them a dose whenever stomach upset arises.



What Is GastroElm™ Plus Made From That Makes It So Effective and Soothing?
When veterinarians familiar with healthful herbs, see our ingredients- they marvel and are excited to give this amazing product to their clients. GastroElm™ Plus contains 4 simple, yet powerful ingredients that work in synchrony with each other in a way that is hugely beneficial to your horse and animals. It is manufactured in the USA using a proprietary blend of high quality "human grade" Milk Thistle Seed Powder, Dandelion Root Powder and Marshmallow Root Powder blended with the finest Appalachian wildcrafted Slippery Elm Bark Powder.

How Does GastroElm Plus Work and What Are The Ingredients?
GastroElm™ Plus forms a smooth gel that acts almost like an internal bandage when mixed with water. It coats and soothes the stomach and digestive tract to help the animal feel better very quickly.

Slippery Elm soothes and lubricates the mucous membranes that line the digestive tract. That makes it an excellent treatment for ulcers, gastritis, colitis and other inflammatory bowel problems. It's high in fiber, which helps normalize intestinal action. This means it can be used to relieve both diarrhea and constipation. Our slippery elm powder is specially ground to easily mix into a smooth gel instead of being clumpy, so it's easy to use with an oral syringe if needed.

Milk Thistle is supportive to the liver and other vital organs to aid in long term health. Since it is a powerful liver cleanser, it helps rebuild liver cells while removing toxins from the body that are processed through the liver. Milk thistle is effective at naturally reversing the harmful effects of pesticides in the environment and food supply, heavy metals in the water supply, pollution in the air that we breathe and even poisons!

Marshmallow Root helps restore integrity of the gut lining by forming a protective layer around small junctions (avoiding leaky gut). In addition, it seems to be beneficial for inflammatory bowel diseases, including ulcerative colitis and Crohn's disease.

Dandelion Root has many nourishing and healing properties for the digestive tract. Additionally, the antioxidants in dandelion root have been shown to be supportive to the liver as well. It also possesses antimicrobial properties that can help stop the growth of disease-causing bacteria.

Is it True That GastroElm Plus Is Also Beneficial To My Horse or Dog's Liver and Kidneys?
YES! Milk Thistle is an amazing natural cleaner to your horse and dog's organs— as are the other 3 ingredients— Marshmallow Root, Slippery Elm and Dandelion Root! GastroElm™ Plus can truly help your horses and dogs from the inside out!

What Do Horse and Animal Owners SAY About GastroElm™ Plus?
Testimonials come in literally every day! Thousands of horse and dog owners and even veterinarians have raved about the amazing results!

Bentley is an amazing cutting horse with incredible bloodlines who spends most of her time on pasture and enjoys it immensely. She has never liked the trailer and has become increasingly uncomfortable over the years since she doesn't travel very often. Last year we attended a four day Parelli training event and by the last day I could tell she wasn't herself. Unfortunately, I didn't have any GastroElm Plus along or I would've given her some before loading her up.

By the time we got back to the barn she was obviously in pain and I was afraid I was going to have to take her in to the emergency vet. I stayed with her and gave her a dose of GastroElm Plus. She seemed to stabilize a bit, so after an hour I gave her another dose just to be on the safe side. Soon after the second dose she calmed down even more and I could tell the pain was easing. I stayed with her that night and gave her one more dose before falling asleep and another dose in the morning. The next day she was completely back to normal like nothing had happened. I was ecstatic! I've had friends who've had to spend a thousand dollars on a sick horse in order to make sure it doesn't colic or go down. I got by with spending a couple bucks and will never put her in a trailer again without giving it to her! Thanks for making such a great product!
Ashley K

True Calling is a two year old in training. He was always good to deal with but was grinding his teeth and resentful being racked up. After two weeks on gastro elm he doesn't grind his teeth and his over all demeanor is more pleasant. Hopefully this will help him get to the races in good form this summer. I was so pleased with results that I started giving it to all sixteen of our horses, because I think thoroughbreds have sensitive stomachs in general.
Lilith B.

I bought GastroElm Plus for my gelding, Dueling Chaps. He was experiencing pain from ulcers which caused a decline in his performance. He is a horse that has anxiety at times and this has helped tremendously. He eats it all never leaving a spec! I am a barrel racer in South Florida and my horses are competing almost every weekend. I started him on GastroElm Plus and by the 3rd day I noticed a change in him. On the fifth day we went to a show and he performed one of his better runs placing out of 88 riders and showing no ulcer signs!
Thanks for making such a great product!
Jill F.

Awesome! This worked so well for my dogs that I tried it on my horse who had major GI issues and this along with good feed changed her life! This product made it possible for my 22 year old horse to get back to eating baked hay along with her soaked pellets. She's putting on weight and looks amazing.
Amanda

GastroElm Plus benefited my horse CASH, immensely, I ran out recently and noticed a huge difference having him off it. Our last barrel run was in August, (his anxiety/ulcers are the worst at the gate at barrel races). But since we were done running for the year I figured I would see what taking him off of it would do with just trail rides and giving lessons, and there was a big difference with just those daily activities. Off of it he is a lot more edgy and high-strung. When he is on GastroElm Plus he walks slow/chill, head down, and overall calm. Without it he is more barn sour on trail rides, walks fast, head held higher, more pushy etc. Also, a problem he has had ever since I got him has been being claustrophobic while tightening the cinch. Something traumatic must of happened to him previously in life, because if I tighten it too fast he freaks out to the point of rearing. But GastroElm helped with that a ton. Thats been the biggest difference I've seen. Normally I have to slowly tighten the cinch about 10 times, just a little at a time to get it tight enough without him freaking out. While he's on GastroElm, I can get it tight on the 2nd or 3rd time! That is probably where I noticed the biggest difference and see how much more comfortable he is! I notice if I skip a day or two in just his headset and his eyes. So I highly recommend this stuff and plan on keeping him on it!
Savannah S.

Finally! After years of spending hundreds of dollars on Omeprazole only to do it again after a few months, we have found the answer. I love my girl and hated to see her in pain, but the expense was getting hard to handle. I'm thankful that a barn mate shared your product with me and that I gave it a try. I'll never be without it!!
Cindy V.

What you have created is truly a miracle. I call it the "miracle gel" for people not familiar with it. We are forever grateful to you! After Amadeus was diagnosed with pancreatitis, we were struggling with him having constant flares and ending up in the hospital. It was becoming an endless cycle. The medications he was on, were just not working for him. One evening he started to have a pancreatic flare, I gave him a dose of Gastro Elm Plus, for the first time. Within 10 minutes, it was over. It literally stopped his flare in it's tracks. I went on to give him this twice daily, and we have not had a pancreatic flare since. (He was on daily Cerenia, which we have been able to stop). I cannot speak highly enough of this product, the speed at which it works and it's effectiveness. This is a MUST for anyone with a pet with gastrointestinal issues. Angel was lucky to have you, as are all of the sick souls that you help on a daily basis.
Many blessings....Teresa M.

This stuff is AMAZING! My dog had been vomiting daily at 3am. Vets couldn't figure it out. He was on Pepcid and Prilosec for months and that only slightly helped. I gave this to him twice a day for 3 days, then he stopped eating it in the morning so now I just give it once daily in the evening. He has not been sick since using this except if we happen to forget it 2 days in a row. He will never go without it now, and if I forget he reminds me to get it. My dog loves it and so do we!
HB

Less That $40 For a Month's Supply For Your Horse --Wouldn't You Try GastroElm Plus?
Health and performance are inseparably tied together. Join our thousands of testimonials (too many to put on our site) from our many thousands of happy users. GastroElm™ Plus for horses offers SUPERIOR results at a truly AFFORDABLE price! The GastroElm™ Plus for dogs help dog owners who are struggling with digestive, pancreatitis or coat problems and the testimonials given for both horses and dogs roll in every day! Bottom line, avid horse and dog owners who wanted to take a 'miracle' product that is affordable so that all horses and dogs can enjoy the benefits of a healthy gut and the happiness that can result need to order GastroElm™ Plus today-- and get on the road to happiness, relief and peace of mind!


---
Contact: Micheal or Sheri Peterson

Fargo, North Dakota 58103
Phone: use email address please
Email:
Website: Click Here To Connect

---