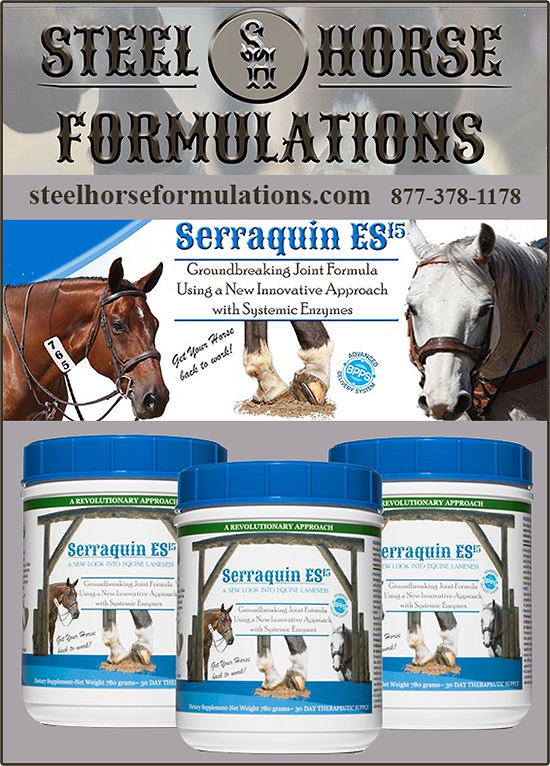 Serraquin ES15 by Steel Horse Formulations
Serraquin ES15 by Steel Horse Formulations



About Steel Horse Formulations- "Horse Professionals Serving Horse Owners"
Steel Horse Formulations was developed for our equine athletes & companions because of our love and passion for horses. We had seen 25 years of experience and tremendous success with systemic enzymes and their proven success for inflammation, scar tissue & pain for people. Seeing the tremendous benefits to humans, we were anxious to bring these same benefits to the horses we love. We are not only horse people but we are a company that prides itself on our expertise and knowledge of systemic enzymes and their benefits on many types of inflammatory conditions. With our background with horses from living on a ranch to competing in rodeo and in the show ring we know how much it takes to keep them sound and ready to compete at the highest level.

Unlike most supplemental companies out there, Steel Horse Formulations began with the experience and knowledge of using systemic enzyme therapy for humans extending across the world in over 80 countries. Therefore, we decided to introduce this amazing therapy to the forefront of the equestrian world. Not only have we had this experience with enzymes but we have been lucky enough to be involved with performance horses for even longer. With all the supplements for horses on the market today, we felt it necessary to share this one of a kind therapy for equine lameness.



What Makes Serraquin The Most EFFECTIVE Joint Supplement For Horses?
You mean besides the fact that this product has an amazing SUCCESS record? Unlike many Joint Formulas on the market that contains Glucosamine and HLA, Serraquin takes a different approach by using a unique blend of systemic enzymes that have been used worldwide for 50 years for inflammation, pain and scar tissue pain in people. Serrapeptase, a fundamental ingredient in Serraquin has been thoroughly researched for its' numerous and diverse effects on inflammation, pain, infection and healing. Unlike medicines used to block COX enzymes to suppress inflammation Serrapeptase actually digests the pro-inflammatory prostagladin that causes inflammation.

Let's Say That Again…"Serrapeptase actually digests the pro-inflammatory prostagladin that causes inflammation."— as in, it gobbles it up— that's pretty hard to beat!

Can It Also Help My Horse with Stifel, Ligaments, Tendon or any other Injury?
YES! Serraquin is amazing at helping horses recover and get back to work! Serrapeptase the fundamental ingredient in Serraquin has been thoroughly researched worldwide for its' numerous and diverse effects on inflammation, pain, infection, scar tissue (such as adhesions) and healing. Unlike NSAID's, Serrapeptase does not block Cox enzymes to suppress inflammation but rather digests the pro-inflammatory prostaglandin responsible for causing inflammation. By breaking down the old cellular debris, the blood circulation can be improved in the affected area, allowing vital nutrients and building blocks to nourish new cells allowing the natural healing process to work faster.
​
Can It Help With Soreness and Discourage Excess Scar Tissue?
YES!! Serraquin consists of a superior enzyme blend that works synergistically to not only accelerate the healing process but also provides relief from soreness, swelling, and inflammation. Highly known for its' fibrinolytic properties that enhance healthy fibrin levels which in excess can cause scar tissue and adhesions. Since serrapeptase dissolves scar tissue and non-living muscle tissue, it is ideal for use in not only reducing scarring, but also for the treatment of cysts and many scar tissue-related conditions

Can Serraquin Help with Gastrointestinal Health?
Yes! It promotes a healthy gastrointestinal system using powerful probiotics such as B. coagulans and digestive enzymes. When used can significantly improve pain in conditions related to flatulence, stomach distension, and abdominal pain.

So… Is Serrapeptase NEW?
No! It has been used safely for more than 50 years for humans, systemic enzymes are a natural and effective way to provide a first line of defense for the stress and we are putting them to work put on our equine friends- and the results are amazing!

How Does Serraquin ES15 Work? What Are The Ingredients?
At less than $130 for a month's supply, Serraquin may be the only supplement your horse needs! Here are some of the amazing ingredients….

Serrapeptase: 
Serrapeptase with BPPS Enteric Coating Powder Known worldwide for its powerful fibrinolytic and proteolytic properties that supports muscle, joint and overall tissue health. An enzyme that has superior anti-inflammatory properties to provide faster relief from soreness and inflammation while also accelerating recovery from injury and/or surgery.* Research shows serrapeptase possesses significant anti-inflammatory properties, supports healthy fibrin levels, accelerates the natural healing process and supports healthy digestive tract.

MSM
A naturally occurring sulfur compound known for its potent pain-reduction and anti-inflammatory properties. Can help the buildup of lactic acid in the muscles of performance horses.

Superior Digestive Enzyme Blend:
Protease, Papain, Bromelain, Amylase, Lipase, Cellulase, Betaglucanase, Hemi-cellulase, Phytase & Alpha Galactosidase Promotes a healthy gut by breaking down proteins, sugars, fats, starches and fibers easier. Aids in a healthy digestive system promoting less gas that can lead to colic. Supports healthy weight gain in older and more active horses.

Protease
Hydrolyze (breaks-down) proteins. Since alfalfa is high in protein this will help break down and support digestion.

Bromelain
Proteolytic(protein-digesting) enzyme known for its anti-inflammatory properties.

Papain
Obtained from the latex of the fruit of the Papaya tree; used for centuries as an effective digestive aid

Amylase
Breaks down carbohydrates, or more specifically, starches, into smaller dextrins and sugars; produced naturally by humans, microorganisms and plants.

Lipase
Catalyzes the break-down of fats into essential fatty acids needed for healthy tissues and cells*

Phytase
A type of phosphatase enzyme that catalyzes the hydrolysis of phytic acid (myo-inositol hexakisphosphate) – an indigestible, organic form of phosphorus that are found in grains.

Betaglucanase
Source of naturally occuring Viable Yeast, Enzymes and Bacteria. For use in breaking down -glucans and other cell-wall constituents present in barley/oats. Helps maintain a healthy immune system which is vital to a performance horses daily exercise routine.

Hemi-Cellulase
The hemicellulase enzyme breaks down hemicellulose, which is a type of cellulose and a key component of the cell wall in all plants.

Galactosidase
An enzyme that helps digest complex sugar and fat. Without this enzyme, sugar-fat complexes can accumulate in the gut, and later in the rest of the body.

Amla
Also known as Indian gooseberry (Emblica officinalis); a natural, efficacious antioxidant, and one of the richest sources of absorbable vitamin C

Rutin
Bioflavonoid; strengthens and tones arteries and veins; provides antioxidant support against free-radicals and inflammation.

B.Coagulans
A probiotic that is powerful and particularly effective at alleviating stomach distress, such as intestinal gas.
​
What Do Horse Professionals and World Champions Say About Serraquin?

I've been using Serraquin ES15 for about 6 months on my good rope horse and she has a big knee that has always made her move around pretty stiff. Since using Serraquin ES15 she has been moving better than she has in years with more flexibility. The only thing I have changed is putting her on Serraquin ES15. She's feeling better and I know it's helping her! It's made all the difference in the world!"
-Matt Sherwood 2 Time NFR World Champion | 8 Time NFR Qualifier | George Strait Team Roping Classic Champion | Houston Livestock Show Champion



"After my barrel and breakaway horse, Preacher, sustained a suspensory ligament injury, I started feeding him Serraquin ES15, and after just a few months, I'm able to begin an exercise regiment so that he can return to the arena! I think this is a super product, I've got the go ahead from my vet to start legging up my horse!" 

Teri James -2x WPRA Turquoise Circuit Barrel Racing Qualifier, 2x WPRA Turquoise Circuit Breakaway Roping Year-End Champion, WPRA Turquoise Circuit Team Roping Heeling Year End Champion

"I am a team roper and horse trainer and Serraquin has helped my horses immensely. Unfortunately, in team roping injuries to horses happen occasionally because we ask our equine athletes for so much and they are willing to give us everything they have. I've got a 13 y.o head horse right now that has a big knee and I've been giving him Serraquin ES15. I am amazed with the improvements he has made in his soundness, his eating habits, and his overall behavior. He is ready to go again. Thank you Brad and Olivia for introducing me to Serraquin."
Cole Sherwood, Professional Team Roper

"I started using Serraquin ES15 for my 20 year old Friesian, Ari. Ari has severe upper and lower ringbone in both front legs as a consequence of improper use and untended injuries before he came to us at age 14. Ari was on three joint supplements and the maximum safe dose of Equioxx for his weight, still had trouble walking, and was grade 3/4 lame on his left front. My vet was skeptical that an enzyme-based product would make any difference -- but I am a scientist and I checked the science; it was compelling to me. I started Ari on Serraquin ES 15 . After six weeks, he was not only able to walk comfortably but he also could trot several hundred yards without limping. We were able to discontinue two of the joint supplements and reduce his dose of Equioxx. As he continues to improve, we will taper the Equioxx further. He is happy and comfortable! All horses matter. It is particularly satisfying to see Ari feel so much better because he worked so hard as a young horse. He was the horse in the 2005 Movie "The Legend of Zorro"
Martha M. Faraday - Ph.d Equine Nutritionist



"Just started (1 week) my foundered/with rotation Arabian mare on this product. She had bleeding with her last farrier appointment and within the first week, it has stopped. Another abscess is healing quicker. I'll keep using for at least this month to see if she can finally come off her Equioxx!! Very impressed!"

Mary Sotis— Horse Owner and Enthusiast

"I was gifted Serraquin ES15 by a dear friend in August 2019. My horse went lame in May 2019. He was diagnosed with enlarged sensory tendons (hind bilateral) with resulting compartment syndrome. He had bilateral hind fasciotomy and neurectomy in June. There was limited progress in the ultrasound by August but not much. I had my horse on another supplement that was, quite frankly, way more expensive.

After 6 weeks on Serraquin ES15, my vet was astounded with his ultrasound. Today, was another 2 month ultrasound, and the recovery and healing is incredible! Clear lines, very limited cloudiness and barely any bulging or malalignment! I will keep my horse on this product forever! He's 18 and this supplement will help him thrive and keep him healthy and strong until the day God wants him in Heaven!"

Ellen Best -English & Western Pleasure Rider

"I've had my 22 year old retired Grand Prix horse on Serraquin for several months. This horse has torn his suspensory several times and has struggled with soundness. Since starting him on Serraquin he has been sounder than ever and is able to continue jumping, which he loves!"

Georgie Murray ~ Grand Prix Jumper & Head Trainer at Dapple Gray Farms

Why Keep Guessing With Formulas That Don't Work, Serraquin E15 Is The Answer!
Serraquin is the most Advanced Joint Formula on the market today and should be the First Line of Defense in equine lameness. It has been clinically proven to be safe and effective for veterinary applications. We are a Company of our word. The most cost-effective joint or recovery supplement— is the one that WORKS!

Order Serraquin E15 For Your Horse Today-- and Get The Results You Need!
Less than $130 a month with FREE SHIPPING you can put Serraquin to work for you and you'll see why horse owners, professional trainers and world champions make sure their horses are on Serraquin. It works— it works, IT WORKS! Call us and let us help you with your order TODAY!

---
Contact: Brad Custer
85 W COMBS RD STE 101-244
San Tan Valley, Arizona 85140
Phone: 1-877-378-1178
Email:
Website: Click Here To Connect

---