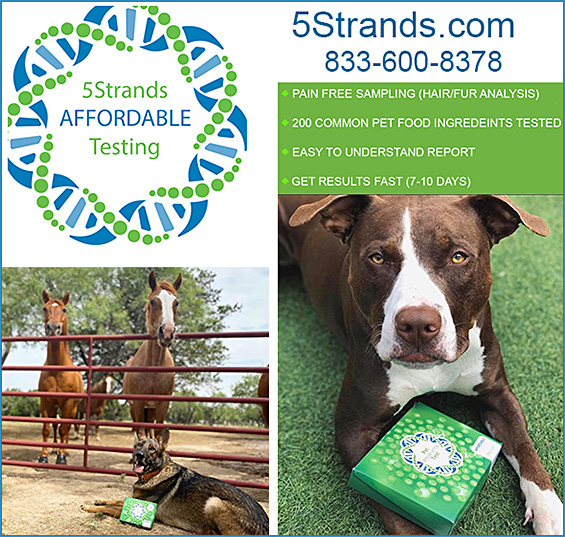 5 Strands Affordable Testing


5 Strands uses a small sample of your animal's hair and uses Bioresonance Technology to identify imbalances causing symptoms of intolerance.





How Did 5Strands Affordable Testing Come To Be?
5Strands Affordable Testing was founded 3 years ago by Lisa Blaurock, Ethan Steed, & Austin Collins. Lisa was having digestive issues for years & after paying thousands of dollars for several doctors to tell her that 'we can't figure out what's wrong with you', she got mad at the system and found answers for herself. After figuring out that she had to eliminate gluten, dairy & yeast items her digestive issues started going away. She has always had the desire of helping others and what better way to do that then by making yourself & your pet healthier and happier!

5Strands was created out of a burning desire to assist others— both animals and humans— to experience what "healthy" feels like. Sometimes in this busy world we neglect looking after our own body and that of our horse, dogs or other pets. It is extremely easy to just eat the first thing in sight or what is available in the present moment, or to just open up a bag of kibble, or sack of grain— and pour it out for our animals to consume. But was it the best thing to eat? Food is the FUEL for our body— are you putting things in your body, or that of your animals, that can actually cause harm? 5Strands can give you a roadmap and put you and your animals on the wonderful 'path of health'!

5Strands Mission Statement is, "To empower families with a voice about their own health care and that of their pets. We strive to fill the void of consumer-driven needs with our affordable testing".
Check out their story with the video below:



5Strands tests for "Intolerances"- What is the difference between an "Allergy" and an "Intolerance"?
Some of the symptoms will overlap. However, there are a few important differences. An allergy is a reaction involving the immune system. This reaction is typically immediate and can be life threatening. Most of the time, the symptomatic response will be vomiting or diarrhea, severe hives, facial swelling, or shortness of breath. An intolerance does not involve the immune system and has a delayed reaction. The response will not be life threatening. A food intolerance will typically indicate that your horse is lacking the digestive enzymes to break down a certain food item and digest it. In result, they will experience unpleasant and unwanted physical reactions.

Note: Symptoms of intolerances are digestive issues, joint pain, coat problems, cracked hooves, hair loss or nasal discharge. Some, if not most of these issues are very difficult to see on your horse until it is too late and turned into an ongoing issue.

How Can 5Strands Help Me Help My Horse?
Horse ownership is one of the most exciting and challenging opportunities of your life. You love your horse, you devote hours to his or her care, comfort, training, housing, food, and health. But sometimes you need help in understanding why your horse may not be performing or doing well. Your horse may have issues that may be puzzling to the vet. No need to feel alone! With 5Strands Horse Testing Kit, you have a team of friendly experts on YOUR side, ready to help give you answers on what intolerances your horse may have— so you can get your horse— and yourself, back to a happy, healthy life!

5Strands EQUINE DELUXE PACKAGE tests For Over 300 Items for only $189

* 158 FOOD ITEMS (like: Alfalfa, Timothy Hay, Barley, Bermuda Grass Hay, Fescue, Flaxseed, Garlic, Hemp, Kelp, Bluegrass Hay, Lactobacillus, Magnesium, Soy, Beets and many more!)
* 98 Environmental Elements ( like: Dandelions, Milkweed, Mosquitos, Red Clover, Wasps, Yarrow and many more!)
* 29 Nutritional Elements ( like: Copper, Iodine, Calcium, Omega 3, B Vitamins— and more!)
* 15 Heavy Metals ( like: Copper, Chromium, Selenium and more!)

So, What Will I KNOW After My Horse Has This Amazing Test?
You will receive a comprehensive report that indicates all of the items that your horse has registered a response to. They are color coded like a Stoplight. The Level indicates the type of response their body may experience with ingestion or exposure.

Level 3—(STOP!) Level 3 intolerances are considered items that your horse's body registered an imbalance to and may be very likely to cause noticeable symptoms. Reactions may show up as inflammation, digestive upset or issues, skin problems, fatigue, joint pain, coat problems, cracked hooves, hair loss or nasal discharge. These items need to be ELIMINATED from their diet or avoid exposure to the item as much as possible.

Level 2 (Slow Down) Level 2 intolerances are items that your horse's body has registered an imbalance to with symptoms that may result in reactions like itchy skin, runny nose, watery eyes, etc. These need to be avoided or greatly reduced.

Level 1 (Be Aware) Level 1 intolerances are items that your horse's body registered a low level imbalance. While there may be no noticeable symptoms, they may potentially cause issues over time. Consumption should be in very limited amounts.

These results can be cross referenced with the master list of items that your horse was tested for. Only feed your horse what is left on the master list for 6-8 weeks and see if the symptoms lessen.
See the video below:



What Do People Say About Their Experience With 5 Strands Affordable Testing?
We have made such a difference in the lives of animals and their humans alike!

Says JUNE's Owner...
When we adopted June she was very itchy and had dry flakey skin. We tried feeding her higher end food and giving her salmon oil supplements, but it didn't seem to help. I personally have a lot of food allergies and instantly thought it was something we should look into.

We found out that almost everything June was eang she was sensive too. This includes most forms of beef, chicken, Pork, Elk, Duck, Alfalfa, Pumpkin, and much much.

To transion her food I did the following:
3 days 75% old food, 25% new food

3 days 50% old food, 25% new food

3 days 25% old food, 75% new food

It was almost an instant change. Even when we were sll in the transion period she was itching much less. It's been about 2 months now and her skin and fur is great. She is only 5 months old so I'm sure that has helped her adapt, but he seems much more at ease now. I've personally recommended 5 Strands to many friends and family as well who have seen changes in their lives and animals as well.


We have many great CASE STUDIES all with results like JUNE!

Call and Order Today...
You'll love being empowered with facts and knowledge that is directly from your animals own body!
The answers are only just a few strands of hair away! Call today!


---
Contact: Our Friendly Staff
595 Old Norcross Road Suite D
Lawrenceville, Georgia 30046
Phone: 833-600-8378
Email:
Website: Click Here To Connect

---