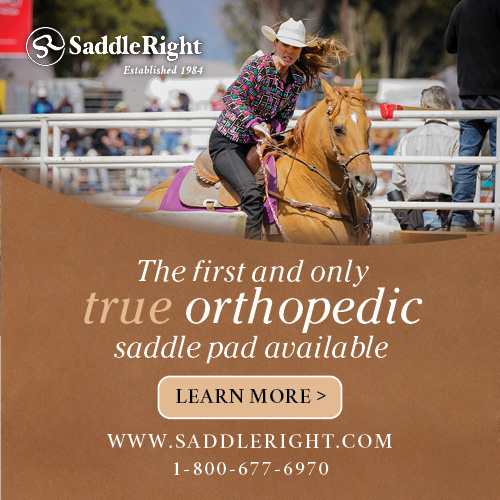 SaddleRight™ Custom Orthopedic Saddle Pads
SaddleRight™ orthopedic saddle pads are made with our unique core material that not only protects the back but allows it to rebuild muscle- a hallmark of our pads for over 34 years.




SaddleRight Saddle Pads- the FIRST and TRUE Custom Orthopedic Pad For Your Horse!
SaddleRight Pads were the result of the years of trials, research, and perseverance of Dr. Mike Freeman, Doctor of Chiropractic and Kinesiologist. He traveled the country working on horses that presented with sore backs, nerve damage and muscle atrophy. His observations and research showed that any saddle, applied to a horses back, began the process of muscle shutdown. When paired with pads that didn't supply foundation, dissipation of pressure and heat, the problem became worse. After years of researching materials, the pad as it still is today, was born. Dr. Freeman did the research and testing with the the assistance of two veterinarians, and final testing by Texas A&M University. The pad and it's unique core material exceeded all expectations. Twenty-four test pads were released for purchase in 1979 to the public, with some of the test pads recipients being Dolli and Darryl Lautaret and Jeff and Bonnie LeMaire. Their daughters, Betsy LeMaire Nunn and our Performance team member, Jolee Lataret Jordan, still compete on our pads today! The World Famous Horseman, Al Dunning, was also aboard our pads for many years. By 1984, the pads were in full swing with great reviews.

How Does SaddleRight Protect My Horse's Back While Helping Their Muscles To Regenerate?
The unique core material in our pad, encourages the back muscles to regenerate, rebuild, and repair. It also encourages the nerves and lymphatic system to work properly. Our pad allows the freedom needed for equine athletes to reach better, feel better, and ultimately to perform better. The pad begins working as soon as it is applied to the back. This was the origination of the FIRST and only TRUE orthopedic saddle pad available.



If You are Going To Saddle Up... Make Sure You SaddleRIGHT!
Discomfort to your horse's back will greatly affect the way that he or she can perform. Why Orthopedic?
All pads are not created equal! Some pads just mask the problems, and increase poor conformation issues without offering any real protection to your horse.
 SaddleRight Pads offer protection, comfort, and the opportunity for the muscular system to rebound and rebuild. Our pad can also encourage reversal of muscle atrophy and allow for optimal performance and comfort each time you ride.

The FIRST and ONLY TRUE Custom Orthopedic Saddle Pad
- No Other Pad Can Compare!
SaddleRight offers a wide variety of styles, colors and options. Every pad is made meticulously for each riders' individual taste, and needs.

* Constructed using specialized core material with proven orthopedic value
*Core material is guaranteed never to compress, deform or degrade
* WE DO NOT use memory foam, gel foam, air bladders — all of which significantly increase pressure points on the horse
* Unique core material moves and recoils with the movement of the horse
* Options to fit any size saddle including English and Western Styles
* 100% Lifetime Guarantee
* Finest Quality Glove and suede leathers used for durability and visual appealing quality
* 100% Pressed Wool Felt for optimal moisture wicking and temperature control
* 100% Handmade in the USA for over 30 years!

What Sizes Are Available?

SaddleRight knows that horses come in all sizes- so we offer several different sizes and style of pads to fit your needs. 24"-36" available on most of our styles.



WESTERN STYLE:
Our Western Pads are extremely popular and can make a real difference to your horse's comfort and performance. Western pads are a standard thickness of 5/8 inch, and English Pads are standard ½ inch. Length 24-32," Widths from 34-36", Choice of 5 Wear Leathers and 20 Different Suede Colors. All Western Style Pads can be made with or without Wear Leather. All Western Style Pads can be made with Suede Leather or 100% Wool Felt.

For just $20 additional, we have some AMAZING Custom UPGRADES!

The Legacy Option —Greater Weight bearing capability! Made with an extra 1/8'' of core material for improved saddle fit, for wider saddles, and/ or more intensive use. Available on all pads. The weight bearing capacity of the pad changes from 300lbs to 600lbs load. This is the most popular upgrade for horses with strenuous riding applications such as Roping, Ranching, extended hours of trail riding, etc.. It is also the best upgrade for horses with Atrophy, Kissing Spine, or mild drop of the back. This is a $20 upgrade and is available on all models excluding our English, and Race Pads.

The Vegas Option —Add Some Flash to Your Pad! "Vegas" model option is a choice of two suede colors. Choose a body color, and contrasting trim color. Wear leathers are not available on this model. Available in Western Square, Round Barrel, Special, and Wool Felt Pads. Your choice of 20 suede leather trim colors.

ENGLISH STYLE:
Length 21-23", Additional Padding for Riders over 190lb., Choice of Black or Brown Fine Glove Leather or 20 Different Suede Colors.

Western Square: 
Our "go to" pad for most all western applications! This basic pad really lives up to its name. Choose an all suede cover, or wool felt-suede combo. If you like something with a touch of flair, make it a "Vegas" by choosing a two-tone suede combination. (See other options and upgrades)

Round Barrel: What a cutie and form meets function! Great basic round pad perfect for those round shorter skirted saddles. This pad works with most round skirted, treed type barrel saddles. Comes standard 29 back x30 drop. Get this one in the suede cover, wool felt-suede combo, or make a statement with a "Vegas" two-tone suede.
(See other options and upgrades)

Endurance:
 This pad is for Endurance Riders. The protection runs throughout the pad and side panels. This style comes in 28" x 39" only and offers the choice of all suede cover or, a wool felt-suede combo.

Special Delux: A VERY popular pad! Its unique design allows this pad to be a universal fit! The Special Deluxe works well, for those riders who use both the treeless, dropped rigged, and (or) a treed saddle. It swaps nicely under them all! The half wear leather is Top Grain leather and has a cut away rear section that accommodates shorter backed horses. Suede cover, and 34 drop only.

Round Barrel XT2:
 Need a drop rig or treeless pad? We've got you covered! Check out the new Round Barrel XT2. This sweet little hybrid is a cross between the Round Barrel, and our older Drop Rig model. It offers a cleaner contoured fit for your round skirts and comes in a 34 drop for your longer riggings! 
Standard size is 29x34
Back sizes 24-32
Only available in a 34 drop


Grizzly: NEW "Grizzly" pad. Elegant - Durable - Made to Last a Lifetime!
Available in western deluxe only. Grizzly leather in black, chocolate, mahogany, and saddle tan.
Floral embossed wear leathers are cognac, tan, purple, turquoise, black, and dark brown.
Additional wear leathers in sunrise, tan, brown, chocolate, and black.



What About English Style Saddle Pads? SaddleRight's English Saddle Pads Offer Extreme Comfort!
Our English Style orthopedic saddle pads are handmade in the USA, accommodating seat sizes from 17 – 19 ½'' (the length of 21-23''), additional padding available for riders over 190lb. Choose from black or brown fine glove leather or 20 different suede colors. Comes standard in a 17-17.5 seat and 190lb rider.
Larger seat sizes are 18-18.5, 19-19.5 upgrade…$20
Extra Protection (190-300lbs) rider………….……$20

GLOVE LEATHER - This pad whispers "Elegant" and "Classy". Covered top and bottom in Top Grain Glove leather. Works under Hunter, Jumper or Dressage saddles. Available in Black or Brown Glove Leather. Standard pad fits 17-17.5 seat and accommodates a rider up to 190 lbs.
 SUEDE LEATHER - Economical pad offered in lots of great suede colors! Suede cover with a wool felt underside. Great training pad, or trail pad but with a fun color twist. Fits Hunter, Jumper, or Dressage saddles.

Looking For Racing Pads To Help Your Horses Perform Better?
Our Racing saddle pads fit your jockey's saddle perfectly and weight in at just under 1 lb. 
JOCKEY - Made of black Synthetic felt with our great ¼ core material. Special design to lock saddle in place. Meets race track requirements. Weighs approximately 1 lb. *No options or upgrades available*
 RACING COMBO - This duel use pad works for daily training workouts, and race day as well. Made of black Synthetic felt with our 3/8 in core material. Meets track requirements. Weighs approximately 1 lb.


What About Caring For My Amazing New SaddleRight SaddlePad?
Our easy step by step care instructions are easy to do and will help keep your beautiful pads looking wonderful for years to come.

About Our Lifetime Guarantee....
SaddleRight Lifetime Guarantee
 is one of a kind. The outer covering of all SaddleRight pads is your first assurance of quality. We hand select only the finest quality leathers, 100% wool materials and other fine quality materials for every pad we manufacture. These materials not only add beauty, but are necessary for the function of your pad.
When our unique orthopedic material is securely encased in our original cover (leather or wool), we guarantee that it will not compress or deform in any way for life.


Is It True That SaddleRight Offers FREE SHIPPING?
YES! Shipping & Handling
Orders are shipped within 10—14 days. FREE SHIPPING within the continental USA. Shipping pads internationally is available, contact us to learn more.

 30 Day Money Back Guarantee
30 Day unconditional money back guarantee. Upon receipt of your originally purchased pad, we will refund your saddle pad purchase price less a $30 restocking fee. Excluding custom embroidered pads.

1 Year Workmanship Warranty
1 year for workmanship on the covering. All return shipping charges will be paid by SaddleRight.
Trade Back Program
Is It True That I Can Trade My Old SaddleRight Pad For A NEW SaddleRight Pad at 1/2 Price?
Yes! Our Trade Back Program offers an opportunity to always have the perfect pad – whether it is time for a new look or just time for a new pad. Simply choose the style/color and other options of your new pad and pay 50% of the retail price plus shipping. Next, we will ship your new pad and when it arrives, just send your old pad back to us (regardless of condition) in the box provided. Return shipping is at the customer's expense. It's that easy – really! Excluding custom embroidered pads.

What Do People SAY About Their SaddleRight Saddle Pads?
"SaddleRight has been instrumental in treating and maintaining sore backs on the ranch horses, that we ask so much of, and our performance horses as well. The pads never move and the horses feel stronger and move freely with SaddleRight." 
-Chad Smith

"I've had several different saddles and saddle pads over the years and while I liked them I found dry spots or felt like my horse wasn't moving quite as free as need be. I've had trouble with one horse in particular being bound up in her shoulders. No matter if I changed saddles or pads I never got the result I was looking for. I saw a marked difference in her movement after using the Saddle Right saddle pads so I tried it on my other horses as well. I ride a lot of different style of horses from short, wide calf roper types to tall, leggy, thoroughbred horses. I like that this pad helps my saddle fit them all. I don't get dry spots and I feel like it allows more freedom of movement."
-Jean Winters

"Many years ago, I had the privilege of having Dr. Michael Freeman adjust and balance my horses; based on that experience, I was happy to try a product he developed through his many years of treating performance horses. Because my horses' well being is my primary concern, Saddle Right Orthopedic Saddle Pads have been a key piece of my equipment almost from the company's beginning thirty years ago. Through decades of use on the road as a professional barrel racer and roper, I can honestly say I've never had a concern over my saddle pad. Sore backs are non-existent in my world! Saddle Right pads meet all my needs and wants—they protect my horse, allowing circulation and free movement in the muscle groups; they come in a variety of colors to suit my preference for something flashy and attractive; and, best of all, they are extremely durable. I'm still using pads bought decades ago because the inner material never compresses or loses shape." - Jolee Lautaret-Jordan

"SaddleRight saddle pads provide close feel, support, versatility, and style to your horse in whichever discipline you choose to ride in." - Jade Keller

"We use SaddleRight pads on all our horses, from trainees, to working cattle, mounted shooting, you name it! We depend on this pad to protect our horse's back. The unique core material moves and recoils with the movement of the horse and acts as a plate to spread out saddle pressure more evenly. A proper fitting saddle is still very important, but the SaddleRight can help ill fit to a degree. I really like the closeness of the pad. the split in the front and rear of the spine which allows free movement in each quarter of the horse and the unheard of lifetime trade in program! Lots of color choices and options! Made in the USA!"
- Matt Jobe

"SaddleRight. The best pad for all reasons and all seasons. Hot or cold, big horse, small horse, young or old, trail, show, ranch or performance the dependable SaddleRight pads give me the look and protection I want and need for my horses! Constructed with a proven orthopedic value and a unique core material that continually moves with your horse giving that professional feel, comfort and reliability for both horse and rider to do any job right! Having the confidence of knowing my horse is protected and comfortable with better saddle fit and classy good looks I recommend the durable SaddleRight pad for you and your horse."
- Nationally known horse trainer- Craig Cameron



SaddleRight provides top notch comfort, quality and durability. I love the genuine care that SaddleRight puts into every detail of their pads. I am lucky to have their support in and out of the saddle."
-Wylene Davis



"Over the years I've tried many different pads. Pads made from just about every type of material you can think of. Pads filled with just about every substance you can think of. None of them gave me what I was looking for. Some would compress after a while and others just didn't work. What I was looking for was a pad that didn't compress, didn't interfere with my saddle fit, was thin enough to let me feel my horse and most of all, a pad that my horse liked and not only worked well in, but one I could feel he was comfortable working in too. I had just about given up and was about to settle for what was out there when I discovered SaddleRight Pads. The very first time I roped on my good horse using the SaddleRight Pad, I knew I had the pad I had been looking for.When I put my saddle on my horse with the pad on, I liked what I saw immediately. I knew my saddle fit my horse well and the pad didn't interfere with my saddle fit at all. While riding my horse, right away I felt a difference in not only how my horse moved, but how I could feel my horse move. The pad didn't interfere with the connection I had with my horse at all, it only enhanced it. My horse was moving freely in the pad, so the big test was how he was going to work in it. I roped about six to eight steers that first day and he felt more relaxed and comfortable on each steer. Three of my four requirements were met on the first day. As for the compressing, I can tell you that after a year's use on many different horses and literally a few thousand steers roped, my pad not only looks new still, there is absolutely zero compression. While other pads compress, shift around and change how the saddle fits your horse, I can tell you that after a year's use this is the same pad I put on my horse over a year ago. I have four rope horses of my own and take in horses to train for roping and the only pad I will use is on any of these horses is a SaddleRight pad."

-John Samsill


"I am so thrilled with SaddleRight pads! I have been having to cinch my horses in half and move my saddles up their backs frequently through out my rides because my saddles that fit, wouldn't stay in position. Once i started using SaddleRight pads, none of that has been done! It's amazing how they stay where they're supposed to and i have zero back soreness. I am a true believer in SaddleRight Pads!"
 -Kelsey Jo Lutjen-Treharne

How Long Will My SaddleRight Saddle Pad Be Effective?
The answer is a lifetime! Our pads are the only pads in the industry to carry a "Lifetime Warranty against Core Compression". Our core material will never compress, degrade, or break down. We offer a 30 day unconditional return policy, with the strong suggestion that they ride the pad daily during this time. It is NOT unusual to see some dry spots, as this indicates in most cases, muscles that are not working as they should. This pad is going to help repair what other equipment has created and this takes some time.

Order Your SaddleRight Pad Today!

Don't your horses deserve the protection and comfort that a SaddleRight pad can offer? We think they do! Please call us today and let us answer any questions you may have and help you custom order your next orthopedic SaddleRight saddle pad. Visit our website, www.saddleright.com to view pad styles, options and upgrades ; read customer reviews and performace team member testimonials. Learn about our warranty and trade back policy!

---
Contact: Our Friendly Staff
Yvonne South (Sales Mgr) or Janette Freeman (General Mgr)
Las Vegas, Nevada
Phone: 806-930-1537 or 800-677-6970
Email:
Website: Click Here To Connect

---