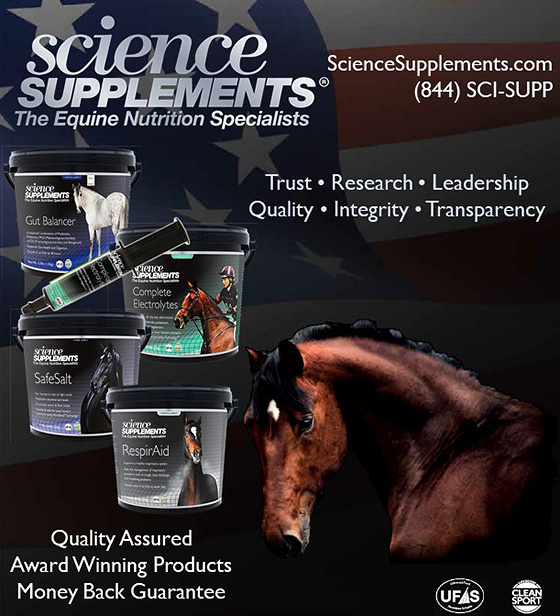 SafeSalt, RespirAid, GutBalancer and Complete Electrolytes
Gut Balancer, RespirAid, Safe Salt, Complete Electrolytes help to keep your performance horse in peak condition and health!



What Sets Science Supplements Apart From Competitors?
Science Supplements is truly unique in our combination of core values in the world of equine supplements. Many companies and products exist, and yet it is common for horse owners to mistrust supplements for a variety of reasons. We at Science Supplements understand – we were frustrated too. That's why this company was created. Our head scientist, Dr. David Marlin, saw that many equine supplements were being produced and sold with false claims, no research supporting them, missing and/or misleading ingredient lists, too low of levels of ingredients, poorly digested and/or absorbed ingredients, fillers that don't provide benefits, high starch and sugar, ingredients that are illegal for use in competition horses, and even worse – with dangerous ingredients. As a result, he began formulating supplements to actually help horses first and foremost, knowing that the best supplements are the ones that work.

Thus, our supplements are formulated…
• With researched, proven ingredients
• With high bioavailability, high quality versions of the ingredients
• With high enough levels of the ingredients to actually help your horse
• With full transparency of the ingredients and levels – both on the products and on our websites
• With low sugar and starch – ask us about the levels and we're happy to discuss
• With palatability in mind – if it doesn't taste good, it doesn't matter how great the product is!
• Without unnecessary fillers, binders, or ingredients that don't provide health benefits
• Without exorbitant prices – we want you to afford to be a customer for life and will make suggestions that fit your horse's needs and keep budgets in mind

Is It True Science Supplements Was In Demand In the UK and Is New To The USA?
Yes… our reputation for high quality products, excellent customer service, and industry leading standards for integrity, transparency, and research began in the UK and has now spread to countries around the world. With the launch of the North American branch in early 2020, we are proud to bring effective, researched products to the USA and Canada. Our North American staff works closely with the UK team of researchers and developers, providing an inclusive workforce of equine scientists, veterinarians, and PhD's for the horses of North America, all with long histories of owning and working with horses in a wide range of capacities and deep understanding of equine nutrition, physiology, and management. We are so excited to offer the opportunity for the US, Mexico, and Canada to "take the Science Supplements Challenge" and see just how trustworthy and effective equine supplements can be.

Barrel and Performance Horses Often Suffer From Gut, Electrolyte and Respiratory Issues—
"Science Supplements" Can Help!
The pressures and physical demands of barrel racing and other performance sports can make horses prone to gut, electrolyte, and even respiratory issues…Science Supplements offers the most powerfully effective solutions for these concerns on the market today.

Gut Balancer is a limited ingredient combination of proven probiotics, prebiotics, and digestive support components and is appropriate for a wide variety of issues common in performance horses, including gas, bloat, diarrhea or loose stools, difficulty gaining weight or muscle, frequent colic, or lack of energy. Published research on Gut Balancer showed itreduces the dangerous risks associated with sudden diet change and supported a more stable hindgut environment, and further research showed Gut Balancer improved fecal consistency scores in as little as 7 days for horses with diarrhea.

Our ingredients support multiple facets of hindgut health, including improved fiber digestion, strengthened immune function of the GI tract, binding toxins present in feed, regulating fecal consistency and reducing water loss in feces (diarrhea, watery stools, etc.), helping develop the protective mucous coating for the hindgut, and supporting beneficial microbial growth in the hindgut – which improves overall digestion and absorption of nutrients, regulates pH of the hindgut and reduces sudden changes in pH associated with bloat, gas, colic, and laminitis, and helps suppress dangerous microbial growth like from E. Coli.

SafeSalt provides sodium and chloride specifically, but SafeSalt is considered "safe" because we have addressed the common problems associated with regular table salt and many other commercial equine salt supplements. First… the flavor. Many horses don't like the flavor of salt and thus won't voluntarily consume salt – or at least not enough to meet their daily needs. Never the less, horses should be consuming some type of supplemental salt every day because while sodium is very low in typical horse feeds and forages, it is required to help ensure proper muscle, nervous, and organ function, and to ensure proper hydration and thermoregulation. So to fix the flavor, we got rid of it! In SafeSalt we have micro-encapsulated individual salt particles with a thin layer of oil, meaning… No Salty Taste Technology! Horses can consume SafeSalt with no worries of feed refusal, and you can be happy knowing your horse is getting the salt they need to stay hydrated and balanced. Plus, we have made SafeSalt palatable without added sugary flavorings, which is how most supplements have tried to address the problem of bad taste, but often this just results in sugary and salty taste, doesn't correct the issue of salty flavor, and adds unwanted sugars to your horse's diet.

Further… SafeSalt Is a Safe Salt for Horses With Ulcers! The other major benefit of SafeSalt is for horses with gastric ulcers. The same micro-encapsulation technology also prevents salt molecules from contacting gastric ulcers and creating pain that is typical when a horse with gastric ulcers eats table salt or other typical salt supplements. Salt on a wound! The intense pain can lead to feed refusal and aggressive behaviors, and typical salt ingestion aggravates gastric ulcers and intensifies their development. But not with SafeSalt! The oil coating means the salt can't contact the ulcers or induce pain, and the SafeSalt instead is digested in the small intestine where salt digestion and absorption is ideal.

So How Much Salt Does My Horse Need? Just to meet basic functional needs, average sized horses need around 25 grams of salt a day, or a little under 1½ tablespoons a day. When given access to salt blocks, many horses don't meet this daily intake, so top dressing feed with salt is a better way to ensure your horse is consuming enough salt. However, for horses who don't like the flavor of salt, this can create issues too! Some horses may fail to eat all their feed to avoid the salt, or worse – they may avoid their feed altogether. SafeSalt, however, has NO SALTY FLAVOR. We accomplished this using micro-encapsulation technology in which a very thin layer of oil surrounds the salt particles. The result… doesn't taste like salt! Horses can consume SafeSalt with no worries of feed refusal, and you can be happy knowing your horse is getting the salt they need to stay hydrated and balanced. Plus, we have made SafeSalt palatable without added sugary flavorings, which is how most supplements have tried to address the problem of bad taste, but often this just results in sugary and salty taste, doesn't correct the issue of salty flavor, and adds unwanted sugars to your horse's diet.

Complete Electrolytes is considered "complete" because this product provides the 5 specific electrolytes lost in sweat, and we've provided these electrolytes in approximately the same ratio as how they are lost in sweat. Thus, Complete Electrolytes helps replenish the needed electrolytes lost in sweat in a balanced delivery system, and we have used the same micro-encapsulation technology as we use in SafeSalt, meaning no salty taste and less worries about refusing to eat these electrolytes necessary for a wide range of physiological and performance demands. Complete Electrolytes powder is a great option for horses who live in warm weather areas, are in work that leads to sweat loss, or who are not on a feed that provides electrolytes. If your horse is experiencing a combination of these factors (Ex: warm weather and in work), we have higher suggested daily intakes listed on our label to meet their increased needs in order to help replenish their higher rate of electrolyte loss in sweat.

Note: It's important to supply electrolytes to horses BEFORE they have notable increases in sweat to help them be balanced in electrolytes and hydration prior to then getting more off balance when work or hot weather leads to further imbalances. For this reason, we recommend supplying daily electrolytes for at least a few weeks before the onset of hot weather or training and competition season. This gives the horse time to stabilize their electrolytes and hydration so that it is easier to then return to a healthy state once higher sweat rates are experienced.

Additional Note: For horses with acute onset sweating or in endurance sports, we also have a Complete Electrolytes Syringe, which also provides the same key electrolytes in ratios that match sweat loss, but in an easy-to-administer on-the-go delivery paste, perfect for on the trail, during travel, in the midst of endurance competition, or between classes. This can be given independently or in conjunction with the daily powder for horses with higher electrolyte needs. Complete Electrolytes Syringe does not use the micro-encapsulation technology, however, since it's a delivered as a paste instead of powder.

RespirAid is a blend of powerful antioxidants, bioavailable minerals, and high levels of anti-inflammatory MSM. Unfortunately, barrel racing and performance horses are subject to the rigors of sprinting and hard training combined with dusty conditions, air quality concerns, and airborne irritants and pathogens associated with travel, new environments, and close exposure to other horses. Because of these risks, the respiratory tract is often more compromised the higher the level of competition for horses, limiting their oxygen uptake and ultimately their capacity for speed, agility, and precision. Formulated to help protect and fortify the tissues of the respiratory tract and open airways, RespirAid helps promote efficient breathing and reduce obstructions to oxygen and carbon dioxide exchange. Clinical trials showed RespirAid effectively raised blood antioxidant levels after only 2 weeks of administration, but – even more important – even for horses with chronic history of respiratory distress, RespirAid helped to eliminat cough and nasal discharge and normalized respiratory rate and respiratory effort after only 7 days.

Is It True That The Team AT Science Supplements Is Happy To Consult With You?
YES! Many times horse owners are not sure what they need or if a supplement is the right option for their horse, but at Science Supplements, we pride ourselves in being able to help customers find solutions for their whole horse! We are more than happy to help you find a supplement that best suits your horse's needs, but we also encourage you to reach out if you have any questions on nutrition, management, or horse health. While often a supplement is a helpful tool – which is why we offer an inclusive line of high-quality supplements – but we know and understand that often there is much more to consider in finding solutions for helping horses live their best lives. We can discuss problems, offer recommendations for implementing changes, and provide suggestions for diet and management, and we can also offer advice for when to contact your veterinarian for more help.

What Do Horse Owners Say About Science Supplements Performance Products?
Science Supplements is the only product I have found that actually has research behind it and is proven to work. Barrel racing can take a huge toll on performance horses but I know with Science Supplements products they have what they need to perform at their best. My horses look and feel better than they ever have before! If you want the best of the best I highly recommend any of these products!
Brittany – Barrel Racer SC

Kasper is my off the track thoroughbred that I have had for about a year and a half. A little while after owning him and getting to know him I noticed that he was showing signs of ulcers and really needed a joint supplement. We put Kasper on science supplements and we noticed a difference in Kasper's attitude and movement within a week or two. Kasper is a war horse from being on the track and is now a hunter jumper who is working 4-5 days a week.
Alyssa – Hunter/Jumper SC

Keep Your Performance Horse In Peak Condition INTERNALLY-- With Science Supplements!
Results are what it is all about! Science Supplements give your horse exactly what they need to help effect optimal internal health, with effective, targeting ingredients and at the proper dosage of ingredients, to allow for success and then the amazing results themselves! We didn't bring these products from the U.K. for any other reason, except that they WORK!! Horses that are on the Science Supplements products show great improvement. So, "take the Science Supplements Challenge" and see just how trustworthy and effective equine supplements can be!


---
Contact: Jenna or Ryan Mulligan
1310 Garlington Road, Unit D
Greenville, South Carolina 29615
Phone: 864-523-4567
Email:
Website: Click Here To Connect

---