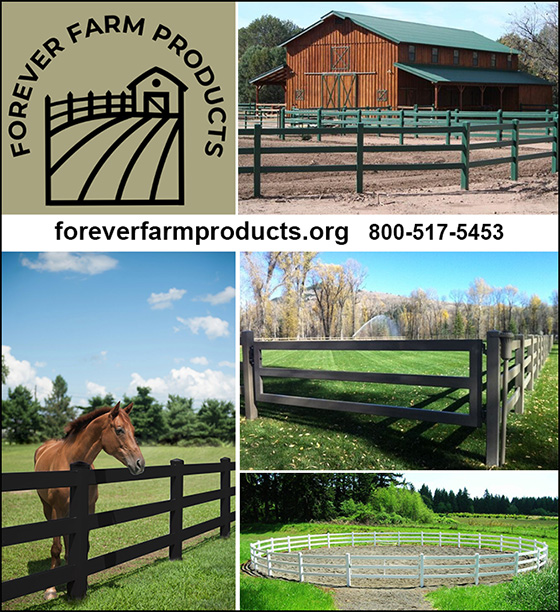 HDPE Fencing by Forever Farm Products
HDPE Fencing by Forever Farm Products offers the most beautiful, functional, safe, long lasting, endurable and maintenance free fencing for horses!
About Forever Farm Products, LLC.
Based on the West Coast,

Forever Farm Products

believes that the materials used in a construction project are an investment and of the utmost importance to the future success of the project. We strive to provide our customers with products that are low-maintenance, perform in all climates, impervious to moisture, and are engineered to withstand whatever mother earth brings. Our fencing will be both functional, and a thing of beauty to add value to your home, stable and property.
We work with manufacturers nationwide and ship everywhere in the mainland United States and Canada.
Looking For Fencing That Is Beautiful, Strong and Safe For Your Horses?
ForeverFarmProducts.org

is your answer! We have all seen the miles and miles of new, wood fencing on farms that looks so beautiful. In only a few short months, the wood is discolored, chewed on by the horses, broken in places where the horses have kicked and is not what the owners had in mind when they installed it.
What about electric fencing?

Well, it sure is affordable, but horses can run through it and right into the road or neighbor's yards— a lawsuit in the making.
What about vinyl?

It sure looks pretty— until it begins to mildew or begins to crack.
So, what is a horse owner to DO?

HDPE fencing at ForeverFarm Products, LLC

is the answer. Ribbed for additional security, and made with a glossy finish, Forever Fence mimics the look of beautiful vinyl, but with all the strength and durability of HDPE! It will look beautiful on your property for decades to come.
So What IS HDPE and Why Is It So Desirable?
We are so glad you asked! HDPE is short for "High Density Poly Ethylene", HDPE is lightweight and SUPER STRONG.
Unlike Vinyl or PVC fences which shatter and crack which can be dangerous, HDPE fences
flex to absorb impact!
HDPE is
weather, mold, mildew, insect and rot resistant
, which means no matter the climate, you won't need to spend your time cleaning, repairing, and maintaining your fence.
Is It True That 100% HDPE Forever Farm Fences are Extremely Strong and Almost Maintenance Free?
Absolutely! HDPE or high density polyethylene is a very versatile polymer which is appearing more and more in the building material industry because of its immense strength. Additionally, the non-porous, high density nature of HDPE makes it impervious to moss, mold, mildew, rot, and rust. This means that you can spend your time enjoying your fence, not maintaining it.
What Styles of Fencing Is Offered At Forever Farm Products, LLC?
Forever Farm Products offers a variety of post and rail style fencing. Overall fence height, number of horizontal rails, and rail spacing are fully customizable. We also offer a selection of internal profiles.
Forever Fence

is made with internal ribbing, giving it additional strength and making it the smart choice for high impact fences and arenas. You'll love the beauty and durability.
Forever Lumber.

For the absolute toughest jobs we also offer the solid, structural HDPE composite forever lumber. This
makes a truly low-maintenance fence. Not only can it stand up to abuse from large animals and insects, it also won't rot or splinter over time due to it's amazing components.
Does the Color Go Throughout The Board or Just Surface?
Horses can be tough on fencing, that is why the HDPE Fencing at Forever Farm Products, LLC, ensures that the color is consistent throughout our HDPE fences, and is treated with UV stabilizers. This means the color won't ever wear or scratch off. Forever Farm Products currently offers 8 colors of HDPE fencing including

black,

white,

grey,

green, and a variety of

browns.
Why Is The Forever Fence Better Than Steel?
Do you think there is a possibility that your horse will ever get excited and kick at the fence? We do too! Imagine your horse kicking steel fencing— ouch!
Besides its beauty and low maintenance, what truly sets HDPE fencing apart from its competitors in steel or any other material is its high

"flexural strength" . Flexural strength refers to the ability of an object to bend, and then return to its original state. Unlike steel fences which have no 'give' and can hurt a horse, HDPE fences flex and absorb impact effectively cushioning your animals.
Note:

we are offering 20-25 year WARRANTIES on our amazing fencing!
Is It Easy To Install?
Yes! Forever Farm Fences are very easy to install. Once posts are set, rails are inserted and adjusted. Rails can simply be left in place, or can be sold with rail pins for added security. Whether you decide to install your fence yourself, or hire a local contractor our fencing specialists are always on hand to answer installation questions. Once it is installed, you can enjoy your gorgeous, eye -catching fencing for decades to come!!
Are Your Fences Environmentally Friendly?
HDPE is the same compound found in milk jugs and laundry detergent containers. This common polymer can be recycled repeatedly with our degrading or losing its strength. This allows us to offer you both virgin and post consumer recycled fencing options. Our manufacturers take steps to make the extrusion process as green as possible, and HDPE does not require any post-production chemical treatment. HDPE fences do not leach chemicals into the air and ground water like PVC/vinyl or treated wood fences.
Don't Make Fencing Decisions That Keep You Working and Paying— Forever Fence is The "Once and Done" Fencing You'll Love!
Sometimes a little extra cost in the beginning, can save thousands down the road— and prevent a lot of worry too. Our HDPE Fencing is second to none— talk to our friendly personnel today and let us help you get the beautiful, safe, long lasting, strong fencing that your horses deserve and your bottom line will appreciate!
Call and talk to us today and get a little "forever" in YOUR fencing today!
---
Contact: Our Friendly Staff
20611 Bothell Everett Hwy Suite E # 206
Bothell, Washington 98012
Phone: 1-800-517-5453 (Office) 206-498-2094
Email:
Website: Click Here To Connect

---