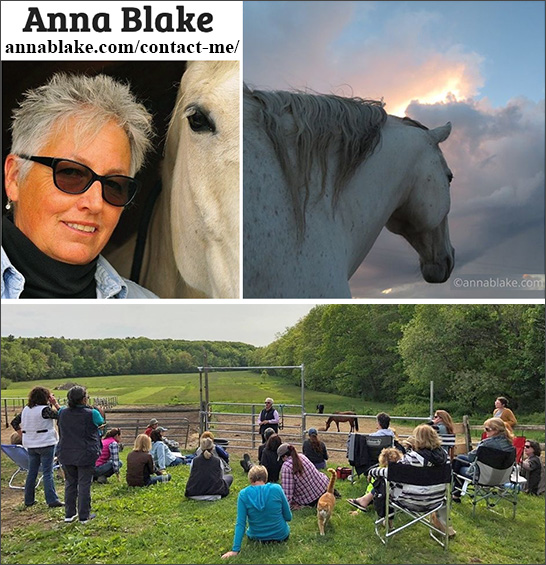 Anna Blake- Horse Clinician, Equine Advocate Speaker
Anna's methods inspire a willing partnership with horses, using a compassionate technique that inspires confidence in both horse - and rider!



About Anna Blake
Anna Blake is a horse advocate, trainer, international clinician, and award-winning author of several books about understanding, training, and living with horses. Says Anna, "My first babysitter was a horse and we've been looking out for each other ever since. Always a committed student of the horse, I competed as a fanatic amateur in a few disciplines, took thousands of riding lessons, and trained my own horses. One day someone made me an offer I couldn't refuse, and I became a professional trainer. I love the understanding and communicating aspect of helping horses, but I've been most profoundly impacted by working for rescue organizations rehabbing "throw-away" horses, who could not be failed again. Once my books began to be widely read, I was invited to give clinics across the US and in several other countries. It's been the thrill of my life. I could list a resume of trainers I've worked with and drop some famous names, but I prefer horses be my resume. They have been my most challenging teachers. I live at Infinity Farm on the flat, windy plains of Colorado, home to a multi-species herd of horses, llamas, goats, and our moral compass, Edgar Rice Burro."



Is Your Horse a Happy Horse? Does He or She Enjoy a True Partnership With You?
Anna's Training Philosophy/ Instruction Will Help!
With so many 'trainers' out there, it is often hard to know where to turn! Just what training philosophy sets Anna Blake apart from other nationally known trainers?

Anna's "Affirmative Training" is the art and science of understanding the horse. We work in alignment with how horses think and how they learn, toward the goal of building a foundation of trust. We train patiently confirming the horse's intelligence and courage, because a confident horse is a safe horse. Affirmative training is the fine art of saying "yes" to peaceful partnership with your horse.

Is It True That Anna Blake Refuses To Employ Fear-based Training?
Absolutely YES! To create a reliable partnership with a horse, your horse can NOT be trained with fear. Anna refuses to bully or bribe or tease a horse into compliance. Working with riders of all levels and disciplines, and horses of any breed, including Long Ears, Anna believes Affirmative Training of the dressage fundamentals build a relaxed & forward foundation that crosses over all riding disciplines in the same way that understanding Calming Signals illuminates all equine communication. We take horses and riding very seriously but do it with humor and lightness because horses like happy riders.

Is It True That Anna Blake is a Nationally Published Author and Equine Lecturer?
YES! Anna's books are widely read, and she has been asked to speak throughout the world! Her books, Relaxed and Forward, Going Steady, Stable Relation, Horse.Woman., Barn Dance, and Horse Prayers are nationally known and appreciated worldwide.



So What Options Are Available For Me To Work With Anna?
Anna understands that everyone has different needs and working capabilities. There are several ways to work with her:

Clinics: From Alaska to Florida, and internationally, Anna is available for Concept Clinics at your farm, with the goal to educate and inspire, while supporting the horse's welfare. Rescue horses, timid riders, and all horse-lovers are welcome.

Online Courses: Anna offers small-group online courses at the Relaxed & Forward Barn School with one-on-one teaching, weekly homework videos, and group support. Recommended by horses who like to work from home.

Membership Group: Join Anna with the "Barnies", an online membership group of like-minded folks committed to learning, supporting each other, and putting horses first.

Private Consultation: schedule a consultation to ask questions and find a new perspective.

Oh… So How About a Little More on "Relaxed and Forward Barn School" ?
The Relaxed & Forward Barn School is a self-contained online learning site with a social/activity feed a bit like Facebook. There is an archive of live-chats, helpful tips on technology, and groups sharing information about nutrition, health issues, and training experiences. Anna offers a full menu of Relaxed & Forward courses starting with Affirmative Training and Calming Signals. These intensive small-group classes are intimate. Anna is enthusiastic for each unique horse and human's progress. Questions are always welcome, and because the courses last a month, there is time to see true change.

Within the format of the courses, you'll video your horse for weekly homework. Weekly Zoom meetings will include personalized instruction and group sharing. You'll start where you and your horse are now and go at your own speed, with individual input from Anna and interactive support of the whole group. An open mind and a sense of humor required.

Is It True That The R & F School Is LESS Than $32 a Week?
YES! The Relaxed & Forward Barn School is so affordable! It was important to Anna Blake that everyone who wants to have meaningful improvement with their horses be included. Sharing time with us at the Barn School is free and our bi-weekly "Happy Hour" conversation is open to the public. Courses run 4 consecutive weeks and tuition is only $124.99 That averages less than $32 a week! Some courses are longer and there are on-going opportunities after course completion. Prepare to make horse friends around the world.

What Can I Expect To Learn and What Support Is Offered?
You can expect to learn current, cutting-edge training methods combined with the time-honored traditions of going slow and rewarding every try. We will train with Peaceful Persistence: Not aggressive. Not conceding. Not emotional. We'll listen to the horse's calming signals, their body voice, without correction and let them tell us something we didn't know. By understanding the horse's nature, we foster trust. Less correction; more direction. You'll have the support of a group of like-minded horse-people, as well as Anna, cheering you and your good horse.

What If I Am NEW to Horses?
Anna can help you get the proper start and give you the building blocks to a solid foundation with your horse! "Newbies are especially welcome, and it's my hope that each of us are 'new' to horses every day. That we never become complacent about the privilege it is to be around these wonderous animals. We hope to learn everything about horses, especially if it takes a whole lifetime."

What If I Just Re-Started With Horses and Have Lost Confidence?
Anna offers a "Back in the Saddle" course, designed for those who have been away from horses and lost confidence, for rehabbing horses who have been off, or for any horse or human looking to restart using affirmative training methods. A unique part of this course will be the inclusion of help from a ground person of your choice who will provide safety and support for the rider, as well as facilitating a live chat on a cell phone or tablet, allowing me direct communication in real-time as the participant is working with her horse. It's a small-group intensive online course with weekly meetings, video sharing, and live lessons included. We cut tasks into tiny bite-sized pieces yielding to huge successes over time. This course is limited to 6-8 people per session and runs for 8 weeks, with follow-up options. Tuition: $299.99 (that is less than $38 per sesson!)

Note: Safety is our priority. We'll begin with a slow confidence-building groundwork and re-mount process with thoughtful demo videos giving a visual explanation of riding exercises, weekly online meetings, and three half-hour private lessons with Anna. Riding (or not) will be up to the participant. Naturally, we'll listen to Calming Signals from both you and your horse. I'll ask that you journal about your experience, with an eye on affirmative training and self-talk.

Can I Really Enjoy LIVE Private Lessons With Anna Virtually in REAL TIME?
YES! Its Anna's goal that private lessons be as close to a LIVE lesson as possible. Using cell phones and zoom technology, we can have a virtual lesson from your location. Or we can start with a consultation to talk about options, and together, come up with a path toward your goal.

The Time You Spend With Anna Blake Will Translate To an Incredible Relationship With Your Horse!
Nobody wants a 'broken' horse and yet, we still hear about 'breaking' horses. Anna Blake's "Relaxed and Forward" philosophy will put you on the path to an amazing world of communication, trust, and confidence. You've been trying it your way for a long time— you've been looking for something better— Anna is here with the tools and all the support you need— and all at reasonable prices. Contact her today… you'll be so glad you did and so will your horse!


---
Contact: Anna Blake

Peyton, Colorado 80831
Phone: Use email address please
Email:
Website: Click Here To Connect

---