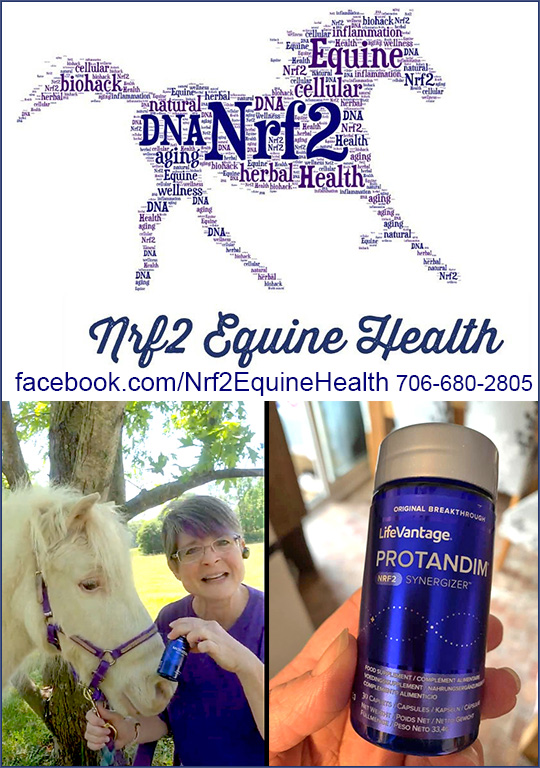 Nrf2 Equine Health
Nrf2 Equine Health is a supplier of Protandim Nrf2 that has our clients reporting AMAZING results for horses suffering with discomfort, and other health issues.



About Kristi Simpson and Nrf2 Equine Health
Says Kristi, owner of Nrf2 Equine Health: I have been riding since I was 12, and owned horses since I was 16, but I came out of the womb in love with horses. I was in my late 40s when my equine veterinarian told me about Nrf2 for my chronically laminitic pony, Nisse. I have a master's degree in a scientific field, so when she casually mentioned that there were peer-reviewed studies on this product, I was intrigued. She sent me those studies the same day and I dove into them headfirst. I think my brain exploded that weekend! I read it all and kept thinking, "How have I not heard about this?!" I decided that I needed to do my part to spread the word about Nrf2 to all horse owners everywhere, so I partnered up with that veterinarian to do just that! The DIFFERENCE it has made to my clients and horses can't be put into words!



About Nrf2 (Protandim)
Nrf2 is a protein messenger contained in every cell of the body that sends information to the cell's DNA and controls how certain genes are expressed. These genes help protect the cell from damage caused by free radicals (unstable molecules made during normal cell metabolism).

The shorter answer is that Nrf2 activation does two things very well:
1) Reduces Oxidative Stress significantly

2) Tunes the DNA in much the same way as a piano tuner does for a piano.

As Washington State University said in a peer reviewed paper, Nrf2 "may well become the most extraordinary therapeutic and most extraordinary preventive breakthrough in the history of medicine." Such a statement should make us all stand up and take notice!



What Conditions Can It Help My Horse With?
There are a number of issues in horses that are associated with oxidative stress. Here are just a few:
• Metabolic diseases (e.g., equine Cushing's disease, metabolic syndrome)
• Inflammatory airway disease (heaves)
• Eye diseases (e.g., uveitis)
• Osteoarthritis
• Tendon injuries
• Exercise-related fatigue and injury
• Sarcoids and other tumors
Note: If you have questions about a specific issue (in a horse or human or other animal) go to Pubmed.gov and type in the search bar: "oxidative stress and arthritis" or "oxidative stress and inflammation" or "oxidative stress and ___" (whatever the issue is). New studies are coming out all the time.




What If My Horse Has Laminitis?

Laminitis is not a hoof problem, it is a result of a metabolic problem.

While we cannot say Nrf2 activation treats, mitigates, or cures any disease, you can do the research yourself and come to your own conclusion. Many horses have been greatly helped with Nrf2.

Why Should I Do My Research On PubMed.gov— and NOT "Google"?

There are a few reasons. Anyone (and we mean ANYONE!) can show up in a Google search with their blog spouting whatever nonsense they want. PubMed is peer-reviewed, legitimate science! That makes a huge difference to the integrity of the information you are searching for and basing your purchases on.

What If My Horse Has Abscesses or Other Lameness Issues...

Definitely consult your veterinarian, who can help you determine the root cause of the problem. Sometimes abscesses can be caused by separation of the lamina of the hoof, which can be caused by mild laminitis episodes.

Lameness is a huge, vague issue, as most horse owners know, and can be rooted in any number of areas from the hoof up to the spine. That said, reducing oxidative stress also reduces inflammation anywhere in the body. I will always tell people that, if it were my own horse, I would begin with Nrf2 every time.


My Horse is a VERY HARD KEEPER— Is Nrf2 a Good Choice?

While Nrf2 activation is neither a weight builder nor a fat, it helps every cell in every animal, no matter what age or body condition. I would say that hard keepers and easy keepers alike can use Nrf2 because of what it does for the whole horse.

That said, see what it did for my own horse, Aidan. At the time, he was a 25-year-old Tennessee Walking Horse gelding. He had lost weight considerably over a winter due to Cushing's. I did 3 things: increased his feed, gave him a probiotic, and put him on Nrf2. See his results:

What If My Horse Is Insulin Resistant— and Overweight Can Nrf2 Help?

Yes! Nrf2 helps every cell in the body— See our testimonials below!


What Do Horse Owners Say About Nrf2?

"This really is the closest to a miracle I have seen! I have a gelding with terrible hock issues that are 95% gone when on the Protandim Nrf2 and my sister, who is a nurse, has multiple inflammation issues that cause her a great deal of pain. The ONLY thing that keeps it under control is the Nrf2. I would give it 10 stars every time!—


Ann Pruitt— InfoHorse.com Director

"This IS the miracle pill!!" – Amanda C., Equine Veterinary Technician

"Thank you [Nrf2]! Both rider and horse proved to be a force to be reckoned with [in the show ring]!" – Heidi W.

"Within a month, his respiratory issues went away completely. His hooves have improved greatly, no feet issues. He became more energetic, even cantering about for the first time since his arrival. His coat looks amazing and he's a horse that's obviously feeling so much better! The only supplement he gets is the little yellow pill!" – Karen C.

"I can not even express how excited I am to have my herd on this." – Kayla B.

"Xena is a 20 year old pony at our barn with severe laminitis and showed signs of founder. The farriers, vet and some of the boarders had said it was time to put her down. We had already dug a hole for her to be put to rest. I had mentioned Protandim to the owner. I give her 4 tablets a day for the past 3 months and this is Xena today. I also run a huge no kill pitbull rescue on Maui. I was introduced to Protandim by a friend who donated some to the rescue to help dogs that had cronic health issues. I saw results in days in dogs that could barely climb up or down steps jump 3 at a time within a week. I can not say enough about NRF2. See her AFTER Video



Is It True Nrf2 Is Only About $50-$100 a Month?

Yes! Some heavier horses or horses with more prominent problems, will want to use 2 pills per day— but, even at $100 a month, isn't that worth the possibility of eliminating a problem? This is the cost with a monthly automatic shipment. (You can cancel at any time, hassle-free!).

We recommend starting a horse with two pills a day, which is $100 a month. After the first month, you can switch to one pill per day if cost is an issue. However, especially if your horse has any problems to address, and if you want to see results faster, it's a good idea to keep him/her on two a day for as long as you are able. Ponies do amazingly well on one tablet a day, though!

Note

: Draft horses, given their size, would need 3 or 4 tablets per day.

Why Not Let Nrf2 Help Put Your Horse's Health On Track!

There is NOTHING ELSE like Nrf2 on the market today. No supplement can mimic the real benefits that Nrf2 has to offer. If you try it, you will become a believer yourself!! Kristi Simpson of

Nrf2 Equine Health works with a leading veterinarian and has a wealth of knowledge on how the amazing, natural supplement, can enhance the health, comfort, performance and well being of your horses. Call her today and let Kristi set you on the Nrf2 path to a better, healthier horse!



---
Contact: Kristi Simpson
2630 Hwy 17 South
Royston, Georgia 30622
Phone: 706-680-2805
Email:
Website: Click Here To Connect

---