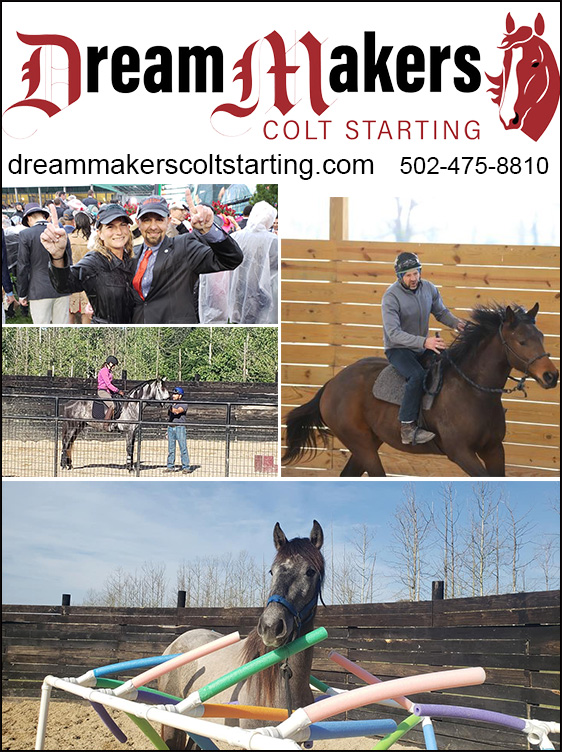 Dream Makers Colt Starting with Toby and Heather Richard
Dream Makers Colt Starting with Toby and Heather Richard, offers the most comprehensive foundation, compassionate leadership and results-- Triple Crown Winner JUSTIFY got his start with Toby.

About The DreamMakers (Toby and Heather Richard)
Toby Richard-- pronounced "Reeshard", head trainer at DreamMakers Colt Starting, understands that "Happy Horses will give you, their ALL!" Having an instructor that supports your horse, while they are learning, is eager to praise and helps them become confident is worth everything to horse owners. That foundation will affect them for the better throughout their life! In his younger years, growing up in south Louisiana, Toby was surrounded by some of the best riders and jockeys in the nation. He was paid to start and ride racehorses, and because of his bravery he was put on the most difficult which gave him the opportunity to become competent with tricky horses in figuring them out. In time, Toby became a specialist in solving problem horses. Since then, he has traveled all over North America and some of South America learning from, teaching others, and working with the best in the industry.
Toby's wife Heather Richard comes from a western background of barrel racing in her young teenager years to galloping & asst. training racehorses at 18 years of age. Working under legendary trainers such as Nick Zito, Todd Pletcher, Wayne Lukas, Niall O'Callaghan, Bryan Rice, and many more for over 20 years. She has assisted and been to and/or won, multiple stake races, Derbies, Belmont, & Breeders Cups, but her Dream was being in the Kentucky Derby Winners Circle & starting a Triple Crown Winner. Together Heather and Toby, are making DREAMS come TRUE for both horses--- and the owners that love them!


What Is DreamMakers Goal For Your Horse?
Toby wants to give every horse a truly solid and life-long foundation. Colt Starting is a minimum 60-day process but 90 days preferred for a great base foundation. Within these time periods your horse will be able to be ridden at the track, trails, desensitized, go confidently through starting gates or obstacles, will be taught to do flying lead changes, and prepped to breeze or canter properly. And all of this while acting calm, confident, and proud! Happy Horses perform better, and Toby offers your horse the support and leadership necessary to feel good about his or herself, their training, and the performance job ahead. See our SERVICES that we are happy to offer.

$65 per day on property— that is less than $2000 per month!


What is The Location Like For DreamMakers Horse Training Facility?
DreamMakers has a truly DREAM Facility in which to house and train your horse This is a 100-acre farm with a 4.5 mile dirt track, 1 mile turf course with rolling hills, extra-large round pen, EquiGym, covered jogging ring, starting gates, turn out paddocks, —in addition, Toby and Heather live on the premises to ensure safety and wellbeing for all!
What If I Have A Problem Horse?
There is no one more capable to help than Toby Richard, he has a unique affinity for reading through the fine lines. The way he understands, his compassion, leadership, and experience makes Toby phenomenally successful at helping naughty horses become happy and willing again to perform.
Is It True That Toby Has Started FAMOUS Horses— Like Triple Crown Winner: JUSTIFY?
Yes! Multiple Graded Stake Racehorses but one to be proud of is Justify, the 2018 Thoroughbred Triple Crown Winner! There has ONLY been 13people in 143 years that has started a rare specimen of a Triple Crown Winner. (Kentucky Derby, Preakness,& Belmont Stakes) He has had the opportunity to start multiple stake winners recently including but not limited to: Yoshida - G1 Winner Turf & Dirt; Good Samaritan - G1 Turf Winner; Quip - '18 Tampa Bay Derby Winner; Noble Indy - '18 Louisiana Derby Winner; National Flag- G3 Winner; Improbable - G1 Winner & Eclipse Award Older Male; Bulletin - Breeders Cup Juvenile Turf Sprint Winner; Sanenus (CHI) - G1 Winner @ 2 in (CHI) G2 Winner USA, Preparante (CHI) Chilean Derby Winner; and Justify - The 13th Triple Crown Winner.
"It's been such an honor and a privilege to work with some of the nicest horses the world has ever seen. I believe the greatest act of kindness I can do for a horse is to give him or her the best education possible, that way they can have a Great Life! Because in the end they're still a horse." ~ TJR
What If My Horse Is Already "Started" But Needs Re-Training?
Of Course! We take in any horses for any discipline at any level to train. Every horse can benefit from time with Toby. Sometimes horses just need a refresher course, to retune all the buttons again. Though Toby prefers to start the horses himself, he realizes that many owners do not have that option, as the horse was started previously— sometimes years ago— and needs to have a more complete or corrected training.
What Is Toby's Service Area? Can I Ship My Horse To Toby?

The Farm we are located on is in Salvisa, Ky which is 20 mins from Lexington, Ky. We always accept horses that are shipped to us, and we can also set up transportation. Toby will make special arrangements to travel locally to work with horses, and/or travel distances for the reasonable amount of work and to include his family. We have been to places as close as Aiken, SC & as far as Chile, South America


Can I Attend and Watch Toby?
Toby and Heather welcome clients to watch and observe their own horses. Horse owners can learn and be amazed when watching Toby work. Sometimes even a 'non client' may stop by — if they call and plan prior.
Is Toby Available For Clinics?
Yes, Toby has vast experience and insights that are extremely helpful to other horse owners. Due to demand, we are working on having more clinics this year. Keep updated on our website or follow us on facebook@DreamMakersColtStarting.
How Much Time Will It Take To Train My Horse and What Is The Average Cost?
Toby finds that 60 days minimum is helpful, but 90 days really allows Toby to help solidify his training. Each horse is an individual, but 60- 90 days is pretty accurate for most horses. Training is usually $65 a day— but rates may vary for certain situations.
What If My Horse Is Laid Up and Needs A Great Place To Recover?
No one offers a better layup facility and care than DreamMakers Colt Starting!! Following your unique care instructions, Heather will see to the care, wellbeing and complete recovery of your horses and offer legging up (exercising) post layup!
Is It True That Horses Would CHOOSE Toby For a Trainer If They Could?
Yes! We are sure that horses would choose to work with Toby from The Start, because Toby has a Gift of connecting with horses. He knows how far to go and has compassion for their abilities and unique feelings. Toby wants to help each horse feel happy within his or herself and to learn to trust their rider. Sometimes that harder to do when they have had an improper start already. That is where Toby's calm 'confidence' helps to pass through to the horses he rides. They feel his self-assurance and support while it calms them down and helps create a more positive environment for learning.
What Do Horse Owners and Trainers Say About Toby Richard?
"Toby has done a great job starting all our Yearlings including Justify, 2018 Triple Crown Winner. He is a horseman's horseman and has a real connection with the horse." -Elliott Walden, CEO of Winstar Farm.
"I had the best experience with Toby. As a professional I am very particular about who works with my horses, and I was so pleased with the way Toby worked with our young mare. He gave her clear direction and confidence from the first ride. She benefited greatly from his expertise, and it was easy for me to "take the reins" after those first couple weeks! Thank you, Toby!"- Sarah Dodge- Dressage Trainer – Aiken, SC.
"Toby & Heather start three-year-old colts brought in from the fields. Within fifteen minutes of meeting a young colt in a stall, Toby gentles him to where the youngster licks and chews with understanding as Toby springs upon his back and guides the colt's first steps carrying a rider. Twenty of these first introductions and starts in one day is an easy task for this training team and an astonishment for those confined to our sandboxes. The youngsters, on a daily basis, are exposed to nature, the arena, as well as the fundamentals of barn life, good manners, understanding cross ties, and bathing.
This dynamic duo of DreamMakers Colt Starting, go about their day involving their four-legged students as well as those they work with in a positive way. Though Toby and Heather explain all the fundamentals aids in a very short amount of time, the horses understand clearly and are quick to gain confidence in themselves, their new environments, and their new riders because they understand their job.
Their training system is strict enough to get the job done but flexible enough for sensitive or tricky personality types.
The best that anyone can do for a horse is provide a clear and good education early on. This way, you make sure you have provided a possibility for the best life a horse can have.
I highly recommend DreamMakers Colt Starting. They explain and teach in a fun and easy to understand way, for horse and for human. If you want the winning edge, you have to start early on."- Jessica Starck, Dressage Trainer for Coves Darden - Aiken, S.C.
Call Toby Today and Get Your Horse Set On A Path of Success Tomorrow!
Every horse needs a trainer that is highly knowledgeable and has the compassion and empathy to know what and how fast each horse can learn. Toby's calm leadership inspires confidence and trust in the horses he works with. Champions have enjoyed his services, along with everyday horse owners who just love their horses. With an average training cost of only $2000 per month- EVERYONE can enjoy the benefits of a solid training with Toby Richard. Call today— the horse would hand you the phone if he could— to make that call.

---
Contact: Toby or Heather Richard
4487 Louisville Road
Salvisa, Kentucky 40372
Phone: 502-475-8810
Email:
Website: Click Here To Connect

---