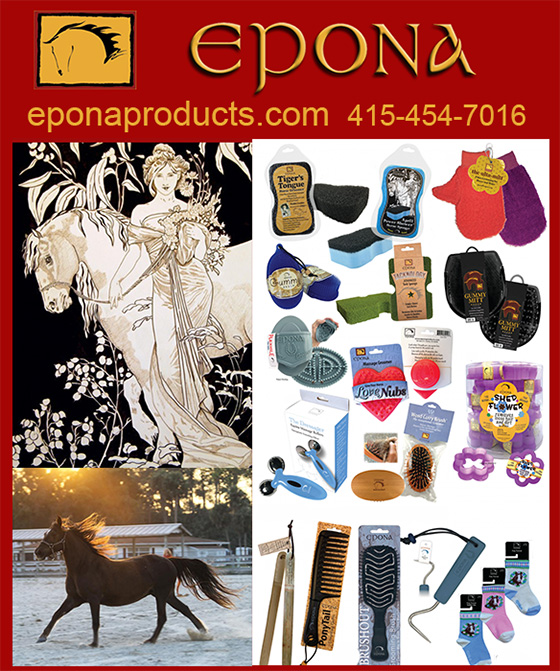 Fine Grooming by Epona Products LTD
Why not have the BEST for your horse? Superior, affordable, beautiful, effective and just first class for your horse. Most of EPONA products are under $10 and well worth every dime!



About Epona Products, LLC,
Epona, Ltd. is a small California company that creates innovative natural grooming products for equines and the people who love them. Founded in 1992, by active horse woman, Stacey Singer, Epona was born from a passion for horses, and for all that makes them happier, healthier, and simpler to enjoy. You will find Epona Products are "second to none" in both ingenuity and functionality. Our entire product line has been designed and crafted with care and pride, to enhance that special bond between horse and rider that keeps drawing us back to the barn.

Let Epona Take The "Ordinary" Into the Exquisite Realm of Possibility!
Everyone has brushes, combs and curry items, but when you enter into the world of EPONA— you will see that more than a little 'magic' has taken place. Epona takes the ordinary and turns it into a line of exquisite grooming 'partners' to help you keep your horse clean, gleaming and comfortable. More than just brushes or combs, you will see that Epona has entered the world of your imagination to carry grooming products to not just the 'next level'— but the edge of possibility!

With Epona, Elegance, Flair and Style, Really ARE Affordable!
When you see our product line you'll want it for your horse— but when you see how affordable we make these products so that every horse owner can groom their horse with pizazz and style— well, let's just say we make ordering FUN!

Tacknology— The Most Advanced Tack Cleaning Sponge in the Horse World!
Epona's "green" Tacknology Sponge removes dirt, grime while easily folding over strap goods conviently. Simply cleans better than ordinary tack sponges. This new advanced sponge has just the right amount of water absorbency, and works gently to scrub-off sweat and dirt that can build up and collect on braided reins, buckles and bits for lasting longevity. Made to rinse easily, it is also extremely durable and gets the job done fast.
$5.95



Tiger's Tongue— The Horse Scrubber like no other!
Cleaning like a powerful cat's tongue, which is anatomically natures ultimate groomer, is our Tiger's Tongue Horse Groomer. It removes deeply embedded dirt, grime, dandruff, dust by lifting them away. Perfect for after turnout, it will become your essential groomer next to a good hoof pick.Vacuum packed, it expands to just the right size. Your horse will appreciate the sensation and the clean feeling as dander, loose hair and grime are licked away with it's gentle scrubbing feel. $7.95

Ulta Mitt— Takes both Bathing and Grooming To The Next Level- and Beyond!
With Ulta Mitt wet, it bathes, - it's bristly texture lifts up coat hair and cleans right down to the skin, and dry, - it curries and shines. Dried sweat marks will vanish too, leaving your horse with a smooth natural finish. It's extraoridinary bristles are made to promote healthy skin by stimulating natural oil production. With regular use, the natural oil in your horses skin are stimulated and are then distrubuted throughout the coat hair for a very noticeable healthy glow. In addition, Epona's Ulta-Mitt will remove dead flaky skin which contributes to itch. The Ulta Mitt is your go to for all grooming occasions . Cleans up beautifully, horses love it, and it offers the "Ultamitt" in results! $13.95

Flexible Glossy Groomer— The Curry That You Will BOTH Enjoy!
Tired of using a stiff, scratchy curry that is uncomfortable and a little harsh on your horses's skin? We were too! So, introducing, Flexible Glossy Groomer – This shiny, flexible curry melts into the contours of hand and horse, cupping gently around legs and boney areas too while dirt, dust and grime magically disappear. $11.95

Love Nubbs — Those Little Nubbs Deliver A Lot of Love!
Ever just want to hug your horse and give him gentle scratches that make him pull those adorable 'faces' of delight? Well, LOVE NUBS understands just what you want to do so they created a handful of love and just what every horse needs! A beautiful heart felt rub! This nubby little massage groomer is easy to hold on to and will remove caked mud— or just make your horse do those 'smiley faces' of joy. $9.95

Smooth Finish Tall Boot Socks— The Best Selling Equestrian Boot Sock!
Available in either Elegant BLACK or GREY— Epona's Tall Boot Socks are powder-smooth, cool, and silky to touch, these ultra-durable stretch socks stay in place and are the go-to choice for all professional and amature riders. A true classic! You'll never want to ride without them! $14.50



Shed Flowers- Gets Rid of Loose, Dead, Shedding Coat, Simply, and Does It With Flair!
We all know that come spring, those old coats start to loose color and shed out for a new shiny coat. Sometimes nature needs a little help and Shed Flowers are there to the rescue! one color (purpley pink). Sweet flower shape fits hands of all sizes to lift hair, dirt and mud quickly and effortlessly. $6.00

Black Gummy Mitt Groomer - The Marriage of Love Nubbs and Ulta Mitt
If Love Nubbs and Ulta Mitt had a baby— it would be our Gummy Mitt Groomer! Epona's horseshoe-shaped 2-in-1 mitt has stiff bristles on one side and rugged nubs on the other. Ideal for caked mud removal, and providing a feel-good horsey massage while grooming or bathing. It is one you'll always want to have in your tack box. $11.95



Wood Curry Brush-- The Brush That Lifts Dirt While Giving a Gentle Massage!
LOVE your horse with soothing, stimulating massage that pampers your horse as it lifts loose hair, dirt and dander. Will glide through mane and tail. $12.95

Lucky Bamboo Sweat Scraper— Removes Water and Sweat With Natural Elegance and Style!
Our Lucky Bamboo Sweat Scraper is sculpted brilliantly to remove excess water from horses. No other plant material can rival the utility of bamboo. Bamboo has been used for this purpose since time immemorial. Comfortable in hand with an earthy feel, it's a show stopper for your friends to see $7.95

Doesn't YOUR Horse Deserve To Be Elegantly Groomed With Epona?
We believe they do. Our grooming tack is made with style and fully designed for comfort and functionality— all with a bit of flair. You'll love Epona Products and will want them for your horses and to give as gifts to your friends. Everyone wants the best for their horses— and with Epona— our affordable elegance can make grooming a real bonding experience for everyone who loves their horse. Find us at EponaProducts.com or great dealers like DoverSaddlery, SmartPak, Jeffers, TABcom, Amazon and more!

---
Contact: Stacy Singer
P. O. Box 271
Fairfax, California 94978
Phone: 415-454-7016
Email:
Website: Click Here To Connect

---