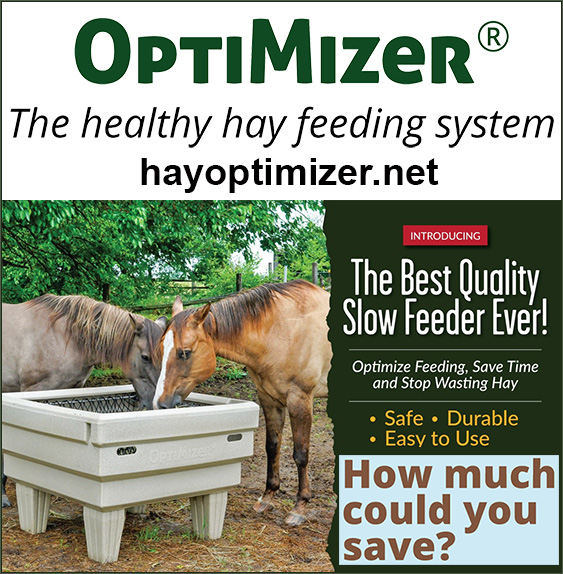 Hay Optimizer®
Hay OptiMizer mimics natural grazing. Horses eat slowly with their heads down in a natural position. It saves you MONEY, TIME and HAY. This is SLOW FEEDING at it's BEST!

About Sue Wilson, Whose Passion For Horses Inspired The Optimizer®
Says Sue:
"When I was growing up, my family would often visit Edwards Gardens in Toronto to take a walk through nature in the city. My sister and I rushed to our favourite place, the wishing well, so we could make our wishes. Mine was always the same. "I wish for a million horses."
Fast forward to 2009 when I started a horse stable sitting service, which gave me the opportunity to work at over 30 farms of all sizes. One of the things I noticed was how differently people managed their hay feeding routines and how much hay could be wasted. When I was ready to open my own small stable, I did my research and found a hay feeder called the OptiMizer, which was a metal box on legs with a heavy metal grill that floated on the hay bales. Other users had been commenting about a huge reduction in wasted hay and that feeder aggression had reduced. In other words, they were seeing some of the benefits of what is now known as "slow feeding."



How Did The Optimizer's Amazing, Safe, Beautiful, and Functional Design Come To Be?
Sue says, "Over time, issues for our "easy-keeper" horses encouraged me to try slow feeding hay nets. I started to use them around the paddocks and in the stalls. The hay nets were great, but they were very time consuming and awkward to refill. I wished that our OptiMizers, which were so fast and easy to use, could be as slow feeding as the nets.
In 2018, I combined a slow-feed net with a plastic container and was encouraged by the results but thought it could be better. So I asked Matthew Bulmer, the designer of the original OptiMizer, if he could transform my prototype into a feeder that combined the slow feeding benefits provided by hay nets with a lighter version of his OptiMizer that would be easier to move around. Soon after, we started making the new and improved OptiMizer using a roto-moulded plastic base with slow-feeding netting top mounted on a slide arm. Everyone at the farm loved it, especially the horses!

How Many Horses Can Eat From One OptiMizer?
This depends on the dynamics of your herd and some of your management practices. Our experience with our herd is that 4 horses can eat together at the OptiMizer. However, I have heard anywhere from 1 to 6 horses from various customers!
As the temperature gets colder, horses need to eat more hay and they will spend a lot of time at the OptiMizer, especially if it is their only source of hay over a 24 hour period. For example, our herd of 8 horses live outside all the time (with access to shelter in a cozy bank barn). Last winter, we had 3 OptiMizers, which were refilled once a day with up to 6 bales of hay. On especially cold days, we also put some flakes of loose hay in the corners of their barn, so they could choose to eat indoors if they wanted.



What Was The Optimizer® Designed To Do?
Any time you have a product that is used daily by horses, the design must be safe and the goal was to both save time and money on feeding hay. Specifically, the Optimizer is designed to:

► Be Safe!

All corners are rounded with 1″ diameters, making a smooth and safe surface if rubbed against.




Slow feed netting hangs inside the feeder and conforms over the hay from the top to the bottom of the feeder.
► Be Effective!
The tiniest bits are the tastiest. With an OptiMizer, these delicate leaves aren't lost to the ground but remain within the manger.




Ensure drainage on any terrain with 13 holes distributed around the base of the OptiMizer.
► Be Simple!
Do Horses Adapt Easily To The Optimizer® ?
YES! Horses quickly learn how to eat hay from the OptiMizer. It mimics natural grazing. The horses eat slowly. They have their heads down in a natural position. They select, nibble, and chew their hay—just like they would be eating in the pasture. They're so content when they're eating together and because the hay doesn't disappear after an hour, they are calmer and less anxious during the day.

What About The Net?
Our specially designed slow feed netting is a thick, knotless weave (knots can be hard on gums), specified for equine use and proven to be durable yet gentle for feeding horses. Standard netting hole size is 1.6", as measured at the open edges. The netting is mounted on an assembly made from stainless steel with a unique slide arm that quickly positions the net over the hay.



Is There A Replacement Net Available?
Absolutely—replacement kits are available with either 2" or 1.5" netting. The net is loaded on a tool to make it easy to put on the hay assembly. Detailed instructions are included in the kit, and there is a 'how to' video showing each step is on our website.

How Much Does The Optimizer® Cost? (or SAVE?)
The REAL question, should be "How much can the Optimizer® SAVE!" Most of our clients and own trials show us that there is usually a savings of 20-25%-- this can end up to be thousands of dollars over the years--- diminishing the cost of the Optimizer (which is $895 USA and $995 Canadian)

What Colors Are Available?
The standard color is a creamy tan which holds up beautifully in the weather. However, if you have a preference and don't mind a little extra charge and time, we can make it in nearly any color you request!

Take The Bite Out of Hay Management With The Optimizer® & Order Today!
Like you, Sue is a horse owner absolutely dedicated to providing the best for each of her horses. At the foundation of a healthy program is providing your horse with a safe, nutritious, easy to use, waste-preventing slow feeder to maximize every bite. You'll love The Optimizer-- and so will your horses. Call and tell Sue about your horses and let her help you get the right Optimizer for you!

---
Contact: Sue Wilson
P.O. Box 21084
Guelph, Ontario, CANADA N1G 3A2
Phone: 519-803-6582
Email:
Website: Click Here To Connect

---