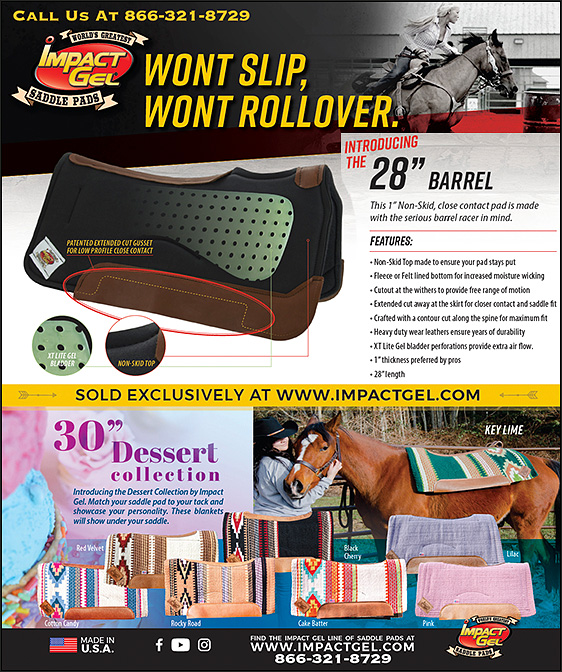 Impact GelTM Saddle Pads
Impact GelTM Saddle Pads benefits BOTH horse and rider by drastically reducing impact and shock that would normally be transmitted to both!

About The Impact Gel™ Corporation
Prior to founding Impact Gel™ Matthew Kriesel formed the Mattec Corporation with Richard Childress, the owner of multiple racing teams. Mattec Corporation developed a head and neck restraint system known as the Hutchens Device. Today, this device and its hybrids are well known and respected in the world of racing.
Matt then went on to invent the Impact Gel™ compound but remained affiliated with NASCAR. In 2000, when Geoff Bodine was involved in a very serious accident at the Daytona 500, he credited the gel (which was inserted into areas of his seat) for saving him from severe injury. Matthew Kriesel formally founded the Impact Gel Corporation in 2002. From inception we have experimented with many product applications for the Impact Gel formula.



What Is The Mission of Impact Gel™?
The Impact Gel™ office, product development and manufacturing facility is located in the small town of Ettrick, Wisconsin. Impact Gel™ is a small proud company whose mission is to make useful products with an environmentally friendly gel blend. We work hard every day, so we can produce and distribute products our customers love, and then get home in time for dinner. Impact Gel™'s ongoing research, combined with vigorous testing by the equine industry's leading riders has resulted in the development of a comprehensive product line that delivers unmatched performance and comfort to both the horse and rider.

Saddlepads by Impact Gel™ Just Make Our Competitors Sore!
Impact Gel™ saddle pads have two distinct benefits that out-perform our competitors. Impact Gel™ pads are unsurpassed in relieving pressure points caused by a poor fitting saddle – a major cause of white spots. We are also unequaled in dissipating energy that is normally transferred onto the horse. The benefit from this is the animal stays fresher longer and performs better.



Is It True That Wearing an Impact Gel™ Saddlepad Can Actually Increase Performance?
Yes! At Impact Gel™ we believe that what we do makes a difference every day. We improve outcomes one ride at a time. Comfortable horses move better and freer. Remove the discomfort and performance can skyrocket! Whether you're judged at a jog, by a clock or judging the terrain, we improve the quality of your ride by providing the protection and comfort your horse deserves.
How Does Impact Gel Help Absorb Shock?
Impact Gel's ability to reduce the energy waves transferred from the tree of the saddle to the horse's back. The ultra light, high impact reduction system, adds high performance to the base layer by reducing inconsistencies in the fit of your equipment. This unique Impact Gel reduction system fills in the space between the saddle and the horse's spine ensuring a perfect match between the horse and the saddle while providing unsurpassed shock absorbing ability and equalizing pressure points. With this base layer system of Impact Gel, the ultimate result is improved comfort and more control for both the rider and the horse.



What Makes An Impact Gel Pad Better Superior?
Impact Gel™ pads have two distinct benefits that we out-perform our competitors with. Impact Gel pads are unsurpassed in relieving pressure points caused by poor fitting saddles- a major cause of white spots. We are also unequalled in dissipating energy that is normally transmitted into the horses withers. The benefit of this is the animal stays fresher longer and performs better.
What Styles Of Saddle Pads Can I Select From?|
We are glad you asked! There are numerous styles to select from and you will see them right on our collections page!
Our styles are:
Contour Classic
Denim Impact Gel™
Legend Elite
Woven Saddle pads
Custom Pads designed by YOU!
English Line
Signature Series
What Do Horse Owners Say About Their Impact Gel™ Saddle Pads?

"I believe in it and I use. I don't think any other saddle pad can compete with the IMPACT GEL pad."
George Strait -Country Music Legend
"The Impact Gel™ Equine saddle pad is the best all around pad you can use Its been tested by the best and there is nothing to compare to it. When you get this pad on your horse it will be all you ever use."
Roy Cooper- 8 Time World Champion Calf Roper
"My horse's back was sore and influencing his performance. After using the IMPACT GEL saddle pad for only two runs, he sharpened up and went back to work like he used to. These are the best pads on the market to date. They protect a performance horse's back from soring up during competition and keep them performing at their best."
Monty Lewis- NFR CHAMPION Calf Roper
"It's like riding a saddle pad with double protection. My horses work better and you can definitely feel the difference immediately."
Monte Joe Petska -14 time NFR Qualifier - Team Roper
Want To Become a Dealer?
If you are selling quality horse products in a reputable and honest manner, we would love to work with you! Just see our "dealer application" or feel free to give us a call and we will help you right away!

Everything Is Riding On Your Saddlepad-- Make Sure That Impact Gel™ Is There To Protect!
Your horse's legs and back take the brunt of impact while riding. Make sure your horse has the patented technology of Impact Gel™ to protect his or her back and enhance their performance. Order your beautiful, comfort-giving Impact Gel™ saddle pad today!!

---
Contact: Impact Gel Equine
1540 Heritage Blvd Suite 201A
West Salem, Wisconsin 54669
Phone: 608-612-0230
Email:
Website: Click Here To Connect

---