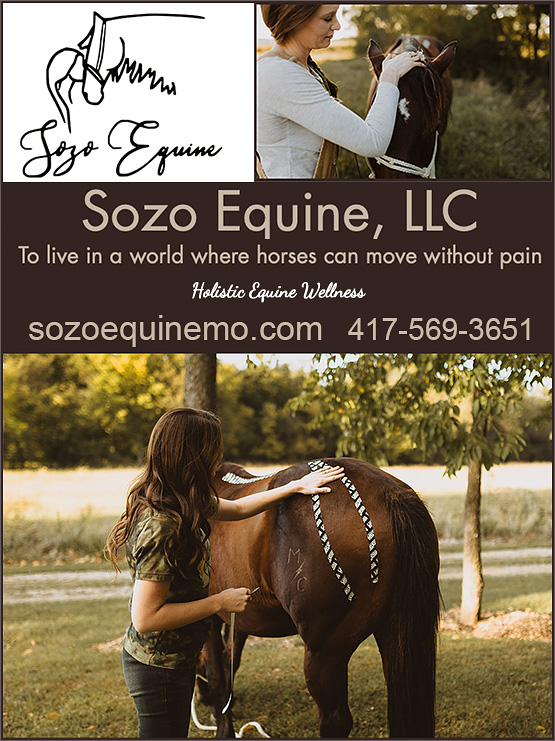 Kinesiology Taping by Sozo Equine MO.
Work with Ciara to take advantage of the tremendous health benefits offered with Kinesiology Taping-- or take her online class and learn to do it yourself!





About Ciara Crawford, Licensed Occupational Therapist and Owner of Sozo Equine

"Every horse has something new to teach me. Each day I strive to be better for them."



My name is Ciara Crawford… and my goal is to help horses live a life that is FREE of PAIN! I am the equine service provider for Sozo Equine. I grew up on horses and I have no memory of a life outside of horses. My training and education to serve them is an ongoing journey and will be for the rest of my days. I have a Master's Degree in Occupational Therapy and I currently work with humans in Outpatient Orthopedics. My education regarding functional anatomy, biomechanics, physiology, and activity analysis in my human practice are principals I use everyday in my equine practice.




Ciara's Personal Qualifications Include:

* Licensed Occupational Therapist

* Certified Equine Sports Massage Therapist

* Certified Myofascial Release Practitioner

* Certified Craniosacral Practitioner

* Certified Equine Kinesiology Taping Practitioner

* Certified Equine Taping Instructor

* Certification in Equine Thermal Imaging




What Is Kinesiology Tape?

Kinesiology Tape has been used by Olympic athletes for decades. Kinesiology tape is a non-invasive and highly beneficial modality that stays on the horse, and continues to work when the treatment session is finished. Unlike other manual modalities that compress with tissue, kinesiology tape decompresses the underlying tissues through a mechanical lift of the dermal layer to communicate with the nervous system to create positive change in the body.




What Effect Does Kinesiology Have On the Body?

By decompressing the underlying tissues through a mechanical lift of the dermal layer, blood flow naturally increases to decrease inflammation, promote healing, increase healthy lymphatic movement, and relieve pressure from nerve endings. The tape communicates with the nervous system to improve body awareness, improve movement, and decrease fatigue and pain.




How Does Kinesiology Tape Work?

The tape relieves discomfort by inhibiting specific receptors in the skin called nociceptors. It increases neural input to the brain and increases the horse's awareness to specific muscles or body parts - very beneficial for horses learning how to use their body correctly and relearning following an injury (both physical and neurological).




Can Kinesiology Tape Help My Horse With Joint or Soft Tissue Discomfort?

Yes, due to its supportive but non restrictive properties, the tape is very effective for joint and soft tissue support as well. The tape can be used in manipulating fascial adhesions and relaxing trigger points. Taping fascial lines in the body help to correct poor and incorrect body mechanics that may have been developed as compensation for a previous injury. The tape can also be applied to meridian lines to restore balanced energy flow through meridians. Kinesiology taping is effectively being used by horse owners and equine professionals across the world to support horses of all disciplines.




How Can This Benefit My Horse?


Kinesiology Taping offers such comprehensive benefits, that once you start, you will honestly wonder how you ever got along without it! Here are many of the benefits reported by our users....

Kinesiology Tape Helps Assist The Body To Naturally...

* Decrease injuries
* Decrease Fatigue
* Improve Body Awareness
* Decrease pain
* Decompress Tissues
* Increase Circulation
* Improve Lymphatic Function
* Edema Management
* Improve Proprioception
* Joint Support and Stability
* Ligament Support
* Improve Muscle and Joint Recovery
* Relax Muscles and Trigger Points
* Neuromuscular Facilitation
* Fascial Unwinding


How Do I Know If my Horse Can Benefit?

If you have a horse that is active, being ridden, or has health or age issues, Kinesiology Tape is effective in addressing many conditions your horses may be experiencing:


* Decreasing fatigue in performance horses
* Injury prevention in performance horses
* Soft tissue restrictions such as trigger points
* Neurological deficits such as EPM or wobblers
* Fascial unwinding
* Joint support during performance
* Pain relief


How Many Sessions Are Required? What Is The Cost?

The number of sessions required depends on the goal of the application. Retraining the brain and muscle patterns can take several months. This would require the tape to be applied once a week for 2-3 months. Support applications can be used for performance purposes as needed.




Note: Edema applications can be discontinued as the edema resolves. The goal of the application always informs the duration of the application.




Can I Learn This Myself?

Yes! Sozo Equine offers both on line and in-person classes to fit your personal needs and style.





What Courses Are Available ON-LINE?

Our on-line courses are very popular as they allow you to learn within the comfort of your own home at times that are convenient to you. Take a look at our comprehensive courses available to you, online, below:




Basic Horse Loves and Introduction To Taping:

This class is for the horse lover that just wants to get their feet wet and see what taping has to offer. This class covers the basic information about how the tape works and basic first-aid applications to have in your toolbox of knowledge. 9 Complete Lessons at only $95




Foundational Sozo Equine Kinesiology Taping Online Masterclass:

This extremely comprehensive course contains 85 lessons and will teach you all you need to know to either do taping for your own horses— or professionally. This class covers anatomy of the skeleton, muscles, fascial lines, and lymphatic system, physiology of how the tape works with the body, evaluation tools to understand how and went use tape, 35 taping applications, a printable field manual, and a BONUS business module for individuals planning to use this modality in business. All of this is only $445




Foundational Sozo Equine Kinesiology Taping Certificate:

This module is where the case study instructions and certification testing can be purchased to use this modality in business and is only $50.




Advanced Sozo Equine Kinesiology Taping Online Masterclass:

The Advanced Taping Masterclass builds on the Foundational Masterclass. The Advanced Masterclass is broken down into 9 modules and includes 75 NEW taping applications. Each module has an in-depth anatomy lesson followed by all taping applications.

Modules include:
Nervous System
Fascia and Proprioception
Circulation
Thoracic Sling
Distal Limb
Spinal Pathologies
Acupressure
Organ Support
Scars
All of this is only $595
Note: The Foundational and Advanced Masterclasses can be bundled together to save your money!
The Cups and Myofascial Decompression Therapies Class
This class covers silicone cupping and fascia tools. The topics include:
How these modalities work
How to use these modalities in practice
Physiology
Anatomy
Benefits
What to watch for in your horse
Indications, specific roles of the tools
Contraindications, what to avoid
Specific practical application technique
All of this for only $195
What If I Want To Learn In Person?
Our IN PERSON Classes take place in various locations and we welcome your participation. These courses provide 85 lessons, are extremely comprehensive and "hands on"…. all for a total of $595 per complete course with all tape included.
What If I Want To Focus Specifically on My Own Riding Discipline?
Our Discipline Module Courses are the answer!!

* English Over Fences
* Rodeo Family
* Cutting Horses
* Reining Horses
* The Barrel Racer
* Ropers/ Team
Whatever your specific riding discipline, we have a course for you!!
Will Ciara Be There to Help with Questions?
Absolutely! While Ciara is often teaching classes, she is DILIGENT about answering your emails to help answer each and every question. Your success is paramount and Ciara will spare no effort to ensure that each student gets the help and information that they need!
Will I Receive A Certificate of Completion?
There is an option to complete certification after the class is complete.
Certification requires you to complete 10 case studies, take a 30 question essay format test, and pass with at least a 70%.
What Is Ciara's Service Area
Ciara is based out of Southwest Missouri but flies and travels across the whole United States. She is anxious to both help you and your horses or to help put you on the path to a rewarding career that will benefit you, and the horses you work with, for years to come.
Call Today to Get Started!
Kinesiology taping offers one-of-a-kind, natural pain relief and is known world-wide for it's amazing benefits. Ciara is happy to both help you with your own horses or to help you towards a rewarding career helping horses and their owners. Make sure to call Ciara today to enjoy the full benefits that Kinesiology is offering your horses— and you!
---
Contact: Ciara Crawford
21 Redbud Cabin Lane
Fairgrove, Missouri 65648
Phone: 417-569-3651
Email:
Website: Click Here To Connect

---