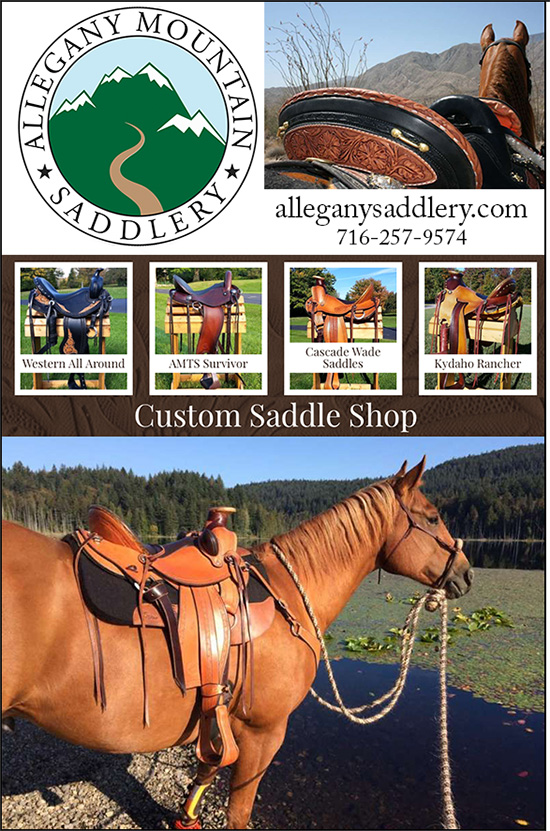 Allegany Mountain Saddlery
At Allegany Mountain Saddlery, our saddles are built exclusively one at a time, put together by one set of hands. Quality control is held to the strictest standards! Each saddle is custom to your horse!

About Allegany Mountain Saddlery
Allegany Mountain Saddlery was founded in 2004 by John Rettig, of Western NY.. While out on trail riding trips, it was easy to observe many horses with white spots on their backs. After beginning to pay closer attention, he witnessed horses becoming more sullen, reluctant and / or exhibiting behavior issues as the rides wore on and they became more sore. Looking into saddling options and explosion in saddle fit awareness, it became obvious that there was a need for better saddle fit options that the typical "off the rack" tack. AMS Provides that "custom fit, at an affordable price". After working with the company for a number of years, Staci Saulter acquired the company in 2010, and has furthered the company's goals of excellence in product, customer service and customer satisfaction!

What Is Our PROMISE To Each of Our Customers?
Here at Allegany Mountain Trail Saddles, there are no gimmicks, no false promises of making your horse gait better, or to correct those behavior problems.We won't promise that we can fit every horse there is, but by trying one of our trees and/or the "Fit To Be Seen Forms" by "Steele" we will promise you this: Your saddle will fit your horse, which will make him or her more comfortable. Also we customize each saddle to your needs, which will make you more comfortable!



Allegany Mountain Saddlery- "Not ALL Saddles Are EQUAL"!
One of the many things (and there are many!) that set us apart, is that EACH of our saddles are built exclusively "One at a Time" put together by 'One set of Hands". Quality control is held to the strictest standards! As everyone knows our saddle starts on a " Steele Tree " The next most important step is of course leather. Wicket and Craig have been tanning leather in North America for 140 yrs. In 1990 they moved their operation South from Canada to Pennsylvania. Their new facility is state of the art and very environmentally conscious. The leather we use is Drum dyed hand selected, 12 oz. Skirting leather. Hand selected 10-12 oz. Bridle leather. Our saddles are not stapled together as large production line saddles are. They are hand screwed together. Our hardware is of the highest quality stainless and brass. We pride ourselves in providing a custom product at a production price!

What Sets Allegany Mountain Saddlery Apart From The Competition?

►Achieving the proper fit between saddle, horse and rider is essential for overall trail riding comfort. Because of our focus on quality and riding comfort, we primarily use saddle trees created by Steele Saddle Tree, LLC in all our custom-made saddles. Steele has been building saddle trees for over 150 years and is the recognized leader and authority in this industry. Their saddle trees provide AMS with numerous fitting options and the flexibility to create an unlimited range of styles and fits that conform to the size and shape of your horse as well as your riding discipline.
►Every saddle is individually hand crafted right here in the USA. Top quality leather is hand-picked from Wicket & Craig™ and our hardware is of only the highest quality brass and stainless steel. Our experienced saddlers integrate quality workmanship throughout the process from selection of leather and hardware to cutting and sewing to assembling your finished saddle.
►Each of our custom saddles is designed around you and your horse. AMS's saddle fitting kits simplify this process as much as possible fitting even the hardest-to-fit horses to create a tree that properly fits your horse. Allegany Mountain Saddlery has one of the most in-depth saddle fitting procedures available for remote fitting. We will personally work with you during each step in the construction process to ensure the best possible fit for your horse resulting in a saddle you will enjoy!
What If I Want A Different Tree For My Saddle?
We can build on a tree by any maker you wish if you would like to provide your own. Call us to explore your options. We will do what it takes for the complete satisfaction of you and your horse!

What If I Don't Need A Custom Saddle?
Some horses are just easy and maybe you are in a hurry to get a great deal on one of our completed or 'gently used' saddles. No problem! If you are not interested in a custom fitting, we also offer some straight run saddles in stock, both new and lightly used. Select from a variety of custom Wade saddles, endurance saddles, Amish saddles and many other western trail riding saddles. We carry Quarter horse bar saddles, gaited saddles, draft saddles, mule saddles, custom tack to match your saddle and much, much more in our online Saddles Tack Shop!

Do You Make Any Other Tack or Bridle Products?
Yes! As with our saddles, if you can dream it we can build it! We offer assorted tack items such as headstalls, reins, halter-bridles, rear cinches, saddle pads, bridles, reins and more! These items can be ordered separately, or built alongside your saddle to mach perfectly the color, tooling and hardware. View our entire collection of products at our Accessories Tack Shop

What Do Customers Say About Allegany Mountain Saddlery?
Our Testimonial Page is filled with happy clients!

I can't BELIEVE the dedication to detail, the custom fit and the wonderful opportunity to get my horse a "once in a lifetime" saddle made just for her... and at such a REASONABLE price. I have now owned this saddle for 10 years and it STILL looks like NEW--I would refer Allegany Mountain Saddles to anyone-- thank you thank you!!
Ann Pruitt- Director InfoHorse.com

Bailey and I are loving our saddle so much Staci. Just got back from a four day ride in the Pisgah Mountain Forest in NC. We rode many miles up and over many mountains and NO sore spots. And No sore Rider! Yeehaw!
Shelia Perkins

I ordered a Renegade Endurance saddle custom fitted to my horse because I had had previous trouble fitting my former horse and I wanted to make sure this saddle fit my new horse. Staci was wonderful to work with and when I got my saddle I was thrilled at how beautiful it was - and even more thrilled that it fit my horse so well. The leather is beautiful and soft. I ordered a bridle to match recently. Again, it was beautiful and well made. I trail ride and a comfortable saddle is a must and I have found this saddle to be very comfortable. Love the hardware and all of the ties. Thanks so much!!
Denise Talbot

I got my new saddle today and took it for a ride. I can't tell you how happy I am! It's the perfect weight and the tooling is incredible! Thanks again for a once in a lifetime work of art.
Edwynna

Received my saddle and rode in it yesterday. I am so pleased! It is the most comfortable saddle I have ever ridden in. It fits my gelding perfectly and never slipped. Not front to back or side to side. The workmanship is superb. Thank you for making such a nice saddle at a reasonable price and timeframe. Happy customer!
Karol

Order Your Custom Allegany Mountain Saddlery Saddle Today!
Great saddles require great saddle builders! Our base price on most saddles is $2290-- and, our saddles should last a lifetime with proper care! Make your saddle CUSTOM FIT to your horse, with Amish craftsmanship, all for less than you can get just about anywhere! Call Staci and our friendly staff today to get started on the only saddle you will ever need for your horse-!

---
Contact: Our Friendly Staff
3069 Syler Road
Varysburg, New York 14167
Phone: (716) 870-5123
Email:
Website: Click Here To Connect

---