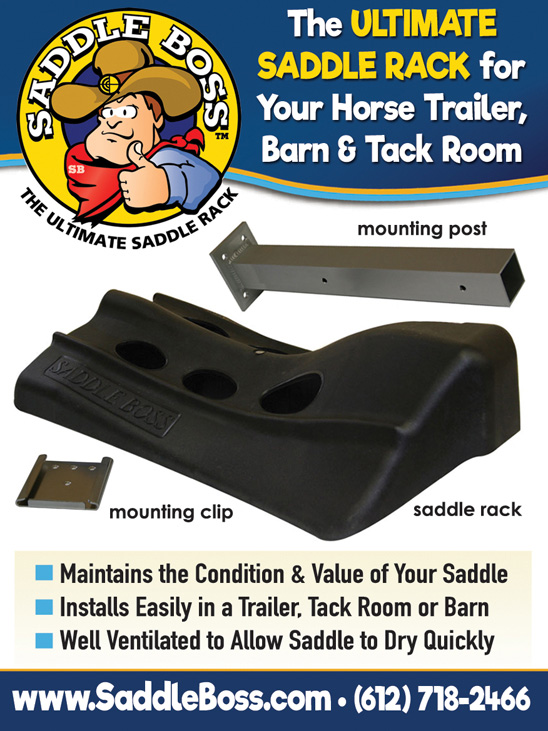 "Saddle Boss™"

The design and quality of the Saddle Boss™ is truly superior!

Are Your Saddles Getting The Quality Care They Deserve?
You spend thousands getting just the right saddle and hours caring for and preserving the leather with just the right conditioners. Why set that saddle on a flimsy rack that is not designed to maintain the proper shape of the very saddle you have just invested so much in? Even saddles used every day spend hours every night sitting on a rack or riding in a trailer. Make certain that your saddle is sitting on a rack that can help maintain its beauty and performance. Saddle Boss™ ensures that your saddle gets the care it needs… right there in the tack room or trailer!
Organize Your Tack Room
The "must have" tack room accessory! Organize saddles in your tack room with the Saddle Boss. It is easy to use, stores many saddles in a limited space, and can be adapted to unlimited configurations in your tack room! The Saddle Boss will help maintain the condition and value of your saddles by storing them safely.
You can install the Saddle Boss™ yourself; using the adjustable poles, floor and ceiling mounts, or our handy new "fence clips". The clips allow you to store your Saddle Boss rack on a fence or wall, then transport the entire rack and saddle from barn to paddock to pasture and back!
Saddle Boss™ Is For ANY Saddle Type!
The Saddle Boss™ holds any style of western saddle better than any other rack. Also excellent for English saddles, blankets and accessories.
Holds Saddles Securely For Transport!
No more worries when traveling over bouncy roads or difficult terrain. The Saddle Boss will hold your saddles completely secure and snug …they won't fall off!
Very Sturdy Construction
The molded plastic form is easy to clean and makes contact on multiple points to help maintain the shape and condition of your saddle.
Reasonably Priced
The Saddle Boss™ will provide your saddle years of superior care. The price is reasonable…especially when considering that buying a poorly kept saddle is very costly
Call Saddle Boss™ Today!
Your saddles deserve the best of care. Maintaining their shape is not only important for their value, but for the health of your horse's back and muscles. The small investment you make with Saddle Boss™ will pay you back over and over with the years of quality service they give to your saddle. Call our friendly office today for questions and ordering.
---
Contact: Mike Pendino
7900 East 250th Street
Elko, Minnesota 55020
Phone: 612-718-2466
Email:
Website: Click Here To Connect

---