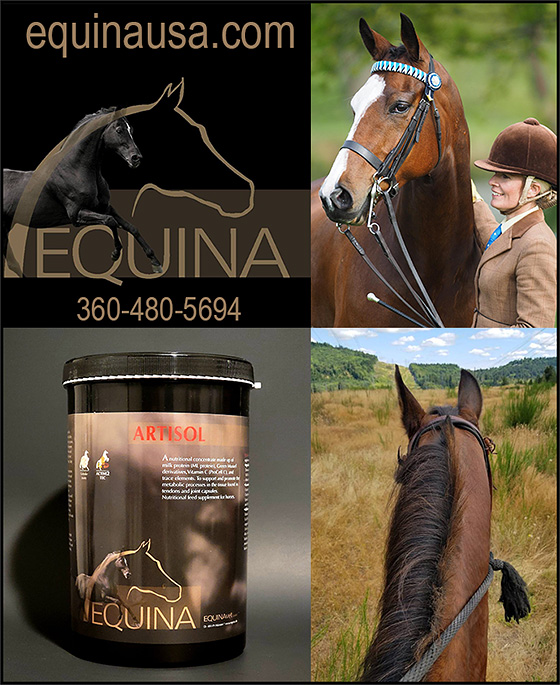 Artisol™ by Equina USA
Artisol™ by Equina USA offers powerful ingredients, like Green Lipped Muscle, with human grade quality and results your horse can stand on!

About Equina USA

Equina USA
(managed by my company
Way Station Wellness, Inc
) is the exclusive distributor of the Equina products in the USA. The company is based in Germany and was founded over 30 years ago by a horseman and scientist named Klaus Beckmann. The basis of the company was always to create a realistic product, one that could truly be absorbed and utilized by the horse, with ingredients that could be processed in a way to maintain potency and reach the intended goal. The company was based on uncompromised sourcing so only the best quality ingredients were used. With a team of top nutritionists, products were developed under the strict standards of good science, German regulations, and Klaus himself. The products gained popularity among top German riders. Equina also started supplying Hungary, Dubai, Austria, Poland, England, and Switzerland with the full line of supplements. It was later (2007) that the products made their way to the USA.
About Sara Perkins DVM and Exclusive Distributor of Equina USA
Says Sara: I have been an equine vet since 2000, when I graduated from the WSU vet school. I completed an internship at Rood and Riddle Equine Hospital in Lexington KY, I worked with the internal medicine group at UC Davis, and I have been in general private practice since 2003, working for myself since 2005. I grew up riding show jumpers while my father bred and showed cutting horses. I used to play polo in Wa and Ca. At my farm I currently ride dressage horses and compete on a cutting horse. I also breed Lusitanos. I split my work time between riding, managing the farm, going on farm calls, and managing the supplement company.
I love the Equina supplements because they are believable to me. The ingredients are simple and straightforward. They are combined in a way that allows what is on the label to go into the horse, be absorbed, and do its job. They are packaged separately for potency yet made to be fed in combination with each other to serve the needs of each horse in my barn without losing effectiveness or overloading the horse. They are not food based so I am not adding low quality fillers, grains or calories in order to get the nutrients into my horse. Mostly I love the results I see in my horses and my clients' horses.
Is IT True That ARTISOL Is Superior Because It is Actually DESIGNED To Be Absorbed?
YES! Very simply, the superior ingredients in ARTISOL not only promote and support joint health, but it is designed in such a way that these amazing, extremely effective ingredients, can actually be absorbed into the horse's body so that they can be utilized!
Artisol promotes soundness in horses of all ages by supplying the ingredients needed to build and maintain strong and resilient joints, tendons, and ligaments. Training, growth, and wear from age naturally put stress on the body. Artisol gives the horses what they need to develop and maintain resilience. If injury does occur, Artisol provides support and ingredients such as glucosamines to help the joint or tendon return to a state of health.
Artisol
contains ML protein, scientifically shown to promote cartilage health. It has Procell C, a form of Vitamin C engineered for the horse's digestive system to absorb, which protects cells and helps collagen production for tendon repair.
Artisol
has an immensely powerful anti-inflammatory capability based on Omega 3's
that come from algae and green lipped mussels.
Note: Regular use of Artisol will support soundness and decrease the need for medications and joint injections.
Is It True That ARTISOL™ Affects Health Of Joints AND Tendons/ Ligaments/ Cartilage and Bones?
Yes and this is very RARE to find in a joint health supplement! Artisol is effective because it covers all aspects of joint and tendon/ligament health. It provides components the body needs to create healthy cartilage/bone/tendon which is important for development in young horses as well as resiliency, healing and regeneration throughout the life of the horse. It encourages a comfortable and stable joint by providing components for healthy joint fluid. Artisol is able to effectively control and reduce inflammation through the use of high quality marine derived omega 3 fatty acids. The ability to control inflammation not only reduces pain, it prevents joint damage and aids in tendon and ligament healing. The anti-inflammatory effect is very strong throughout the body. We also use this product in broodmares to reduce uterine inflammation and promote fertility.
Is It True That ARTISOL Contains The HIGHLY EFFECTIVE Ingredient of Green Lipped Muscles?
YES! Green lipped mussels are a pure and potent source of omega 3 fatty acids which provide a natural anti-inflammatory that is abundant and readily absorbed by the horse. They are also a natural source of glucosamines which help maintain healthy cartilage in the joint.
How Is Equina DIFFERENT From Other Supplements?
Equina is different mainly because of the quality standards. The science is meticulous, and production does not compromise the nutrient, the sourcing is unsurpassed. The quality control badges that the company has earned far surpass most (or all) equine supplement companies.
They are very careful about what they claim, if they are not certain a supplement will accomplish its goals, they will not produce it. The science is based on customization to the equine body, how the GI tract works, what it can absorb. The entire line is made for maximum utilization by the horse and it a huge focus for this company.
Is It True That The Equina Offers Superior Absorption?
YES. Klaus designed 2 patented formulations:
Active 2 Tech

and it is found in many of the products. It allows efficient absorption and maximum storage of nutrients in the body to allow instant benefits as well as supply over time of the nutrients.

The other unique formulation is called

Procell C.

It is a pH neutral form of Vitamin C that can actively be absorbed by horses without interference, which is not true of most Vitamin C formulations.
How Are The Ingredients Selected?
For all ingredients of all products, the horse owner can trust that the ingredient has a purpose, it will serve the purpose, it will not be damaged during production, potency will not be lost during storage or because of poor packaging, the ingredient will act alone or synergistically with the other ingredients in the product line with no interference or compromise, the ingredient will be presented in the most effective form and from the highest quality sources.
Certified Organic:
This is important because the quality of the ingredients is what matters. We tend to want to look at labels and check items off the list as we see they are included in a supplement; we forget to consider the quality of the content. We do not want to introduce unwanted toxins to the horse along with the nutrients as this would be counterproductive. Horses are no different from humans in that their bodies are affected by chemicals such as pesticides, fertilizers, and dyes.
Certified organic is a quality control measure that means that 95-99 percent of the ingredients of each product follow the rules of pure organic production.
If You Use The BEST, You Have The BEST In Possible Results For Your Horse.
Health and performance for your horse.
Equina Supplements are made in Germany under the highest standards of quality with 35 years of experience.
Certified Organic
Clean
No fillers
No artificial flavoring/color
No GMO
High Potency
No Preservitives
No banned substances
What Do Horse Owners Have To SAY?
"My clients and I have been using the Equina line of products for several years, and have been extremely happy with the results."
Rebecca Black
"It can be confusing to weed through the 'latest and greatest' offerings in horse supplements. With the complete Equina line of nutritional support, I know my horses are getting clean, quality ingredients; free from fillers and properly balanced. I have seen a huge difference in our horses since adding the Equina products to their nutrition plan."- Hanna Knaebel
"Since starting all of my horses on Equina products, i can say that they have never looked and felt so good before."
Anneka Montello
"I have been feeding Equina since 2016 and the horses have consistently shown a marked response to each product!"
Jessica Wisdom
When It Comes To Joints, Tendons, Bones and Ligaments, Order ARTISOL Today!
There are times when a horse owner may have time to waste time and money trying supplements to see if there is improvement in their horse's health, well being or performance. When it comes to Joints, Tendons, Ligaments and Bones, however, time is of the essence. If you need a product that will WORK— a product that will actually DO what it says it will do, then you want ARTISOL. A start with
ARTISOL™
is an end to joint discomfort — period.
---
Contact: Sara Perkins
P.O. Box 1106
Rainier, Washington 98576
Phone: 360-480-5694
Email:
Website: Click Here To Connect

---