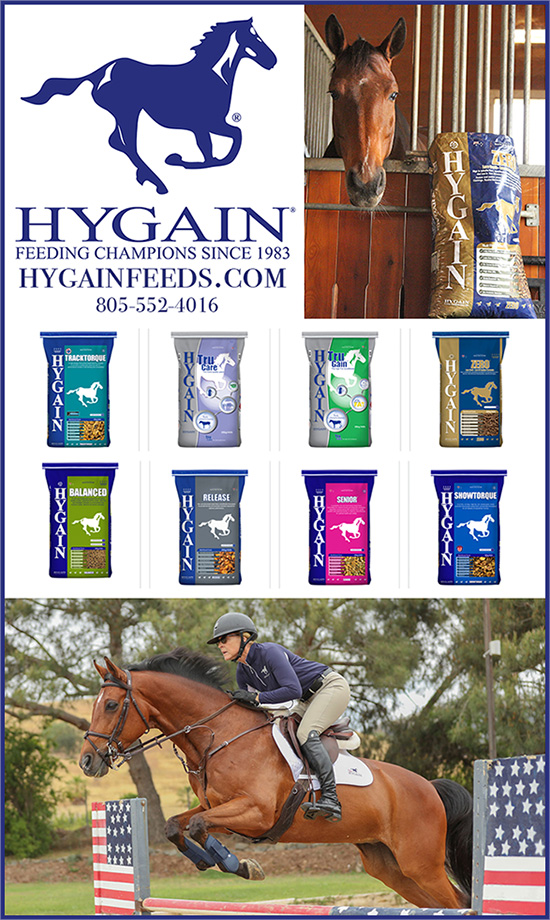 Hygain Feeds "Feeding Champions Since 1983"
ZERO by Hygain Feeds, has one of the lowest NSC in the horse world!! Developed by experienced horse owner and competitor, Greg Manley, living in Australia, Hygain offers one of the most nutrient dense feeds in the horse world.



About Hygain® Feeds
In 1983 Greg Manley, a horse owner and competitor living in Australia, was dissatisfied with the quality and nutritional standards of available feeds. He started mixing his own nutritionally-balanced feed formulas. The word spread, and Hygain® Feeds was born when Greg established a dedicated equine feed mill and manufacturing facility in the state of Victoria, the heart of Australia's equine industry. Looking confidently to the future with a solid foundation and united team, Hygain® Feeds is progressively extending its global market share and quickly gaining popularity in America. Hygain® continues evolving its product line, applying solid nutritional research to equine diets and meeting the demands of an ever-changing world.



Your Horse's Feed Is VITAL To Its Well-being and Performance!
Not all feeds are the same—or even close. All horses need the right nutritional support to overcome internal difficulties. But if your horse is prone to laminitis, Cushing syndrome, equine metabolic syndrome, tying up syndrome, or insulin resistance, you need to take extra special care when feeding. "Not feeding grain" just isn't enough. Your horse needs the extra zinc, vitamins E and A, and biotin found in Hygain® feeds.



What is SWEET LUPIN?
Sweet lupin (Lupinus angustifolius) is a legume grown primarily in Australia. It is naturally high in protein and fiber and low in starch. Sweet lupin is the superstar of Hygain® feeds and the main reason ZERO's starch content is so low.

Is Hygain® ZERO really one of the lowest-starch feeds in America?
Of the major feeds available today, Hygain® ZERO is, hands-down, the lowest-starch feed in America! Coupled with its superior nutritional support for horses prone to laminitis, Cushing syndrome, equine metabolic syndrome, tying up syndrome, and insulin resistance, low starch content makes ZERO a friend to horses and their loving owners. Your horse will appreciate a feed specially designed to let it enjoy hay and grain while providing specialized nutritional support for a return to health.



My Horse Is Prone To TYING UP Syndrome. Can Hygain® Help?
Yes! Scientifically formulated Hygain® RELEASE with soy-free, non-oat micronized sweet feed provides the fuel and essential nutrients needed for optimum performance in horses prone to tying up syndrome and other muscle disorders.

Complete micronized sweet feed for improved digestion.
Bio-available selenium to help your horse's muscle metabolism.
Probiotics to support a healthy gut and vitamin C for immune function.
Biotin for rapid hoof development.
Natural vitamin E for antioxidant, circulatory, and cardiovascular functions.
Bio-available chromium to lower lactic acid levels.
Pure rice bran oil to maximize absorption and feed efficiency for muscle building.
Are Hygain® Feeds Good For Both Performance and Backyard Horses?
Absolutely Yes! Hygain® offers a variety of well-designed feeds to support any horse's health and well-being. They are the best feeds on the market for horses of all ages and performance levels.

Hygain® BALANCED® is a pelleted, all-around, low-dose balancer feed concentrate. BALANCED provides high levels of vitamin E and selenium for cell health; biotin for hoof and coat health; and chelated minerals, quality protein, and essential amino acids for muscle development. BALANCED is versatile and ideal for easy keepers: horses on a pasture-only diet; horses getting a home-mixed diet that needs balanced vitamins and minerals; and horses on premixed feeds that aren't providing enough nutrition.

Hygain® TRU CARE is a popular extruded feed for horses with specific nutritional requirements due to age, body condition, or change in work status. TRU CARE is formulated with higher protein, fat, and soluble fibers, and a dense vitamin and mineral concentration to give your horse the essential nutrients to maintain body condition and general well-being.

Hygain® SHOWTORQUE offers topline building at its best! Its low-dose, high-fat, cereal-grain-free formula provides sensible energy through slow-release sources, combined with essential amino acids and bio-available antioxidants for muscle tissue repair and to help manage the stresses of training and competition. SHOWTORQUE promotes lean muscle mass development and enhances hoof growth and coat shine.

Hygain® SENIOR is a palatable, soy-free, non-oat micronized sweet feed for mature horses. SENIOR provides the right amount of digestible energy with soluble fiber, quality protein, and balanced levels of vitamins and minerals for optimal health and vitality. With SENIOR, your mature horse gets the benefit of natural vitamin E for antioxidant, circulatory, and cardiovascular functions; prebiotics for a healthy gut and immune function; pure rice bran oil for absorption and feed efficiency for muscle building; bio-available selenium for muscle metabolism; and biotin for rapid hoof development.

Hygain® TRU GAIN is a safe, high-fat, and slow-release supplement. As a highly effective cool energy source, TRU GAIN provides your horse with the bio-available vitamin E and selenium it needs. TRU GAIN's increased energy density rapidly boosts your horse's body condition and gives performance horses needed energy. Cool energy at its best!

What does InfoHorse.com Say About Hygain® Feeds?
Says Ann Pruitt, Director of InfoHorse.com: I have a beautiful Morgan mare, "Sugar". Even though she has no pain, is ridden every week, and is strikingly beautiful, she struggles with insulin resistance and weight and is borderline laminitic. It was heartache. Our other horses get to eat normally but poor Sugar's diet is greatly restricted, and she only gets five minutes of pasture time a day. When I discovered the Hygain feed, I was shocked to see that it's so low in starch and yet so nutritious! SUGAR loves it. Best of all, she dropped a little weight and is looking even better than ever. I plan to keep my wonderful little mare on ZERO for the rest of her life. Even my shoer was stunned when he read the ingredients on the empty Hygain feed bag and took it to show other clients. Thank you, Hygain!



Where Can I Order Hygain® Feeds?
Ask at your local feed store; Hygain ® is spreading fast. If they don't have Hygain® feeds, ask them to carry them! Alternately, you can go to CHEWY.com and order directly-- it will be delivered to your door! If you order two bags on CHEWY.com, shipping is FREE! See why many champions count on Hygain®—it's just that good. Buy Hygain® today to help your horses be and feel the best they can every day!

---
Contact: Our Friendly Staff
668 Flinn Road, Suite 21
Moorpark, California 93021
Phone: 805-552-4016
Email:
Website: Click Here To Connect

---