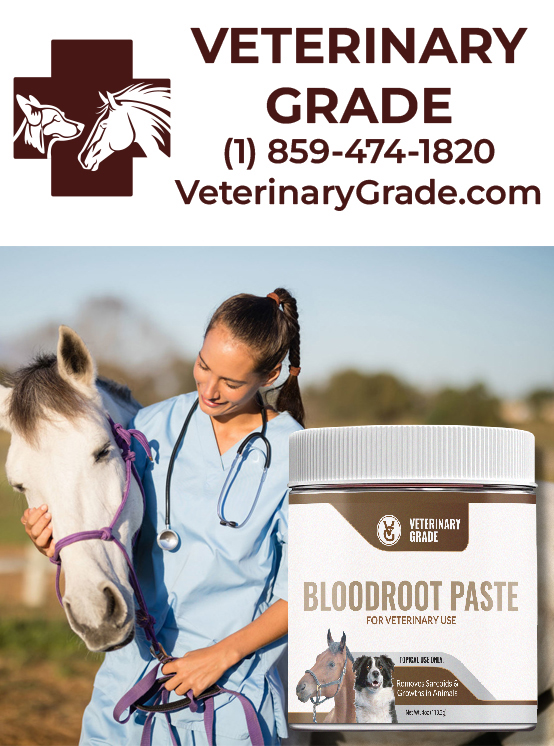 Bloodroot Paste by Veterinary Grade, LLC
Our herbal BLOODROOT paste, by Veterinary Grade is a FAST acting solution against sarcoidosis and harmful growth, by accelerating your horse's own natural immune system! Highly effective, all natural and safe!



About The Makers of Veterinary Grade
The makers of Veterinary Grade are animal lovers, growing up around farm animals and seeking to improve their lives. At Veterinary Grade, we are continually asking ourselves: "How can we solve problems in the most natural way?" From humble roots, our founders came together in 2018 to establish Veterinary Grade. They are guided by, and value: efficacy, awareness coupled with traditional approaches, and ABOVE ALL, the preservation and respect of LIFE. Their upbringing was steeped in agricultural traditions, where the cooperation between animal and human was paramount.
Similar to the products and services available for humans, horse and livestock caregivers have a lack of effective, naturally-sourced (plant derived) products for some of the most common afflictions. Our animals are important to us. Veterinary Grade exists to provide natural remedies to common ailments in large animals (equine, canine and bovine species) without the use of invasive procedures and toxic pharmaceuticals.

Is It True My Horse's Coat Is An Indicator Of Health?
YES! The skin (coat) is one of the largest organs. Its condition can be a general indicator of overall health. A shiny, glossy coat, rich in color, soft to the touch has long been acknowledged as an 'outward appearance of inward health'. Sarcoidosis and harmful growths (i.e.: tumors) are a common concern for horse, pony and donkey owners; effecting a significant portion of their species' population. Left un-attended, they can lead to further health-issues as well as pain, discomfort and disharmony for your animal.

What Are Sarcoids?
Sarcoidosis is a disease complex found in several mammalian species. Specifically, equine sarcoids are the most common of tumor growths reported in horses. Sarcoids are non-malignant; they typically do not spread throughout the body, yet frequently grow larger and multiply locally. They can occur as single or multiple lesions in different forms; ranging from small, wart-like lesions to large, ulcerated and fibrous growths.

What Causes Sarcoids To Appear?
There has yet to be a clear, exact cause of sarcoids, but it is widely believed (based upon strong evidence) that they are initiated by viral infection, such as BPV (Bovine Papilloma Virus). This would be transmitted by flies or other biting insects.

How Did BLOODROOT PASTE by Veterinary Grade, Come To Be?
Always looking to find a natural solution and wanting to avoid harsh treatments, like chemotherapy drugs, cryotherapy treatments (freezing the sarcoids) or laser surgery, the team at Veterinary Grade set out on a mission to identify the most potent botanicals while being guided by scientific research and trial-and-error. The result of all of our labor is Veterinary Grade Bloodroot Paste. The results are usually pretty fast and amazing. Our success is your success!

What Is In BLOODROOT PASTE?
Our all natural Bloodroot Paste has highly effective natural ingredients. Our premium formula includes: bloodroot, galangal root, chaparral leaf, graviola (soursop leaf/stem) DMSO, zinc chloride and vegetable glycerin.
• Bloodroot contains important alkaloids that fight against harmful cells;
• Chaparral Leaf contains antioxidants, anti-inflammatories (via nordihydroguaiaretic acid – NDGA), polyphenols (lignans) as well as blood purifying qualities;
• Graviola is a potent antioxidant (hosting natural chemicals known as acetogenins);
• DMSO is an immune stimulant and helps to heal wounds; and
• Zinc is vital in proper immune system function and cell division (for growth and healing).
Note: Consult your veterinarian prior to use of this product.

How Do I Treat My Horse's Sarcoids With BLOODROOT PASTE?

1) Talk to your Veterinarian! We absolutely advise all clients to discuss the use of our product(s) with a licensed veterinarian. Make sure he or she is aware of your horse's condition!

2) Completely cover affected area and completely avoid non-infected areas! The bloodroot paste must be applied directly to the affected area and covered thoroughly. Apply to the afflicted area only. Avoid applying to healthy tissue.

3) Monitor and apply daily or every couple of days. Careful tracking, documenting and/or observation of the affliction is best practice when ready to start treatment. Throughout the process, it is critical to pay careful attention.

4) You may need to treat a 2nd time to prevent more growth. It is necessary to target the afflicted area for several days, prior to stopping (resting) the treatment. It has been reported by clients that a second series of treatment is required to ensure that the growths do not return. In some instances (depending on the size and life-time of the growth), multiple applications are required. In the case of a sarcoid/growth being located close to the eyes and inner-ear, be extremely careful in applying the paste.

5) Avoid Eyes and Inside Mouth: Do not apply near the animal's eyes and please remember that Veterinary Grade Bloodroot Paste is for topical use only. Do not ingest.
Note: If the product comes in contact with eyes, rinse thoroughly with water; multiple times is advisable. Wash hands thoroughly after each application.

What Is The Best Way To Apply BLOODROOT PASTE?
Wearing disposable, medical grade latex/nitrile gloves, apply the paste directly to the sarcoid and/or growth. Cover (dress) the treated sarcoid/growth with a breathable dressing or bandage. Ensure that the dressing is secure, but not overly tight. You do not want to create too much pressure with the dressing. It is important to keep debris from the growth as it is being treated, as well as allowing for airflow. Change the dressing with each treatment, and/or when necessary. Never apply bloodroot paste to an open, healing wound. Treatment is most effective on a sarcoid or growth that is not open and healing.

How OFTEN Will I Need To Apply?
This depends on the severity and live-span of the sarcoid/growth (how long as it been on the animal). One-to-two applications is typical, but it could require 3-4.

What Makes BLOODROOT PASTE So Effective?
Bloodroot Paste is effective for multiple reasons:

• It changes the antigenicity of a sarcoid which accelerates the host's natural immune system;
• This immune response rejects the sarcoid breakout rather quickly;
• It utilizes high-quality, and primary plant-based ingredients with proven qualities;
• Bloodroot contains important alkaloids that fight against harmful cells;
• Chaparral leaf contains antioxidants, anti-inflammatories (nordihydroguaiaretic acid – NDGA), polyphenols (lignans) as well as blood purifying qualities;
• Graviola leaf/stem is a potent antioxidant (hosting natural chemicals known as acetogenins);
• Zinc is vital in proper immune system function and cell division (for growth and healing); and
• There are no artificial or pharma-chemical ingredients that would have side effects.

Make Sure You Have BLOODROOT PASTE In YOUR First Aid or Tack Room Today!
A jar of our amazing Bloodroot Paste is typically effective for 7 full years from the manufacturing date. This makes BLOODROOT PASTE the perfect completion to your first aid supplies as you never know when sarcoids may appear on your horse, or even the horse of your friends. You'll love it's dependability to remove the sarcoid and to help restore your horse's coat and appearance to normal. Starting at only $79 for a 2oz jar or $199 for a 4 oz jar, it is the most AFFORDABLE and Highly Effective option you have to treat sarcoids available! Be sure to order today!!!

---
Contact: Our Friendly Staff
120 Madeira Dr. NE Suite# 220
Albuqueque, New Mexico 87108
Phone: Use email for PROMPT reply!
Email:
Website: Click Here To Connect

---