N0-Cost FIRE Prevention For Your Barn


By Laurie Loveman Author of Fire House Novels © 2009

See Our Fire Protection for Horse Barns Page Here!

We've got them in all sizes and shapes--horse barns, dairy barns, chicken coops, and big old bank barns—but regardless of the kind of barns we have, if we house animals in them we have a responsibility to protect those animals from fire. Fortunately, most fire prevention consists of the things we do on a day-to-day basis to maintain a fire-safe building. The great thing about these practices is that they are cost-free!

I'm going to focus on horse barns, but what goes for those structures also applies to any other livestock building. You can keep an eye out for possible hazards if you know something about what it takes for a fire to start and keep going. A fire needs 21% oxygen, just as we do. If the oxygen level falls below 16 %, there isn't enough oxygen to support life or a fire. Since our barns are designed to provide good ventilation, they will provide an abundant supply of oxygen to a fire.
And, as we need fuel in the form of food to keep our bodies functioning, so does a fire. Fuels are found in three physical states: gases; liquids; and solids. You have compressed gases in your barn in the form of consumer products in aerosol cans, such as grooming sprays or insect repellants, and those are okay, but don't store your gas grill's 20-lb. propane tank or welding gases in your barn. You probably have liquid fuels such as alcohol, alcohol-based liniments and rubs, hoof tars, and creosote in your barn, and plenty of solid fuels, too. Hay, straw, loose or baled shavings, grain, and the materials of which the barn is constructed provide a lot of fuel for a fire.

Even with oxygen and fuel, a fire can't start until heat raises the fuel to its ignition point. Heat can be provided by sunlight, friction, electrical energy, open flame, compression of gases, and bacterial or chemical reactions. The most common source of heat is an open flame--a match. If

you do nothing else for fire safety in your barn but keep smokers out, you'll have controlled one of your major hazards. Stringently enforce the No Smoking rule, not just by posting signs, but by firmly telling a smoker to refrain. Some offenders need to be threatened before they'll obey; if you find yourself in a situation such as this, seriously consider how much risk you're willing to take to keep the peace. A person willfully violating the No Smoking rule is not someone you want around your barn. Lay it on the line if you have to: either the smoking materials go, or the violator goes. And, if you issue the ultimatum, follow through! There are no safe open-flame areas in a barn.

In 1987, at Exhibition Park Raceway in St. John, New Brunswick, a fire in Barn No. 1 claimed 30 race horses. Teenagers sitting in the barn accidentally ignited hay but fled the scene without reporting the fire. What were these teenagers doing in the barn? Did they have any business being there? We don't have those answers, but it does remind us that monitoring the access and activities of the people entering our property is another good kind of no-cost fire prevention.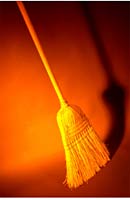 A broom and rake are the two best fire prevention tools a horse owner can have. Maintaining a clean barn is excellent fire protection that requires little daily effort. Get rid of cobwebs hanging from the rafters. Sure, after a few days they'll all magically reappear, but keep after them. Cobwebs provide excellent pathways along which flame can travel--so quickly that in seconds fire will have spread from one end of the barn to the other. In addition, flaming pieces of cobwebs falling into stalls will start new fires. Keep loose hay and straw swept up, and if you have have hay drops, don't allow loose hay to hang over the edges; like cobwebs, flaming hay can drop through and start other fires.

Better yet, provide a plywood cover for each hay drop opening. Bacterial and chemical actions are blamed for many fires, particularly those where the fire started in a stack of hay. It's best not to accept any load of hay that is not completely cured since during the curing process heat is generated. Clover and alfalfa hay seem to be particularly prone to incomplete curing, and first-cutting alfalfa is often subject to this problem. In a stack of uncured hay two fire propagation requirements--fuel and heat--are at work. The only thing lacking in sufficient quantity is oxygen. The hay may smolder unnoticed for quite some time before the edge of the stack is reached. When that happens, and oxygen is suddenly available in abundance and there is a means for the generated heat to escape, you have a full -blown fire on your hands. The same thing can also happen with damp grain, wood shavings, or sawdust , and in these situations an explosion may result due to the greater amount of exposed surfaces in the material. The presence of chemical reactions leading to spontaneous heating and ignition may sometimes be detected by a "sooty" odor. If your eyes become mildly irritated when you're near the haystack, that, too, may indicate spontaneous heating. You can monitor the heat in your haystacks to determine if there is spontaneous heating. Insert a thermometer into the middle of a bale, and if it reads 150 degree F, check it again in four hours and at four-hour intervals thereafter. If the temperature rises to 175 degree F or above, call the fire department and have firefighters stand by with charged hose lines
while the suspect bales are moved from the barn or storage area. You need firefighters on the scene because the bales may ignite while they're being moved.

Electrical malfunctions are a major cause of fires. All structural electrical wiring should be enclosed in conduit, and permanent electric appliances such as water heaters, pipe-heating tape, treadmills, and insect-control devices should be routinely inspected by a qualified electrician. A 1991 barn fire in Clarence, New York was caused by a faulty electric hot water heater. A stable and riding arena burned, killing 40 horses. A routine inspection of that water heater might have found a potential problem and averted the fire, but since there's no way of knowing if an inspection might have produced a different outcome, why take chances? Periodic inspections don't cost a thing.

The major concern with electricity on a day-to-day basis, though, is with appliances. Portable heaters have no place in a barn except for specific medical reasons, such as supplying extra heat for newborns, and even this use must be monitored carefully and constantly. No heating appliance should be unattended at any time. Disconnect radios, clippers, extension cords, and other portable electric appliances when you're done using them. Keep a close watch on electric water heating coils because if the water boils out, the coil will continue to heat the bucket, and that will transfer heat to adjacent materials. When you're finished using a water heating coil, hang it from a hook in an open area to cool.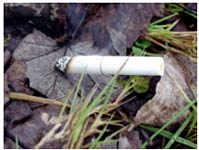 Outside, destroy weeds growing close to the barn and mow your pastures to lessen the danger of brush fires. If your pastures front on a road, leave a barren strip 15-20 feet wide to guard against fires resulting from carelessly tossed cigarettes.
If it's necessary to keep farm tractors and other gasoline- and diesel-powered vehicles near the barn, park them a minimum of 50 feet away. Refuel tractors as far away from the barn as possible. Gasoline vapors are heavier than air, so when you pour gasoline from a gas can or above-ground fuel tank into a vehicle fuel tank, the escaping vapors will settle in depressions in the ground, enter nearby buildings if there are openings in the foundation, fall into floor drains and settle in any other low areas. Gasoline vapors readily ignite, so a lit match in the vicinity can easily start a fire. If you use a tractor in your barn for pulling a manure spreader or wagon during stall cleaning don't leave it running unless it's being driven. Carbon monoxide (CO) is a byproduct of every fire, including the fires produced within internal-combustion engines. It is an odorless invisible gas that kills by displacing oxygen in the bloodstream. Many times people die without any warning, although a headache or dizziness will sometimes precede unconsciousness. If a tractor is running and someone passes out in your barn or complains of a sudden raging headache, get them outside immediately and call for medical help. They may be a victim of carbon monoxide poisoning.

Parking horse trailers or farm implements some distance from the barn is a good way to keep debris from collecting. It's amazing how many items can be "stored" under or behind seldom-used farm equipment--those items provide excellent fuel. Also, in case of a fire, keeping equipment away from the barn gives firefighters room in which to work. If your barn can't be easily seen or isn't easily accessible from the road, request that your fire department make a plan (called a pre-fire plan or pre-plan) of your property. You have to request this because unlike commercial establishments, which may require periodic ire safety inspections, fire department personnel cannot inspect your home or barns unless you request a fire inspection. At this inspection, fire department members will acquaint themselves with factors that will be advantageous or detrimental in case of fire. They will note the location of the nearest hydrant if there is one, and if not, they will be prepared to make other arrangements for a water supply.

Devoting just a little time to scouting out potential fire hazards in your barn and on your property can really pay off in peace of mind and protection for your horses. In fact, if you belong to a riding club, 4-H Group, or operate a training facility, you can help others become fire-safe by inviting your fire prevention officer to speak at your next meeting or clinic. It won't cost you a cent, and it may be the most profitable equine information you'll ever receive.

You can learn more about fire prevention for your barn on my website, www.laurieloveman.com , where you'll also be able to share your stories, make comments, ask questions, and learn about what other horse owners have experienced. You will also be able to order a copy of the Humane Society of the United States (HSUS) booklet titled, Making Your Horse Barn Fire Safe.



Laurie Loveman is an officer in the Highland Hills, Ohio Fire Department, an experienced freelance writer, and an expert in equine safety. Laurie Loveman has authored three novels of exceptional caliber. MEMORIES features Laura Darvey, Appaloosa Breeder who meets and falls in love with Jake…with terrifying consequences! THE QUARRY introduces elderly Maudie Hegerty, whose son, Boris, is foreman of the local quarry. In THE FARM FIRES, a small palomino horse brings Glynis Hampton, daughter of dairy farmer Ben Barneshill, into a chance meeting with Woodhill Fire Department Captain Freddy Pratter at the scene of the horse owner's death.
During his investigation of a series of field and farm fires, Freddy falls in love with Glynis as he tries to identify and capture a serial arsonist who has killed twice and could kill again. 3 Great Novels with horses, fire, love, romance and so much more!


Contact : Laurie Loveman
17095 Abbey Road
Chagrin Falls, Ohio 44023-1313
Phone: 440-543-1640
Email: lloveman@windstream.net
Web Site: www.laurieloveman.com/