Finding Unipol The Remarkable Orlov Trotter

It is time to write about Unipol. This is unexpected, for the life story of this little gray Orlov Trotter is still unfolding. But what a tale so far! And how to recount it?
by Judith Robinson for Black River Orlovs

Perhaps it should start on a summer day at a fabulous estate in the suburbs of Russia's Capital City, Moscow, when a covey of equine experts rated the sports potential of Russia's fanciest German-line warmblood stallions, Trakheners and Hanoverians, and Russian Saddle Horses too - and one quiet, serious young Orlov Trotter, my Unipol. My little horse walked obediently towards the start point to a chorus of muttered comments by the skeptical breeders of those warmbloods. He checked with the young girl leading him that this was indeed what was wanted – then spurned the land with a flying trot and a canter like music, and soared into the stratosphere and over the moon – the only perfect 10 of all the ratings. Or perhaps the tale should start with a dark stall in a stifling centuries-old barn at the Moscow Hippodrome, and the ungainly little horse who'd given his all for nothing, and only wanted left alone to die. Or perhaps this story of Unipol rightly starts at Socoros Equine Center in downtown Moscow and its owner, Alexander Pavlovich, who "couldn't figure out where they'd put your horse," and watched gleefully as I slowly came to the realization that the lovely young dapple-gray stallion halfway down the aisle really was my little Unipol brought back to life and health.

Alexander's eldest son, Igor, is not only part of my adopted Russian family, but has shared my adventure into the world of the Orlov Trotter from the very beginning. Igor settled the issue of how to start Unipol's story - with a photograph by a world-class artist-photographer called Tim Flach. It's of my Unipol. He's the only Orlov Trotter in a whole book of magnificent horses, but the photo does not show that facet of his own enormously magnificent breed. It shows something else.

The little grey is standing alone in a grove of birch trees. It is just spring, with patches of snow still on the ground, and the new leaves are a warm gold against a quiet sky. Tim has caught a certain dignity in the bearing of the young horse, who is gazing back over his shoulder, thoughtful, even wistful, as if contemplating not just his own past, but that of all the people, horses, places, and events woven into the vivid fabric of his folk memory. For Unipol is Russia. Whatever that is.

And so, you ask me, who and what is Unipol? Well, his heritage is that of the true Orlov Trotter, and it spans two and a half centuries in Russia. No anonymous son of a lost past, my Unipol, but the heir to generations of hopes and planning, to a tradition of companionship and loyalty to the Russian people in all walks of life. Like every Orlov Trotter that has ever existed, Unipol carries deep in his soul a knowledge of triumph and tragedy – and the memory of the people through the centuries who have loved him. He belongs to a culture where unsung heroes have always been at least as commonplace as fools, and both loom large in his immediate past and in his history.

Unipol entered my life because he was the son of the fabulous Orlov Trotter stallion Proval, a horse of Altai Stud, that distant treasure hidden in the steppes of south central Siberia, a horse that Fate sent to me in his old age. Among the Orlov Trotters of his time, Proval was one of the best. He had blistering speed for an Orlov, burned up the country's racetracks until he was five, and eventually ended up in the ancient and famous cradle of all Orlov Trotters, Khrenovskoy Stud, where became a famous breeding stallion. Proval landed in my lap in his old age through outlandish , outrageous chance, and he lived the rest of his life in Moscow, and died greatly loved. In that time, I learned a lot about Orlov Trotters, and was in awe of their role in Russian history and culture,

The appearance on the stage of life by Proval's son, the little Orlov Trotter stallion Unipol, occurred two years after Proval's departure to greener pastures. It was a Sunday towards the end of an October that was already sending out warnings of a cold winter. My job had taken me to Moscow, and I went to the Orlov Trotter races there.

The Moscow Hippodrome is 200+ years old, the oldest in Europe, and it's no secret that it is
badly in need of restoration. The crumbling, magnificent grandstand's imposing neo-classic entrance with its great front stairway framed in columns, is topped by a wild looking charioteer urging four thundering horses towards the visitor who dares to enter. Trackside, you find yourself amidst tiers, towers, terraces, stone balustrades, labyrinthine offices and reception rooms, more winding stairs down to the track – and, if you are very lucky, in one of the ancient boxes, comfortable and comfortably near the action. Those fortunate people ensconced at the tables in those roomy boxes on the daya of the big Orlov stakes races - the Bars or Pion prizes, or one of the Summer prizes named after the breed's great ones - are served by an old style catering service, complete with a flotilla of Russian waiters in traditional tuxedos wielding trays bearing goblets of champagne, crystal bowls of caviar, many and varied hors d'oeuvres - and serving multiple-course dinners set out on linen tablecloths with linen napkins, china tableware, and polished metal cutlery. There, over a cup of extremely good hot coffee, I leafed through an old race program, and found the notice that would bring another Orlov Trotter into my life: "Fourteenth Race for 3-year-old Orlov Trotter Colts with times over 2.10 at 1600 meters. No. 8: Unipol (sire Proval, dam Unita). Time 2:26." That would make this horse Proval's last son, and of course I was curious. Between races, my friend Tatiana Tikhonova and I hitched a ride to the backside where the trotters are stabled.

Many of the Moscow Hippodrome stables, unlike the grandstand, have been restored, rebuilt, or rehabilitated by concerned horse owners, and the horses enjoy spacious, clean, airy box stalls and wide cool aisles. Tatiana and I, however, found ourselves in a stable block at the far side of the track, and this one rivaled the grandstand in antiquity and need for rehabilitation. Apparently untouched for two centuries, it was dark, stifling hot on this cool fall afternoon, and suffered from a deficit of oxygen that made breathing difficult for people, much less horses.
"Why don't they open those windows?" I whispered, peering far upward where dim light filtered through cobwebs and the glaze of centuries.
"They're probably rusted shut," Tatiana whispered back.

Halfway down the row of stalls stood the subject of our visit. He was a grayish blur, almost preternaturally still, shaggy head hanging down in the far corner and completely indifferent to visitors. An attendant clipped a lead to his halter, shoved him out of his stall, and turned him into a paddock. The little horse just stood there, never looked at us, never looked at his surroundings. Daylight revealed one of the uglier horses on this planet – and Orlov Trotters are renowned for their beauty! This one was barely fifteen hands, had small dull eyes, short neck, lop ears, rough legs, and a croup like a waterslide with the tail halfway down his buttocks. Since he was not about to show us his movement, a groom re-attached his lead rope and gave it to me. The horse couldn't have cared less. Closer inspection yielded a patched crack the size of the Grand Canyon on his front right hoof, and a couple more big patched crevasses on his other hooves. He'd been raced, and hard. He wasn't interested in grass. I put an arm across his back and entertained a sudden thought of slipping him into my suitcase and plopping him down in my warm kitchen. Tatiana, who is a top horse judge, looked on poker-faced and held her peace while the stable people rambled on with gossip and chitchat. The horse belonged to Khrenovskoi Stud, Proval's old home, which was having hard times, but had just been bought by a big agribusiness. Hopes were high that the new owners might devote some cash to their new horses. (Actually that happened. I was there this spring, and there was restoration everywhere.) The little horse just stood there and I did too, arm still draped across his back. Somewhere in that 20 minutes, he became the horse of my old age.

"I'll be back, " I promised him, when we returned him to that dark, airless stall. For the very first time, the little horse raised his head and looked at me, and in his eyes, I glimpsed his Daddy.

Negotiations for purchase were difficult because money had been invested to train and send Unipol to the races. I was rescued, and not for the first time, by my oldest and dearest Russian friend, Alexander, who is a quintessential horseman, international judge, mentor of the young, solace of elder colleagues, and head of the Russian association of horse breeding farms and racetracks. Down came the price, and the horse was within my reach. In private, the practicality of this wonderful old Don Cossack came to the fore, "Oh Judith," he sighed, "why are you doing this?"

"Well," I muttered sheepishly, "it's Proval's son."

My Russian adoptive nephew, Igor, who is following in the tradition of Russia's great horsemen, refrained from comment and dispatched his veterinarian out to the hippodrome to examine the horse. The resulting report was a good basis for believing that Unipol was either on the verge of death or destined for life as an expensive lawn ornament. Down went the price again, and I bought him straight-away. The purchase had more the character of preordained fact than considered decision. The little horse was shipped to Moscow's five-star equestrian complex, Socoros, the next day. Shortly thereafter, I returned to America.

Some calls and e-mails from Russia were first clues that my little horse might not die and might even get better.
From Alexander Mikhilovich: "I saw your horse yesterday." I asked how he was. "He feels better. In fact, he feels like a king." Hmm, I thought.
Igor sent an e-mailed: "He needs rest, but he's a lot better." Well, Orlovs are hardy.
Alexander Mikhailovich again: "I was at Socoros today. Your horse put his head on my shoulder and we communicated." Is Alexander getting soft?
And Igor again: "We're having his feet trimmed and found someone to ride him – the blacksmith's assistant. He loves horses." I guessed that Russian Sunday/Alehan, aka Unipol, was feeling better.

Alexander called a month later with a blockbuster: "Some drivers at the Moscow Hippodrome want to train your horse. They think he has a chance at the Bars Prize."
"Wait a second," I said. "He's slow."
"No, no," he returned, "he's been a consistent 2.14." Better than Proval at three? I took a look at the little horse's race record. Unipol trotted 28 races at two and three, faster each time, and even won a couple. All the same, the Bars Prize is the Hambletonian and Kentucky Derby all rolled up in one. What were the Russians seeing that I didn't? Racing again didn't seem like a good idea though, and I shelved the idea.

The month of May found me in Moscow, mostly to have a look at this enigma of mine, and I couldn't find him. Three times I passed a lovely young dapple gray stallion with the head and eyes of an arabian, a beautiful graceful arched neck, and the body and legs of a warmblood. The Socoros people had a pretty good laugh. "That's him!" they said. I checked the brand – it was. The blacksmith's assistant, turned out to be a soft spoken, gentle fellow. While we groomed Unipol and he trimmed away the last of the great crack in the horse's front hoof, he related how the little horse had rested and regained health, the growth spurt that added over a hand to his height, and how he fell down the first time he was asked to canter. Unipol's quarters had developed nicely, and his thick, beautiful tail was now well placed and almost dragged the ground. I rode him. He was green, but quiet and forward; his walk was lovely, trot a bit quick from racing, and his new canter was soft, if a bit unbalanced. My "little horse" had an air of well-being. Still as quiet and grave as ever, he had a sparkle in his eye, a nicker for carrots and company, and besides achieving 16 hands, had broadened in the chest and girth. Very little trace remained of the sad little racehorse with the battered body and spirit.

* * * *

Once Unipol regained his health, this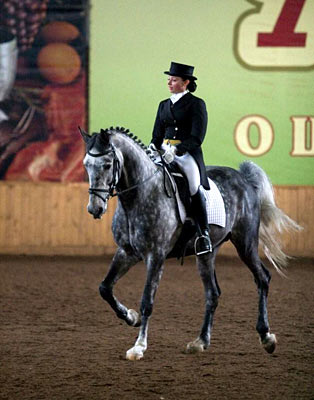 unexpected saga of an unexpected horse just kept rolling along. That summer, he continued his education in how to be a riding horse, and in August with just four months under saddle, was shown at Equiros, the big National Horse Fair in Moscow. The Russians put a film of the ride on "Youtube" . Unipol also turned out to be gifted in dressage, and won some very fancy certificates for his movement and jumping ability. This year he was shown in hand in national competition, and won a bronze medal for third place! Three breeding farms want him in their Orlov Trotter breeding programs. Now what do I do?

If I bring him to America this fall, he'll be with me for life. I am leaning in this direction because no one, not one person, valued Unipol enough to pull him out of a bad situation until Igor, Alexander and I did. Everyone loves him now, but it's just sheer luck he's still alive. Or maybe the blind ones weren't blind, but only believed the old myth that what the other fellow has must somehow be better. And maybe it was only because I was from elsewhere, that I saw something about Unipol that they didn't see.

Russia's good horsemen like Igor and Alexander DO know what they have in the Orlov Trotters– but what can hey do, if there is no market for them? This in itself is very strange, and I think that the Iron Curtain and Cold War kept information about things like fabulous horses from filtering through . Even now in the East, the Orlov Trotters are luxuries in a still-needy land. In the West, no one even knows that Orlov Trotters exist, excel at sports, are superb competition driving horses, and cross country and endurance mounts, and also win beauty contests during leisure periods. Russia's current dressage star, the 20-year-old Balagur, ex-circus horse and police mount, took a fifth and a sixth at the Beijing Olympics – an Orlov Trotter!

Unipol's fate? His pedigree decrees that his genes must be preserved as breeding material, frozen and held for those few Russian and North American breeders who truly value the Orlov Trotter breed and wish to keep and develop it. But what about the horse himself, my little grey one? I don't have an obligation to relinquish him to a stud farm. Sperm they can have, but not the horse. The racetrack is not for Unipol, worked to a nub as he was, and raced too young for a late -maturing bloodline in a late-maturing breed. Will Unipol become a dressage horse? A jumper? What would he do as a driving horse? Will Unipol leave his native land for America and a job as an old lady's prized, last saddle horse? If he comes home to little Goss Pocket Farm, we'll age together with long quiet rides on the trails through the park and down by the river. . .but what if he continues to prove exceptional and glory-bound? Should he stay there and compete for Russia? In the end, I think Unipol will decide, and we'll know the right thing to do.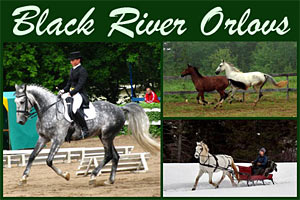 Black River Orlovs
Contact: Our Friendly Staff
Scotsburn
Nova Scotia, Canada B0K 1R0
Email: brorlovs@seasidehighspeed.com
Website: blackriverorlovs.com/